Can today's youth match the bravery of Capt Saliya Upul Aladeniya in Kokavil July 1990
The name Captain Upul Aladeniya is possibly unknown to most, particularly so, because the State & the Education system make no effort to glorify our national war heroes. This year he would have turned 60 but he died a soldiers death on 11th July 1990 in Kokavil at the age of just 26 years.  We not only rekindle that bravery but the lessons we need to learn from them. He was also the 1st recipient of the nation's highest award of "Parama Weera Vibhushana" that only 23 others have been recipient since 1981.
Upul joined the army volunteer force in 1968 at the age of 26 in 1989 following the footsteps of his Col father. It was during the height of the JVP insurrection. He had studied upto O/L at Trinity College, when desire to join the army got the better of him. He was attached to the Sinha Regiment under Col Abey Weerakoon & within one year of training he was deployed in Mankulam along with 3 officers and 60 soldiers to guard the Rupavahini relay station in Kokavil.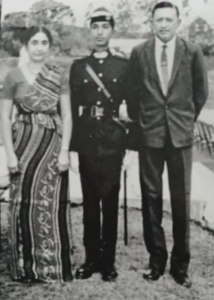 අම්මේ තාත්තේ ඔබ සේබෑ විරුවෙක් රටට දායාද කළා
It was on 11 June 1990 exactly a month before his own demise that over 600 policemen were asked by the then President of Sri Lanka R Premadasa to lay down arms & surrender to the LTTE in East Sri Lanka. Virtually all of these policemen perished that fateful day on 11 June 1990.
On 5th June Mankulam was attacked by LTTE but repulsed with heavy casualties & by 16th June both Mankulam & Kokavil was surrounded by LTTE with an imminent attack looming, it questions why the commander of Kokavil together with 15 decided to go on leave, leaving  27 year old Lieutenant Aladeniya who had barely one year training, in charge.  By 10th June, Aladeniya & his men had only 300 rounds of ammunition and 15 soldiers who were not injured.
Yet, these brave men fought for 14 days and by 27th June food, water & ammunition was running out.
Reinforcements sent could not pass Vavuniya LTTE control while Air Force helicopters were attacked by LTTE mortars. It was at the 11th hour orders were given to withdraw from the camp on 11th July 1990. Those who gave the orders apparently did not take stock of how many soldiers were wounded & unable to leave the camp. How many were physically too weak for lack of food & water to even withdraw. Aladeniya ordered the ones who could walk to withdraw while he decided to remain with the injured soldiers.
What would you have done in such a circumstance were you Aladeniya? No senior officers in the camp, orders suddenly arriving to withdraw, soldiers injured & unable to move and a camp surrounded by the enemy! How would you, a 26 year old with just 1 year training react?
Would you have summed up the situation as Aladeniya did? His first order was for the only civilian cook to vacate the camp & reach safety, then the one's who could walk were next ordered to withdraw. Then with his fellow injured troops, he decided to face the enemy & perish dying a soldiers death. Aladeniya & all the 52 soldiers who perished that fateful day showed what bravery was all about. They may have not been recipient of any awards but that they decided to face the enemy & fight till the end, was bravery enough to salute them and honor them. They fought starving & thirsty but they did not give up. Will the new generation commit to such bravery to defend their nation? This is the question we pose to the so-called new generation who think they are the new super heroes having taken over State buildings illegally occupying them, destroying, damaging & stealing State belongings! Is this their version of bravery?
It was a stark contrast to the 600 policemen who were forced to surrender by the President of the country and met their deaths in the most tragic way. Aladeniya's last words to his CO Col Weerakoon at 1145 on 11 July 1990 were "Don't worry sir, I will fight till I die". He could have escaped but he chose not to. How many of you would have made the same decision as Aladeniya?
He and the injured soldiers all knew they were going to die. Aladeniya could have also retreated leaving the injured but he didn't – he chose to remain and face the enemy and he asked head quarters to blow up the camp with them to prevent it from falling into enemy hands. Captain Aladeniya laid down his life defending the camp at Kokavil by destroying it & in so doing taking down LTTE who came to attack. He was only 27 years, leaving behind his beloved parents & a war widow.
On 11 July 1990 the LTTE destroyed the Kokavil Rupavahini transmission tower denying the Tamil people of the North any means of communication with the rest of the country.
Eventually, Kokavil was reclaimed by the Sri Lanka Armed Forces only in 2009 and in 2011 a memorial was built at the Kokavil camp in memory of Aladeniya and the 52 soldiers who sacrificed their lives.
The transmission tower constructed in 1982 was built in 2011 by the Telecommunication Regulatory Commission spending Rs.450m to reconstruct the 174metre tower to provide people of the North radio, tv, mobile phone, internet facility.
How many of today's generation are as brave as Captain Aladeniya or can even reach the level of his bravery.  He was awarded the "Parama Weera Vibhushana" (equivalent to the British Victoria Cross or the United States Medal of Honor) on 21 June 1994 the highest & most prestigious military award and the first to be awarded.  There are only 23 recipients since 1981 (one Moor & one Tamil also received this award) None of them lived to feel the pride of their award. That pride is felt by us who still feel pride in their bravery.
Aladeniya had barely 1 year service but not only did he sacrifice his life but he was awarded the highest military medal for his bravery. His bravery no doubt was built with the influence of his beloved parents & the years he spent in his alma mater Trinity College following the school motto "Respice Finem "Look to the end". Trinitians must remember this great young patriot who laid down his life to defend his nation & his injured soldiers.
We live in times when such a sacrifice is unimaginable to many. Would 27 year olds today show the bravery that Aladeniya displayed?
The greatest gift the Government of Sri Lanka & its Education Ministry & even Cultural Affairs Ministry must do is to rekindle the bravery of our national war heroes.
It is only when young and old are privy to the brave acts that they feel the need to defend the virtues and values taught to them at home, at school and defend the nation. You can understand why sponsored efforts are being made to ensure good virtues, values that inspire bravery are not taught to the youth & efforts are out to distract the nation from nurturing heroes & heroines but people who deceive & betray the nation. In fact there are awards now given to those who betray the Nation and these awards keep increasing while scholarships are also given to those who agree to betray the Nation.  Can comedians or cartoonists match the bravery of Capt Aladeniya even for treachery?
Do you wish to be a war hero like Captain Aladeniya or a traitor to the Nation?
රටක් වටිනා  පුතුන් බිහිකළ දෙමාපියන්ට අපේ ප්‍රණාමය
Shenali D Waduge
ශාෂනාභිමන්ය-දිරිය වනිතා-දේශ ශක්ති
කොකාවිල් සටනින් දිවිපිදූ වීරයෙකුගේ කතාව – Untold story of Kokavil Battle
1990 කොකාවිල් සටනේ දිවි පිදූ රණවිරු මතකය.
බිහිසුණු කොකාවීල් සිදුවීම රණවිරුවෙකුගේ හඩින් | Battle of Kokavil
"වීරත්වයේ පළමු පාඩම" – අපි කවුරුත් පසුබහින්නෙ නෑ, සේරම ඉවර වෙන්න උඩින් බෝම්බ දාන්න | Kokavil (1990)
·      Wanni Operation 12/01/2008 / Kokavil liberated- another LTTE bastion on A-9 falls