If Maaveerar Naal hails LTTE dead – What do we call event to commemorate Tamils killed by LTTE?
Maaveerar Naal or Great Heroes Day has been commemorated since 27 November 1989 with a Heroes Week held annually from 21stending 26thNovember (Prabakaran's birthday). It is a LTTE event to remember every LTTE combatant killed. While the LTTE propagandists shed crocodile tears to the world that the GoSL denies them to commemorate dead Tamils, what these LTTE propagandists do not disclose is that they FORBID Tamils from commemorating Tamils killed by LTTE & this is a long list. Ironically, some clueless foreign politicians attend these LTTE commemorations & probably some have already accepted invitations for 2021 events. But, what everyone conveniently ignores is that the Mahaveerar Naal ceremonies do not shed a tear for the likes of Alfred Duraiappah, Lakshman Kadiragamar, Sarojini Yogeswaran or even the leaders of the other Tamil militant groups that LTTE killed to reign supreme. If Prabakaran & LTTE had an objective to create an Eelam for Tamils – why kill their own people including leaders of other Tamil militant groups fighting for the same cause?
Maaveerar Naal is to only commemorate LTTE dead
Maaveerar Naal is NOT TO commemorate Tamil civilians, Tamil politicians, Tamil academics, Tamil public servants, Tamil clergy, Tamil children or even Tamil combatants who were all killed by LTTE.
What do we call event to commemorate these Tamils?
LTTE's first victim was a Tamil – Mayor of Jaffna, Alfred Duraiappahshot dead after stepping out of the kovil on 27 July 1975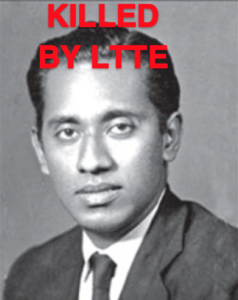 LTTE's second victims were also Tamils – scores of Tamil policemen making Tamils too scared to join the police & the LTTE propagandists twisted this to claim the government was not recruiting Tamils to the police!
M CanagaratnamTamil United Liberation Front's candidate for Pottuvilshot outside his home in Kollupitiya, Colombo on 24 January 1978 & died of his injuries on 20 April 1980
C E Anandarajah– Principal of St. Johns College Jaffna. Assassinated on 26 June 1985for organizing a cricket match with Sri Lanka Army.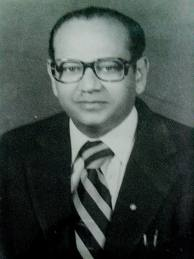 Dharmalingam– TULF MP for Manipai & father of D. Siddarthan (PLOTE leader) killed by LTTE in 2 September 1985.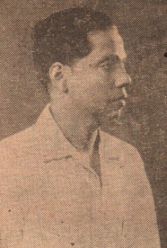 K Sabaratnam– TELO leader killed by LTTE's Kittu on 6 May 1986.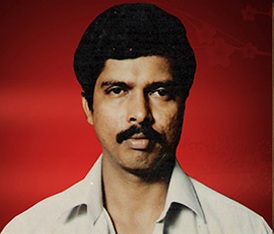 S Nadarajah Tamil lawyer – Pioneer of All Ceylon Tamil Congress – first & only Chairman of the Jaffna District Development Council. Shot on 12 February 1988for associating with IPKF.
M. Panchalingam– Tamilcivil servant – Educated at Jaffna Hindu College & Ananda Colombo. Shot dead on 1 May 1989at his brother's house inNallur
Amirthalingam MP, Secretary General of the TULF/ a Former Opposition Leader killed by LTTE on 13 July 1989in his own residence after his wife offered the assassins tea & biscuits. He called LTTE 'our boys'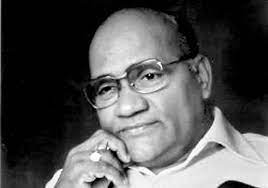 V Yogeswaran– husband of Sarojini Yogeswaran – Tamil lawyer & MP. Assassinated along with Amirthalingam on 13 July 1989. Sivasithamparan escaped with injuries.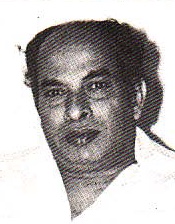 Dr. Ranjini Thiranagama– Tamil human rights activist killed on 21 September 1989 aged 35. Her sister was a member of LTTE & she too had helped LTTE initially.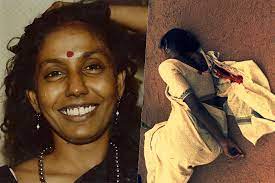 Sam & Kala Tambimuttu– Member of TULF. Contested 1989 General Elections under EPRLF. Shot outside the Canadian High Commission on 7 May 1990 – his wife who was also shot succumbed to her injuries on 16 May 1990.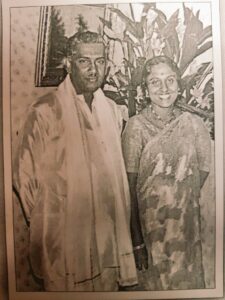 Pathmanabha– EPRLF leader killed by LTTE in India on 19 June 1990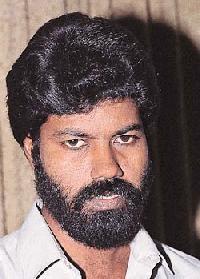 Veerasingam Ganeshasangari Yogasangari– son of V. Ganeshasangaree, brother of Tamil United Liberation Front Politician V. Anandasangaree. EPRLF assassinated on 19 June 1990in Madras, India. LTTE killed 7 members of EPRLF
https://noolaham.net/project/34/3336/3336.pdf
Gopalswamy Mahendraraja (Mahaththaya) Deputy Leader of LTTE executed by Prabakaranon 28 December 1994for being an informant to India's intelligence.
Chelvy Thiyagarajah– Journalist, she won the International Pen Award in 1992. LTTE abducted and executed her in1997in a LTTE prison along with another Manoharan.
A Thangathurai– lawyer & MP – killed on 5 July 1997
Thangathurai and six others (Sri Shanmuga principal Rajeshwari Thanabalasingham, Namagal Vidyalayam principal S. Joseph, principal K. Seevaratnam, civil engineer V. Retnarajah, social worker P. S. Ganeshalingam and a police bodyguard) were killed
Sarojini Yogeswaran– Mayor of Jaffna, she was shot five times with a pistol near her Jaffna home on 17 May 1998

S Shanmuganathan Senior PLOTE member – killed on 15 July 1998
Neelan Tiruchelvan President's Counsel / MP – Director of the International Centre for Ethnic Studies. Assassinated on 29 July 1999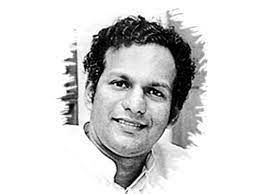 Nimalan Soundaranayagam– teacher & MP. Assassinated on 7 November 2000.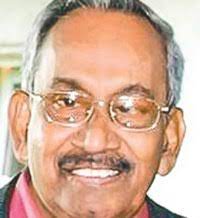 Kandasamy Iyer Balanadarajah Iyer (Balanadarasan),Senior Member of EPDP killed on 16 August 2004in Colombo. Initially member of EROS but left when EROS merged with LTTE & joined EPDP.
Lakshman Kadiragamar– Foreign Minister of Sri Lanka assassinated in his own home during the infamous cease fire agreement on 12 August 2005.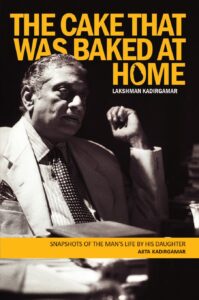 Relangi Selvarajah & her husband– Tamil journalist killed on 12 August 2005during infamous ceasefire & on the same day that Lakshman Kadiragamar was assassinated.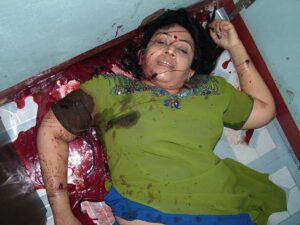 Kethesh Loganathan– Human Rights Activist – Deputy Secretary General of the Secretariat for Coordinating the Peace Process (SCOPP). Recipient of Hubert Humphrey Fellowship & joined EPRLF after returning to Sri Lanka – assassinated outside his home 12 August 2006.
Selliah Parameshwaram Kurukkal Chief Pujari of the Santhiveli Pilleyar Kovil killed on 7 February 2007
Jeyaraj Fernandopulle– MP. Killed on 6 April 2008along with 14 othersby a LTTE suicide bomber while raising flag for a marathon race.
Sivashri Kungaraja Kurukkal was the head pandit of the Koneswaram temple of Trincomalee,Shot dead on 21 September 2008
Kumaraswamy Nanthakopan (Ragu)killed in Colombo on 14 February 2008.
The families that participate at these LTTE Maaveerar Naal commemorations are ALL FAMILIES of LTTE & known as Maaveerar Kudumbangal (Great Hero Families) who had a privileged life under LTTE reign. We witnessed this in the manner some Tamils during the last phase were better fed than the rest of the Tamils.
The Maaveerar Naal commemorations are naturally held overseas as well – it is another income generator and a camouflage to fool the gullible international community. The LTTE diaspora lighting candles and holding commemorations are all LTTE runaway families – probably missing & disappeared are amongst them with new names & identities.
While these commemorations are held with pomp & pageant – the families of those killed by LTTE can only mourn their dead in private inside their homes. No public ceremonies are allowed by LTTE for them.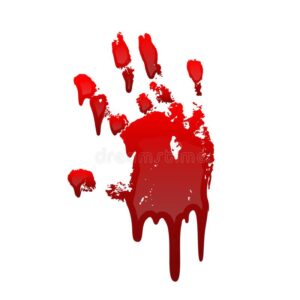 How can we forget the LTTE combatants killed by LTTE – children, women, men? How many did LTTE kill? Are their deaths credited to the Sri Lanka Army? During the last phase scores of injured LTTE combatants were put into buses and set fire. Many Tamils living overseas were killed for not towing LTTE line. Some continue to be threatened still.
So who is Wigneswaran & TNA actually fooling by attending these LTTE Heroes Day commemorations? Decorations are in LTTE colours (red & yellow), LTTE flag is hoisted, Eelam Map is displayed, garland for 1stLTTE hero Shankar is a dead giveaway (pun intended)
How do the families of these people who were slain by LTTE commemorate their dead?
What is that event called?
Shenali D Waduge