Reparations: Yes to compensation for non-LTTE Tamils – No to compensation for LTTE terrorists
LTTE remains a banned terrorist organization not only in Sri Lanka but in 32 countries including India, US, UK, Canada, EU, Malaysia. The UNSC Resolution 1373 incorporated by the GOSL in April 2014 has listed 15 foreign-based organizations as LTTE fronts warranting the countries from where these fronts are functioning to investigate & hold them to account for material support for a terror movement under their laws as LTTE is banned in their countries. Over & above this the UNHRC has passed 3 resolutions crux of which aims to hold to account only the Sri Lanka National Army. This is retributive justice to a National Army defending the country & its citizens while offering restorative justice to LTTE terrorists that were responsible for 3 decades of gruesome pre-meditated murder. Only Tamils who had no links to LTTE should receive any compensation. LTTE terrorists should not be given any compensation.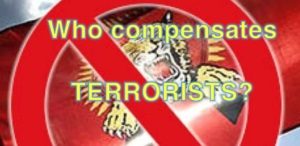 We suffered 30 years of terror no doubt, but we never got breathing space to adjust ourselves to life after LTTE without the interference of the very entities that did nothing to stop terror in Sri Lanka. UN, Western nations cannot shirk their guilt with regard to this.
The LTTE victims were Sinhalese, Muslims, Foreigners & even Tamils
While the LTTE killer cadres comprised only Tamils (even those from Tamil Nadu) those that provided covert/over support included not only Tamils but Sinhalese, Muslims, Burghers, foreign governments, foreign envoys, NGOs & their local stooges, UN officials & associate bodies, the Church & their representatives too. If we go to investigate every person or persons that benefitted by LTTE we are unlikely to go anywhere, however there are some who have been very vocal about their support & their links need to be investigated. TNA and members of the TNA belong to this category & when Sri Lanka has a 6th amendment applicable to them it is a surprise that no government wishes to incorporate this against them.
It is accepted that with the blur of distinction as LTTE not only had a civilian armed force but also fought in civilian clothing, mistakenly the Armed Forces may have killed some Tamils. This is a grievance shared by Sinhalese whose sons & daughters were also mistakenly killed by the Armed Forces during the JVP heyday.
However, no civilian involved in hostilities (voluntarily or by force) in civilian clothing is not privy to enjoy the privileges offered to a civilian.
So in terms of reparations, compensation must ONLY go to a civilian who was not involved in any LTTE terror act at the time of death. How sure can the office of missing persons be of this?
The office of missing persons has no right to force the tax payer to pocket money to be given to men or women who belonged to a banned terrorist movement.  
The Opposition & civic society must make this very clear and the Government should also understand the basis for this argument. If anyone wants to compensate terrorists out of their own personal funds, we have no issue but no terrorist group that remains banned has any right to be paid by state funds without them first being tried for their criminal acts & premeditated murders of innocent civilians.
In giving compensation to terrorists, a government is doing injustice to the real civilians that the LTTE killed.
So far even the UN has failed to death totals for Tamil
Civilians who were not involved in any LTTE acts of terror
Civilians who were part of the LTTE armed force
Civilians who were involved in hostilities (either by force or voluntarily)
Without this crucial data, how can all these deaths be placed as civilian & compensation offered to the 'civilians' who were involved in terrorist acts?
Therefore, how many & who are the genuine cases of civilians? How many of these LTTE cadres have run to foreign shores & taking up false identities yet claiming to be missing & seeking state funds for their families? This is totally unfair on the Sri Lankan tax payer.
All those who are demanding reparations for the LTTE do not pay taxes and so they do not feel the weight on the taxpayers who are already having to shoulder many blunders & errors committed by politicians. Therefore, officials must think twice about this absurd venture they are walking into.
No Tamil who has been involved in LTTE has any right to state compensation.
The government is welcome to offer a general amnesty so long as the LTTE & LTTE fronts & LTTE linked Tamil political parties give written assurance that they have dropped the Vaddukoddai Resolution of 1976 for a separate independent state & UNHRC removes their witch hunt against the armed forces demanding that only th National Army be brought before tribunals.
The government must demand that the UNHRC does not welcome any of the demands made by LTTE fronts who remain de-listed including the ones that have been removed only on the personal whims of the former foreign minister.
When there are 5000 Missing soldiers and when soldiers & intelligence officers are getting arrested & placed in prison without bail or without pressing charges against them thus resulting in the halt to even their salaries it is a damn shame & joke that terrorists are getting paid by the state. Let sanity prevail & not allow stupid decisions.
No country in the world compensates terrorists!
A country must compensate VICTIMS OF TERROR not the PERPETRATORS OF TERROR
Shenali D Waduge