Burning alive of a Sri Lankan in Pakistan – who is responsible & why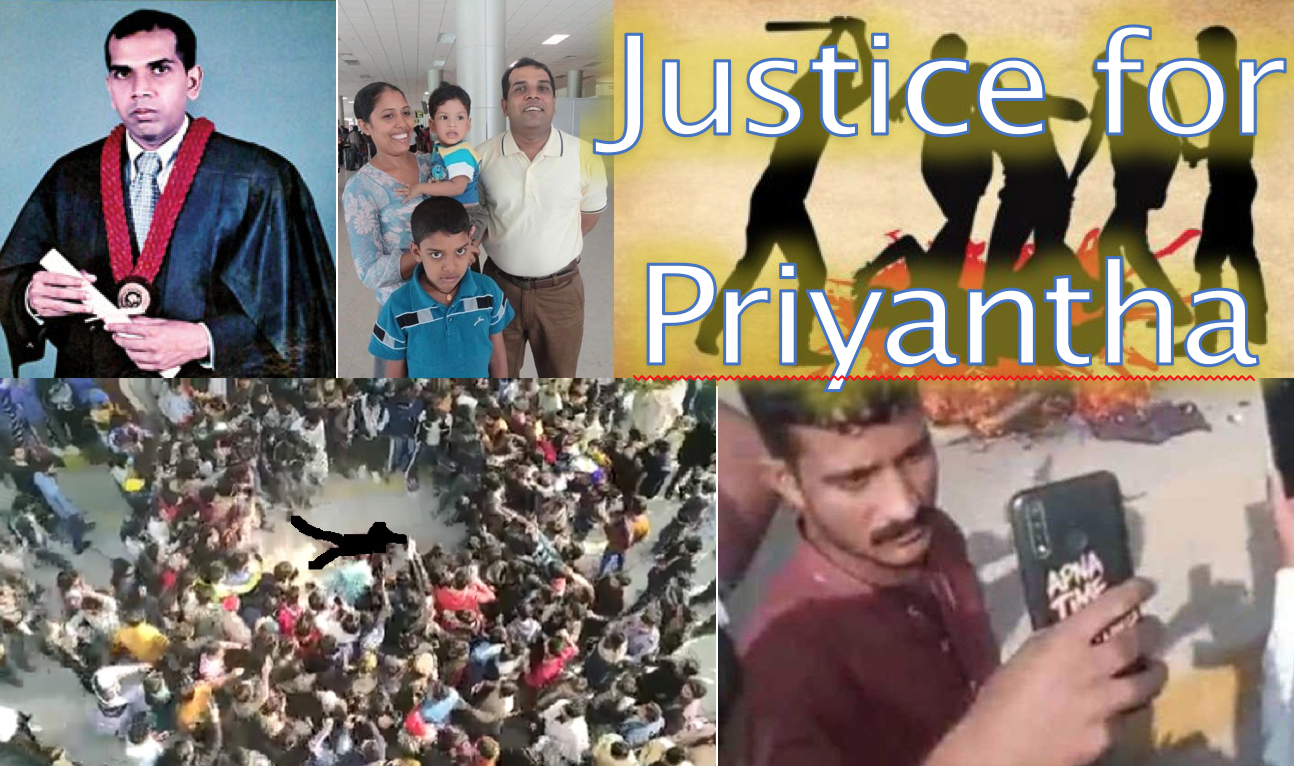 A human, a father, a foreign factory general manager was tortured & burnt alive. The deceased Priyantha Kumara, a Sri Lankan national departs this world leaving a wife & 2 sons. No matter how many arrests, jail terms will bring him back to life. Whether he was killed for his strict work standards or because he was an infidel non-Muslim – no one has a right to be killed & die in the manner he did with onlookers clapping, taking selfies & feeling proud of their action. Pakistan has been a good friend of Sri Lanka & still is but Pakistan has to quickly deal with extremism whether it is from quoting holy texts or whether it is as a result of instigations by foreign intel.
Our confusion!
While there are apologies condemning the lynching on 'behalf of all ulemas' claiming the act 'defaced Islam' at the opposite scale Islam's texts are quoted every time non-Muslims are targeted & killed. This killing is not the first & unlikely to be the last.
Culprits & Islamic Constitution
No doubt CCTV footage will identify the culprits but what is the laws applicable in a country that state religion is Islam and the killing is justified? The constitution establishes Islam as the state religion and requires all provisions of the law to be consistent with Islam.Would this mean verses from the scripts will be acceptable? Action by the anti-terrorism courts means a conflict in the scripts & the modern laws in place. Shouldn't this then be taken further to eliminate the verses that are sourced to killings?
The lynching & killing has been registered under the following sections
Section 431 (mischief by injury to public road, bridge, river or channel)
Section 427 (mischief causing damage amount to Rs.50)
Section 149 (unlawful assembly of people)
Section 201 (causing disappearance of evidence of offence or giving false information to screen offender)
Section 302 (intentional murder)
Section 7 of Anti-Terrorism Act              
Do these sections cover the barbarism that the world witnessed by video footage?
Justice for the family
Priyantha Kumara was a loyal worker and lived in Pakistan for 11 years. His untimely death leaves his wife & two sons without a breadwinner. Sending the culprits to prison or even hanging them is not enough. The culprits & the Pakistani Government must pay his salary until his retirement, compensate for his death to cover his children's education & higher studies as well as ensure they live a comfortable life for the rest of their life.
Lynching in Sialkot
Sialkot is no stranger to lynching. Two Pakistani brothers (17 & 15 years) were lynched on 15 August 2010 with even the support of local police & Rescue 1122. They were beaten with wooden beams & stones & hung. Post-death inquiry revealed their innocence & confirmed the police inaction. The anti-terrorism court sentenced 7 people to death by hanging, 6 life imprisonment & 3 year terms for the 10 police involved. Of the 28 accused 5 were acquitted.
Islam & Violence
The Muslim world must accept there is a global problem.
Every killing is sourced eventually to Islam's holy texts and Shariah law.
No matter how many 'out of context' excuses are given, the perpetrators declare they are only following the scriptures. So long as these texts and their interpretations are not dealt with, the Muslim world cannot find fault with non-Muslims for doubting their actions – all the crimes eventually lead to 'punishment' for non-Muslims in a Muslim society that claims only their will and that of their prophet is supreme & must prevail.
Is the overtones for multi-culturalism a façade as these are non-existent in the majority Muslim nations across the world. International bodies and UN do not demand these countries to be equal to all faiths.
The mob attack is barbaric for several reasons. The deceased had his clothing removed, he was beaten unconscious, his body was dragged to the streets, he was beaten further with beams, poles and huge stones dropped on his bloodied face. All this while onlookers clapped and cheered and took selfies. This makes every onlooker criminally liable for watching a brutal and barbaric act of crime take place. No matter how many apologies or condemnations can remove what took place. The scene recalled how an underaged domestic was stoned to death in an act of eye for an eye as given in Islamic Shariah law. Even cartoons are not spared as the Dutch cartoonist is also now dead. While some can say anything against non-Muslims & get away hiding behind western human rights terminology garb – anything said against them results in barbarism. A former Muslim Minister called Buddhist theros Saffron Robed Terrorists & got away — had the same being said about the Prophet what would have happened?
Law & order cannot deal with a situation where acts of murder are manipulated plucking verses from holy texts – unless these verses are removed. No amount of apology will deal with the situation & similar instances happening in the future. The social media coverage of the incident viewed "happy faced" emoji's which tells a lot about the divisions amongst Muslims & their holy texts. A response questioning the Sialkot incident was given the reply that non-Muslims had to respect Islam and the burka! With such mentality will we ever see an end to such religiously-sourced barbarism?
Tehreek-i-Labbaik Pakistan (TLP)
The barbaric act was linked to TLP Sialkot wing adding a political twist to the unfortunate murder. This then immediately raises the question of whether foreign intel was at play to create a situation where Pakistan would be globally condemned & Sri Lanka-Pakistan relations would be impacted. We cannot rule out such a scenario as their media was quick to spread notion that foreigners should fear going to Pakistan. Therefore, Sri Lanka & Pakistan authorities must quickly deal with the issue not eliminating what is due to the family of the deceased. The scene should not be hijacked for political gain or media sensationalism.
Pakistan Government & the PM has promised justice. This is what we expect. We want to know the exact circumstances that led to the barbarism & the individuals that instigated it & why. Stones were used to deface a human and every stone should be turned to catch every one of them. That is just one aspect of the expected justice.
The next and most important aspect is to ensure that the deceased family is financially looked after for the rest of their life and compensated at once for an amount that would cover their daily living & higher education of the 2 children sans a father. This is a must and the most important justice so that the family will not have to go begging for handouts after the media drama is over.
The other aspect of whether foreign intel was involved in instigating the crime also needs attention but should not undermine the justice due. Often, in such scenarios foreign intel have a way of inciting groups keeping their goals invisible. The perpetrators are selected manipulating what can incite them. This is where Muslim majority nations where holy scripts are manipulated against non-Muslims now will have to seriously address the issue where verses are being used to kill – we are not going to accept the 'out of context' excuses & varied interpretations, for this can never justify the loss of a human life in such barbaric acts of murder just because people are not Muslim or have offended Islam while there is no shortage of attacks against non-Muslims as well.
The world does not belong to only one ethnic group & the beliefs or social order advocated by that religion only.
Shenali D Waduge