Declaring Unilateral Declaration of Independence is reason not to give Police & Land Powers under 13A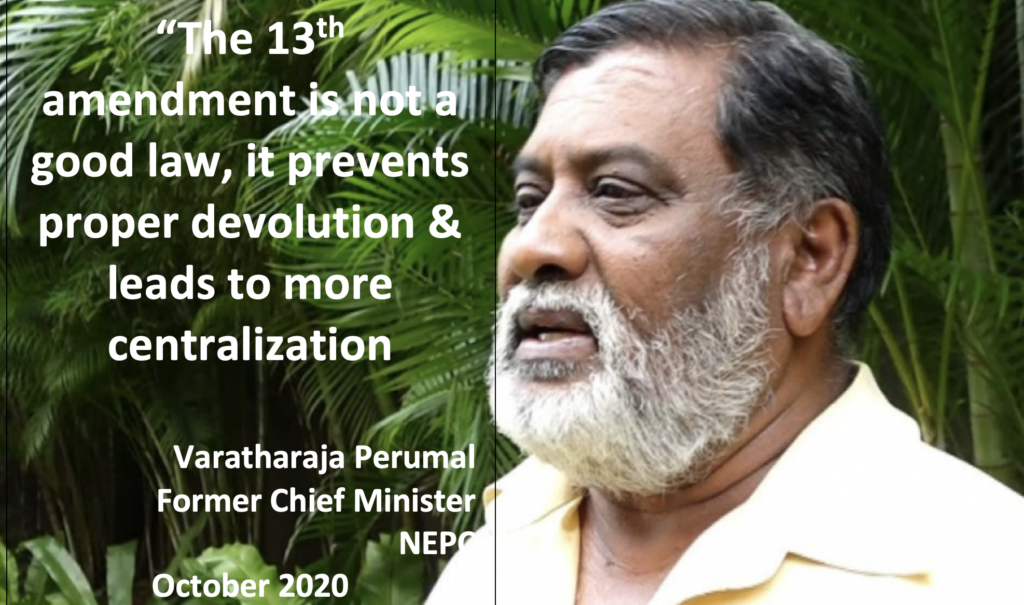 The Indo-Lanka Accord was signed to end the "ethnic conflict".
The 13th amendment was to constitutionally end the "ethnic conflict".
Both were failures because the solutions became the problem. The solutions had vested interests & agendas in mind & became political footballs that were never meant to be solved. It is for this reason that both Indian Govt & Sri Lankan Govt must agree to bury the Indo-Lanka Accord & 13A for good. Relations must look at future as scenarios have changed.
Contrary to what is being promoted. The Indo-Lanka Accord does not even mention the word "devolution" or even constitutional changes. All that the Indo-Lanka Accord mentions is merging the North & Eastern into one provincial council (NEPC), having an election one later in that merged unit via a referendum to decide if the East wished to remain merged or not. Indo-Lanka Accord does not mention 7 other provinces or even elections in them.
The 13th amendment was passed in November 1987. It contained 3 lists.
List 1 – Powers to be devolved to the Provinces
List 2 – Powers to be retained by the Centre (Reserved List)
List 3 – Powers to be shared (Concurrent List) but controlled by Parliament.
The 13thA gave powers to the Centre to control, reduce or even abolish provincial councils.
Given that both Indo-Lanka Accord & 13th amendment were forced upon Sri Lanka, no one can take offence when the general public demands its removal or non-enactment especially when India failed to fulfill its end of the bargain.
What is also noteworthy is that the Indo-Lanka Accord & the 13th amendment was denounced by not only the general public but Prabakaran, the LTTE, pro-LTTE Tamil political parties as well as even the JVP & even MPs of the UNP including R Premadasa who became President a month after passing of the 13th amendment. It clearly showed, that at the time of implementation only India & pro-Indian lobbies hailed it. Therefore, when initially the majority of the key players denounced the 13th amendment, why are their stooges demanding its implementation now? JVP even re-launched its terror & carried out an anti-India movement. Even women were forbidden from wearing Indian sarees & Indian products were banned by JVP.
The 13A was passed in November 1987 with an election to be held in the merged NE in 1988. LTTE called for the boycotting of elections, but with Indian-help EPRLF won securing 41 of the 71 seats in the NEPC. Varatharaja Perumal became NEPC's one & only Chief Minister.
Elections were eventually held 20 years later in 2008 after the East was liberated by Sri Lanka's Armed Forces.
President Premadasa struck a deal with the LTTE to force IPKF withdrawal in 1990 while the armed forces were tasked to deal with the JVP. LTTE eventually killed off a generation of Tamils while the JVP eliminated a generation of Sinhalese. One of the key reasons for LTTE to object to the 13A and merger of NE was that India had decided to create its own militant force & a group of pro-Indian loyalists. Varatharaja Perumal was the Indian-selected Chief Minister while Dayan Jayatilake was an Indian-selected Minister in the merged NEPC. DayanJ was well aware that the Tamil National Army created under Perumal was funded & trained by RAW to eventually replace LTTE. Perumal, Dayan Jayatilake & other Ministers all fled to India. Dayan J has jumped from EPRLF, UNP, PA, UPFA and now to SJB.
EPRLF was created in 1981 by Pathmanabha, Douglas Devananda, Varathaja Perumal & Suresh Premachandran. LTTE & EPRLF clashed. LTTE has killed over 600 EPRLF members.
Clashes between LTTE & IPKF intensified. By March 1990 President Premadasa requested IPKF to exit Sri Lanka. It is noteworthy that at the time of IPKF being asked to exit, Perumal declared an independent eelam on 1 March 1990.  President Premadasa imposed direct rule on 25 March 1990. Pathmanabha was flown from Trinco to India in an Indian military craft but on 19 June 1990 EPRLF office in Chennai was attacked by LTTE – Pathmanabha & 8 others were killed.
Perumal, Dayan Jayatilake & other Ministers all fled to India. Dayan J has jumped from EPRLF, UNP, PA, UPFA and now to SJB.
President Premadasa will be remembered for 2 key decisions – declaring the British envoy Gladstone persona non grata for interfering in Sri Lanka's internal affairs & nullifying the UDI by Perumal & taking the NE Province under the control of the Centre.
Clearly the Indo-Lanka Accord & 13A were influenced by India & promoted by Indian bootlickers. Basically, India held control over the NEPC via Perumal & his key Ministers. Therefore, NEPC was never created for the benefit of the Tamils nor did it ever benefit the Tamils as even the key Members were towing what India wanted. Therefore, if anyone has a grievance over the annulment of the NEPC by the Centre in 1990 it is only India & the Sri Lankans who were members of the NEPC at the time.
It is poignant that the 45 member Mangala Moonesinghe Committee appointed to look into the 13A & requested public submissions did not have proposals by the UNP, the SLFP or the LTTE. The interim report was released in January 1993 but it was not endorsed by the Tamil parties.
Noteworthy are the dates that coincided with the proposals & explains eventual outcomes.
August 1994 Peoples Alliance wins General Elections.
October 1994 LTTE-PA talks. UNP Presidential Candidate Gamini Dissanayake assassinated. November 1994 PM Chandrika wins Presidential Election. Talks collapse between LTTE & Eelam War III commences in April 1995.
Devolution proposals in Aug 1995 – keywords "plural society" "united Sri Lanka" "union of regions" spearheaded by GLPieris & Neelan Tiruchelvan.
January 1997 a British legal firm drafted a constitutional model proposed by Tamils on the Thimpu talks. It was clearly an attempt to constitutionally carve out what militarily LTTE was trying to do.
https://www.shenaliwaduge.com/main-elements-of-new-constitution-drafted-by-british-solicitors-in-1994/
While the UN Charter enshrines sovereignty & territorial integrity of Member States, the UNSC Resolution 1244 of June 1999 reaffirms commitment to sovereignty & territorial integrity of all States. Thus, the Kosovo UDI undermines these 2 key provisions & sets a bad precedent. Ironically, DayanJ who was a Minister under Perumal who called for UDI in NEPC was Sri Lanka's representative in Geneva at time of Kosovo UDI.

In February 1990 – PM V P Singh informed Indian HC to Colombo Mehrothra to inform Perumal to dissolve the NEPC. Mehrotra passed the task to his deputy S Jaishankar, the First Secretary who met Perumal on 28 Feb 1990. Perumal said India had no business telling him what to do. Perumal & Pathmanabha decided on a UDI of Tamil Eelam.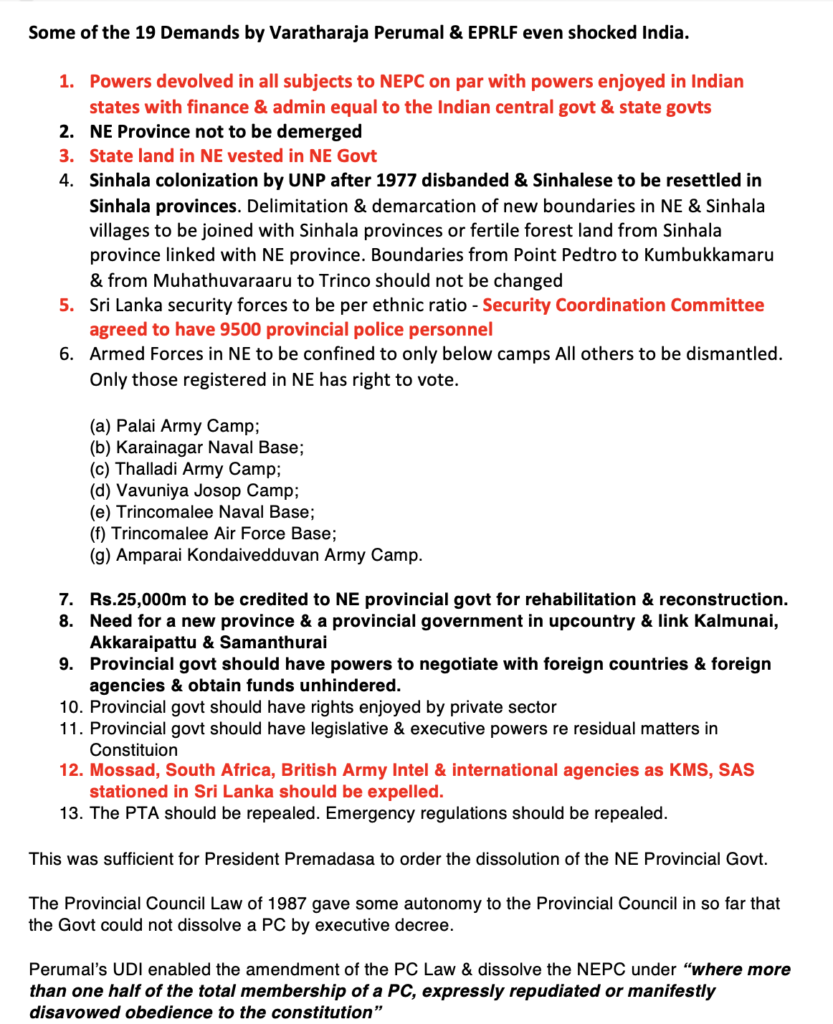 If Prabakaran knew that India would never allow the formation of a Tamil Eelam as it would run counter to India's interest, why is the TNA and LTTE fronts insisting on Tamil Eelam?
If India was not interested in a Tamil Eelam why was India spending Rs.2.5m per month to administer Perumal's NEPC & maintain a Tamil National Army to replace LTTE?
If India created the merged NE & created provincial govt in the NE with its puppet Chief Minister, why did India simply dump Perumal & the EPRLF? The moment that happened, LTTE began taking over areas vacated by IPKF, EPRLF members were slaughtered, pro-LTTE Tamil Nadu Chief Minister exerted power to dissolve the NEPC which Perumal refused & the last straw came with Congress losing elections in India & RAW removing all equipment handed by India, thus leaving Perumal to sort out a problem India had created & dumped on him & departed.
With India no longer molly-cuddling EPRLF, Perumal & his men were left at the mercy of the LTTE. LTTE had its own convention about the same time that Perumal declared UDI.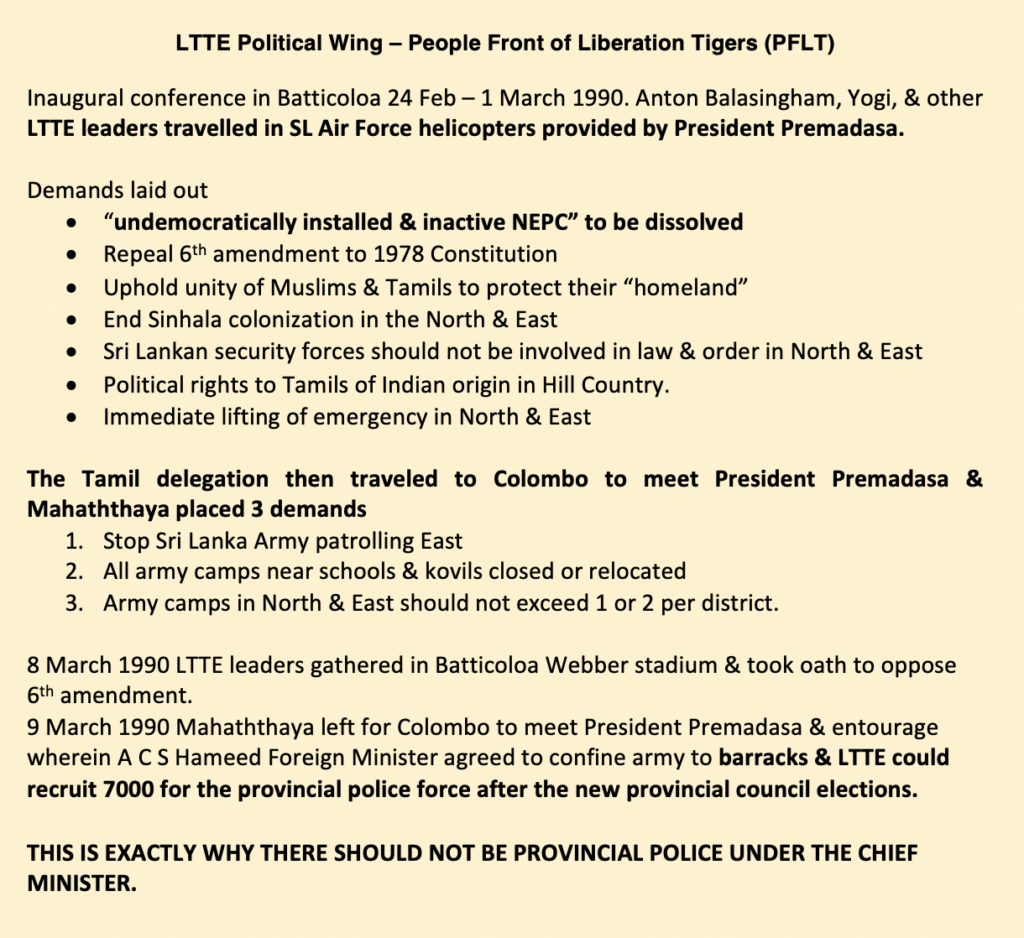 Premadasa adverturism, arming LTTE to chase IPKF, Tamil Nadu favoring LTTE & undermining EPRLF, Indian Central Govt initially supporting EPRLF & then leaving it to fend for itself are some of the reasons for the skirmishes that have resulted as all entities ventured into 13A with other agendas & thus it was bound to fail & did fail & should not be revived for the wrong reasons & agendas again.
Lessons that Sri Lanka must take & not negotiate on are – never to withdraw armed forces in any part of the territory of Sri Lanka, never permit a foreign presence on Sri Lankan soil.
Shenali D Waduge