Dharisha Bastians & Mujib Mashal/New York Times – How dare you call a Buddhist Thero as "Mr. Ratana" – kindly retract your story & apologize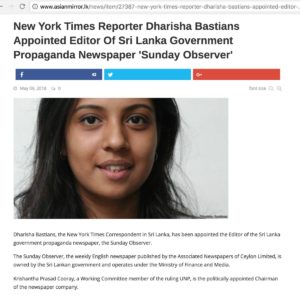 3rd June 2019 New York Times published article titled "All 9 of Sri Lanka's Muslim Minister's Resign, as bombing backlash intensifies" flagrantly violates all forms of journalistic ethics, attempts to flair ethnic disharmony by intent to flame ethnic tensions and these paragons of virtue eternally accusing others of racism and ethnic discrimination has the audacity to use an international publication to call a Buddhist thero as 'Mr. Ratana" twice while Gnanasara Thero is referred to as Mr. Gnanasara once. This demands not only a retraction of entire article but a public apology by Dharisha Bastians for overstepping her boundary. Buddhist Organizations/Associations are requested to adopt the following measures against this malicious and insensitive article.
Who is Dharisha Bastians?
She was appointed Editor of Sunday Observer by yahapalana government but resigned after Ranil Wickremasinghe was sacked as PM in October 2018 and Mahinda Rajapakse appointed as PM.
Let us first question some of the erroneous and purposely distorted versions the Sri Lankan correspondent of NYT is making
"All nine Muslim ministers in Sri Lanka's government and 2 Muslim provincial governors resigned on Monday as the fragile, Buddhist majority country grappled further with the communal backlash of the Easter Sunday bombings"
"communal backlash of the Easter Sunday bombings" what are they referring to? The government organized mob attacks 3 weeks after the Easter bombings? Everyone knows that revenge attacks generally happen immediately after a sudden catastrophic incident. When attacks happen 3 weeks it smells of more than a rat. Obviously the 2 correspondents are misleading the international readers because the mobs attacked Sinhala shops as well and the Sinhalese residents were keeping Muslims in their homes. But that is never newsworthy enough to print!
So what has angered these two correspondents?
Is it that Ratana Thero commenced a hunger strike demanding 3 Muslim politicians who were linked to the suicide bombers who killed over 300 people. So it's alright for politicians to be linked to suicide bombers that killed innocent worshippers, foreigners and people having breakfast at the 3 targeted hotels, but not alright for anyone to demand their removal and its an 'act of solidarity' for 8 Ministers to resign.
Whose law is this?
According to the article Rauf Hakeem the head of the Sri Lanka Muslim Congress claims "our people fear a blood bath" – he may feel fear but there was an actual blood bath in not just once place on 21st April 2019 but in 9 venues where Islamic terrorists struck. That bloodbath is far more gruesome than a feeling because all citizens are now feeling fear of bloodbaths with the daily updates of swords, ammunitions and other dangerous equipment found in Muslim homes, shops and even mosques. So all citizens are now living in fear for their lives after seeing how educated, rich and successful Muslims could become suicide bombers – as no one knows what a potential suicide bomber looks like!
If Muslims are facing suspicion, it is only they who can now help hand over any radicals to the authorities so that no more innocent people face untimely deaths.
What are the 2 authors trying to insinuate by saying "support of Muslim voters and ethnic minority Tamils was decisive in the election victory of Mr. Sirisena in 2014" – is this to say just because minorities voted a country has to look the other way ignoring their extremisms?
It is absolutely shocking that these supposed to be 'unbiased' correspondents claiming to give both sides of the story are lavishly spewing venom against Sinhala Buddhists calling them all the names under the sun and accusing them of inciting violence against Muslims but never bother to mention some of the racist comments that the Muslim politicians make which is the main reason to react.
The article ends referring to statements by 3 characters who are not representative of the people, they are clueless about their own communities, they careless about any of the communities so long as they are in some seat of power & influence.
These writers are using their pen in wicked and evil ways. They claim to be independent & unbiased but they are exactly the opposite. For too long they have got away as Sinhala Buddhist majority have chosen to ignore their slander. However, this time round these writers should be taken to task & their wicked and vile acts presented to the world.
A content analysis of these rabble rousers will prove beyond all doubt that their writings are nothing but gutter journalism.
As regards the disgraceful manner that a Buddhist thero has been called 'MR' – Buddhist organizations are requested to immediately take up the following course of action.
File complaint with Sri Lanka's Attorney General's Department citing violation of penal codes and attempting to incite racial flames and ethnic disharmony
P.O.Box 502, Hulftsdorp, Colombo 12
administration@attorneygeneral.gov.lk
+94 (11) 2147888
http://www.attorneygeneral.gov.lk
File complaint with the Sri Lanka Police also citing violation of penal code
File complaint with the Buddha Sasana Ministry – demanding Minister raise complaint against the manner a Sri Lankan correspondent working for a foreign paper has used term "MR" in reference to a Buddhist thero knowing fully well that no one refers to a Buddhist thero as "MR".
File complaint with the Press Complaint Commission
96 Kirula Rd, Colombo
File complaint with Sri Lanka Press Institute against journalistic ethics adopted by the Sri Lankan correspondent
File complaint with the Sri Lanka Bar Association
Would the New York Times or these two correspondents call the Cardinal as "MR" or a Muslim Cleric as "MR" – we doubt.
What makes them think that they can refer to Buddhist monks as they do? Is anyone giving away some sort of prize for such name calling?
This particular article has overstepped its limits and deserves to be condemned by all but the Buddhist organizations and Nationalist Associations are advised to take this up with the authorities for the manner the paper and the journalists have flouted decency & journalistic ethics.
Shenali D Waduge