Dharisha Bastians joins Asif Hussein in a long list of media unashamedly denigrating Buddhism & Buddhists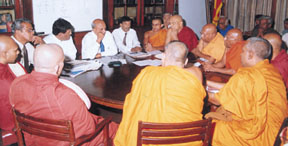 Dharisha Bastians calling a Buddhist Thero as 'Mr. Ratana' is not the first derogatory term used against Buddhists in Sri Lanka and she is definitely not going to be the last. But, their slander is institutionally supported by the media who employs them and pays them to write as they do and no editor feels even a pang of ethics when approving their writings for publications. Dharisha Bastians article referring to 'Mr. Ratana' was published by New York Times, she was appointed by the present government as editor-in-chief of Sunday Observer another state paper where in 2002 Asif Hussein & others attempted to humiliate the Buddhists by claiming they were worshipping a fake tooth & requested a DNA test. Asif Hussein who was interdicted by Sunday Observer is now a regular columnist in the Daily Mirror while then editor Lakshman Gunasekera who was also sacked in 2002 was appointed editor of Sunday Observer in 2016 by the Ranil Wickremasinghe Government. Two-thirds of Sri Lankans are Buddhists and their sensitivities matters too!
On 20 January 2002 a delegation of Bhikkus, laymen went to lodge an official complaint with the Acting Chairman of Lake House Newspapers.
This meeting was as a result of an article that was to be published on 6 January 2002 claiming the Sacred Tooth Relic at the Dalada Maligawa was fake and requested DNA testing. Though Lake House management claimed the article was not published, distribution had been done in Ratnapura & Moneragala & on the internet.
The Buddhist delegation demanded the Editor & all those responsible for the publication of the article be removed from their posts. Eventually the writer Asif Hussein was interdicted so was the 2002 Sunday Observer Editor Lakshman Gunasekera. No surprise that this same editor was returned to head Sunday Observer by the Ranil Wickremasinghe government in 2016. We all know the extent of anti-Buddhist campaign carried out since 2015.
Denigration of Buddhism has been happening since colonial occupation of Sinhale. There is a pattern to the denigration. The colonial administration ensured missionary English education isolated Sinhalese & non-Sinhalese from Buddhist teachings. The English newspapers in missionary control & later handed over to sepoy local kalu suddas ensured the campaign to ridicule & mock Buddhism continued unabated. This vilification campaign against Buddhists using the media was documented with facts by the K D de Silva Press Commission Report in 1964 which wrote newspapers of the Lake House & the Times Group were guilty of anti-national & anti-Buddhist conduct'. A content analysis of the Buddhist bashers will clearly reveal the pattern. The more the Buddhists are bashed the bashers are regular recipients of awards and scholarships too!
Buddhist bashing sepoy press"
The newspapers are regularly carrying anti-Buddhist articles without any shame.
In October 2001 while Lakshman Gunasekera was editor, a letter by B F Perera was published questioning the authenticity of the Tooth relic and requested a public debate. He claimed only 'fanatical Buddhists' worship the Tooth Relic. A content analysis of Sunday Observer by this same editor will show how he is using his position to denigrate Buddhists.
The papers rarely will allow a right of reply by any Buddhists.
Poya Day supplements are generally written by non-Buddhists questioning Buddhism or its festivals, traditions & rituals (K K S Perera is one such regular writer!
While the Buddhist bashers have a field day – anything said by a Buddhist questioning the bashers immediately becomes branded 'hate speech' 'racism'.
26 April 2014 – Saving Sri Lanka from the Monkish Terror' (www.island.lk/ by Political Watch)
03 May 2014 – Why Gnanasara has to be dealt with' (www.island.lk/ by Political Watch)
Buddhist monks were called 'mob of monks' 'marauding monks' 'monkish terror' 'thug monks' 'these are the modern day Devadattas and Buddharakkithas' The Malwatte Mahanayake was accused of turning himself into a 'cipher'.
Aug 2012 – then Justice Minister & leader of SL Muslim Congress Rauf Hakeem demanded President Rajapakse defeat 'yellow-robed terrorism'
Jul 2014 – D B S Jeyraj's article 'Fascists in saffron robes? The rise of Sri Lanka's Buddhist ultra nationalists
Jul 2014 – Confronting Extremist Thugs In Buddhist Religious Robes" Siritunga Jayasuriya
Jun 2014 – Sri Lanka Guardian publishes article Buddhist extremists attack innocent Muslims in Sri Lanka" by one Refai
Jun 2014 – Barbarism of Sinhala Buddhist extremist forces against Muslims" – Latheef Farook
May 2014 – Bodu Bala Sena's thug leader Gnanasara thero should be flogged publicly and chased on the road with full exposure on tv" writes D B S Jeyraj
May 2014 Why Gnanasara has to be dealt with" Island newspaper by Political Watch pseudonym
April 2014 Expose thugs in robes and isolate them" – Sunday Leader author unknown
April 2014 an unholy alliance of Buddhists" by Tariq A. Al-Maeena
Jan 2014 Summon Lord Buddha to Geneva" Sharmini Serasinghe writing to Colombo Telegraph
Aug 2013 Buddhist extremists hope to attain 'nibbana' by attacking Muslims, mosques and Muslim owned businesses' writes D B S Jeyraj
Jun 2013 Buddhist fanatics on the streets' Island newspaper by Political Watch
Aug 2012 Mad men of Dambulla" by TisaraneeG writing to Sunday Leader
Is this not inciting hate speech or is the newspaper owners, the editor & the journalists given free rein to denigrate Buddhists/Buddhism?
What about the Government, what is its position when it is constitutionally bound to protect & foster Buddhism by virtue of Article 9.
2/3 population is Sinhale Buddhists but how many editors are Sinhala Buddhists?
How many of Sri Lanka's media publications belong to Buddhists/non-Buddhists
Who are the regular columnists and what ethno-religious group do they belong to?
How many articles are featured by newspapers & does this correspond with the ethnic ratio?
The Buddhist bashing press regular columnists are Dharisha, DusheyR, HarimP, KishaliP, KumarD, LatheefF, NotebookofShanie, TisaraneeG, UvinduK, R.Phillips, SonaliS, FredrikaJ, SharminiS, RM Senanayake, IzethH and they are complimented by another set of civil society leaders whose regular vituperative are also against Sinhala Buddhists – NimalkaF, PakiasothyS, JehanP, DayanJ, BasilF, KumarR, SurendraA.
All of them are not writing personal opinions. They are paid and working for organizations and given daily columns therefore what they write though claiming to be personal opinion heavily influences their work given that they are directly or indirectly linked to programs their organizations are involved in Sri Lanka.
A good look at their articles will reveal their lavish usage of terms 'Buddhist extremists' 'Sinhala supremacists', 'Racist Sinhala Buddhists' 'Fascist Buddhists'. Are these the 'ethical' writers who are regular recipients of awards and guest speakers?
And these are the very personalities championing campaigns against Hate Speech Racism Discrimination etc. What hypocrites!
When media carries these denigrations does this look as if there is no media freedom in Sri Lanka, if minorities were being discriminated by the majority would they be able to freely and with such venom refer to Buddhists as they do in print?
No minority religion has been called by the names that Buddhist Sangha have been called in print not even the Catholic priests linked to LTTE terror.
The moment Buddhists write to question these denigrations there's a team kept ready to divert public opinion from the issue and kill the messenger with a harangue of name calling.
What must Buddhists do
· Demand a future government to hold a Commission of Inquiry into denigration of Buddhism by Sri Lanka's mass media & enforce strict regulations for their conduct
· Republish the 1964 Press Commission Report – which will prove that Sri Lanka's media has taken no steps to self-regulate itself & its anti-Buddhist bias. Media cannot be allowed to play politics using communication platforms.
· Buddhist organizations must carry out a content analysis of all Buddhist bashing writers/newspapers and publish for the world to see
· Demand Sri Lanka's press enforce strict regulations on people writing under pseudonyms (Vishwamitra/Notebook of Shani (author is now dead)/ Don Manu / Political Watch etc – no one can hide behind a false name and publish derogatory terms & address people in the most unethical & disrespectful manner.
· Buddhist organizations must set up media review/monitoring committees to review publications/broadcasts/tv programs that attempt to undermine Buddhism
· Call for a National Convention of Buddhist Sangha and Buddhist laymen (not multicultural Buddhists) to openly discuss the challenges facing Buddhists/Buddhism in Sri Lanka & rest of Asia.
· Demand a future government to gazette all Sacred Buddhist sites/archaeology sites in order to legally prevent incursions or dubious take overs.
· Buddhist organizations must compile List of Grievances of Buddhists in Sri Lanka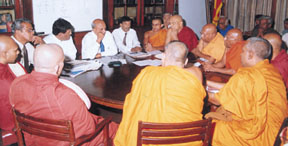 Shenali D Waduge