"LTTE killed my beloved father" – Arun Siddarths wife Thangathurai Thayani's heartbreaking story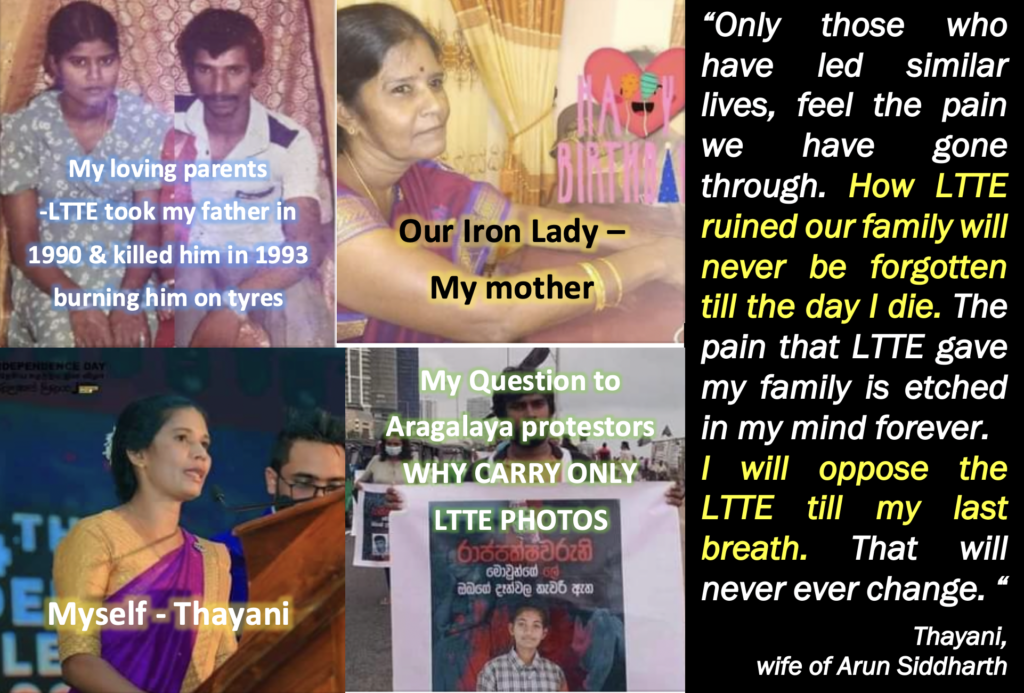 A letter written by Thangathurai Thayani, wife of Arun Siddharth on her mother's 60th birthday that fell on 4thAugust 2022 should make the human rights organizations feel ashamed and should make the international human rights & terrorism experts wonder why they continue to give lifelines to terrorists/their fronts. She raises two pertinent questions – why doesn't Geneva invite the victims of LTTE & why didn't the aragala protestors carry photos of LTTE victims? The Church, the foreign envoys, political parties, media outlets, top corporates & famous personalities that supported the aragala should respond.
Thangathurai's story:
There was a time, we had no means to convey to society, the injustice to our family. I resolved to one day have my say. We were silenced for 32 years. It was only after the conflict ended in 2009 that we saw some relief. At least we had an opportunity to tell the outside world what we had gone through. I am grateful to the Government of Sri Lanka for this chance to tell our version of the story. I raise my hands in gratitude. It was only after this island was freed from the terror of LTTE, that the victims of LTTE were given a chance to express what they had endured silently.
My father Sellan Thangathurai was a bus driver. He drove a bus plying from Jaffna to Kankasanthurai. My mother's name is Victoria. I am the eldest. I was born in 1985. My sister was born in 1988. Thereafter my mother had 2 sons, one born in 1989 & another the following year (1990). This was my beautiful family. On 20 February 1990, was the last day that we were able to cherish happy moments with our father. It was the last day that we played with him, cuddled him & felt his warmth. On that fateful day on 20 February 1990 between 11p.m & 12p.m. we heard a knock on our door. They shouted "Thangathurai, Thangathurai". Both parents opened the door & went out. It was "Nathan". He was from our village. He was with two others. Nathan pointed at the other two & said "these two are from the LTTE, they want to investigate you. they want to search your house & so I brought them here"
They said they needed to take our father to one of their camps. Our father said he could not leave the family alone in the house & so would come in the morning. They said he had to come with them immediately. Then they grabbed him & took him by force into the vehicle they had come in. There were more inside the vehicle. They took our father away. That night 9 more were taken by LTTE from our village. We joined the 9 families to go to the LTTE camp located in Chunnakam early in the morning. The LTTE commander of this camp was known as Saleem Shiva. Our mother, other mothers, wives, brothers, sisters all fell down at the feet of Saleem Shiva & begged him to release our people. I grabbed his leg & cried, asking him to return our father. Other children also cried. He felt nothing. He took no notice of our tears. Other families from different villages also arrived & began crying to release their family members. All those who were taken by the LTTE were put into LTTE prisons.
We were given an opportunity to see our father. My father took my hand from inside the wired prison & kissed it. Father told my mother to meet some of the LTTE sympathizers in our village & seek their help. He gave some names & said they may help. We went again the next day. They gave my mother our father's driver's license & Rs.36 that had been inside his pocket. Saleem told us that father had been taken to LTTE's camp in Thunnukkai, Mullaitivu for further questioning. Thunnukkai is where LTTE had its torture chambers. We were frozen with grief & came home. Everyone knew that whoever was taken to Thunnukkai camp never returned alive. Our mother took us to every LTTE camp in Jaffna. She even went to the Red Cross & Human Rights Commission appealing to release our father. Our mother had no income & no means to feed 4 of us. With each passing day, life became an ordeal for all of us. My mother went to the LTTE office & told them, that if her husband is not returned, the family would die of starvation. They told my mother to write a letter about the situation at home. A female LTTE came & handed us some school books and clothes. That is because mother had written that she had school going children. They then proposed that she hand over the children to the Sencholai orphanage if our mother could not feed the children. They asked her to join the LTTE. Our mother flatly refused both proposals. They then said that they were giving Rs.200 per month for families without a father & to collect it from the LTTE office. Every month, I accompanied my mother to take that Rs.200.
Many more families who had their fathers taken by LTTE came to pick up this Rs.200 per month. During such an occasion I met Subhashini & Sumajini who were my age. Their fathers had also been taken by LTTE & murdered.
In order to take that Rs.200, we had to attend LTTE meetings & were taken in buses. We could not refuse. They pretended they would show us our father. But, we never saw our father. We were given lunch parcels. By this time our mother was 29 years. Imagine what life would have been for a 29 year old mother with 4 young children with no clue as to how to bring up the children without a father. When I look back, I think my mother was an iron lady for her determination not to give up.
Our mother began farming. She went to work in houses. She brought home left over food to feed us. None of our relations came to help us in time of need. The people whom mother left us with while she went to earn, tormented & abused us. As the eldest, I bore much of the pain not wanting to subject my sister & brothers to the same abuses. The hardships I went through after my fathers disappearance is nothing I can relate without pain. I lost my childhood – I can never regain this. This was the darkest period of my life.
It was now 3 years since our father was taken away in 1990. It was October 1993. I was returning home from school. A car stopped with 4 LTTErs inside. They handed a file. Our father was accused of transporting weapons, helping an enemy group of the LTTE & spying. LTTE had announced death sentence upon our father for these crimes. My mother started wailing & threw the chairs in our home at them. We had no way to confirm what they said. However, it was this day that we realized that our father had been killed. I was about 9 years old when my childhood crashed with the killing of my father.
In 2021, the "Walk for Unity" initiative commenced from Matara to end in Jaffna. I too participated. I arrived in Colombo & during the press conference I informed about LTTE taking away my father in 1990. A person in the adjoining village listened to my story & came to speak to me. He had been in the same LTTE prison cell as my father. He too had been forcibly taken by LTTE. What he had endured during this period has made him a mental wreck & unable to do any form of work. Both his kidneys are not functioning properly. The camp was known as the butchery. I am not sure if the details of this camp is included in the human rights records of international bodies. I came to know much later that LTTE had torture chambers in Thunnukai, Wattuwakai & Vallipuram. What happened inside these torture chambers need to be included into a book. My father & several others had been killed & burnt on tyres near a roadside.
I had a question to ask. If, LTTE had its own police, own courts & was governing them, why did they not put him in Court, read allegations against him, call for evidence & give him due punishment without torturing him to death & burning him on tyres. LTTE were not taking arms on behalf of the Tamil people. LTTE are only murderers. These are not the one's who should be allowed to go to Geneva crying justice for the disappeared against the GoSL, it is us who should be going. We are the ones who should be going to Geneva. It is the mothers, females/wives/children of men, LTTE took & "disappeared" who should be going to Geneva.
Many families are traumatized by what LTTE did to them. They are suffering psychologically for years. They are today mental patients. I am with these families, helping them in whatever way I can. I formed the Jaffna Women's Front. We have 3000 members. They are all victims of LTTE. One or more members of their family members had been taken by LTTE. There are more families who are victims of LTTE & silenced by LTTE guns. Their voices have still not been heard by the international community or human rights organizations. If the victims of LTTE are allowed to go to Geneva, there will be no room in their buildings to put these LTTE victims. You can imagine the numbers! From the time our father was taken away in 1990 & when we heard of his murder in 1993, our mother went to the human rights organizations. She went to every place she could think of, but she was given no relief or justice. During this time, the food she prepared with difficulty, I carried to sell in shops. I was still a girl of 7 or 8 years. There were many refugee camps. I took these food items there & sold them & it was from this little money that all 5 of us survived.
Recently, I met a school friend. She cried after hearing about me selling wade. Only those who have led similar lives, feel the pain we have gone through. How LTTE ruined our family will never be forgotten till the day I die. The pain that LTTE gave my family is etched in my mind forever. I will oppose the LTTE till my last breath. That will never ever change.
I have one more thing to say.
The photos displayed at the aragalaya caught my attention. I have included a photo of a female LTTE. Those holding the photo had even written sad poems about this LTTE female. This woman is a member of the media unit of the LTTE. She had undergone LTTE military training & held the title of Lt. Col. She was 2 years elder to me. She was not inducted to the LTTE by force. She voluntarily joined the LTTE that was banned by 35 countries. She married another LTTEr in 2007 & had a child. This female LTTEr died during the final stages of the conflict in 2009 and several photos were released to the media.
I have a question for those carrying this LTTE females photo at the aragalaya.
There are numerous terrorist organizations – Al Qaeda, Boko Haram, ISIS etc. They are brutal and they all have media units. Simply because they worked in their media units, the terrorism, their groups committed, does not absolve them of aiding & abetting terror.
LTTE killed my father and likewise LTTE has killed similar innocent Tamils in the North. LTTE has killed innocent people in the South too in Kebethigollewa, Aranthalawa, Piliyandala Bus, Pettah train, Batticoloa Muslims. So many have fallen victims. The person the aragala protestors are glorifying belongs to the LTTE that killed ordinary people who know nothing about politics as well as small children.
What I want to ask the aragalaya protestors is this – why can't they carry a photo of my father, or a photo of the victims of Kebethigollewa, the Buddhist theros killed in Aranthalawa, photo of the LTTE bombing of Dalada Maligawa? If the aragala protestors did that while also carrying the photo of the dead female LTTE, then they can claim to be fighting for justice for all.
Why didn't the ordinary people in North not participate in the aragalaya?
That is because the aragalaya was only carrying one-sided version.
The day this was written, was to celebrate the 60th birthday of my mother, the iron lady on 4 August 2022 who after LTTE killed my father in 1990, singlehandedly brought myself & my 3 siblings up under tremendous hardships & turmoil.
A true story by Thangathurai Thayani (Chairman Jaffna Womens Front)
https://m.facebook.com/story.php?story_fbid=pfbid0MEzwhThffpeTT6Qhh9Y8xnw5eynJyfdRKATj3DYzBP6vsycmok4fv65oo9zJctPvl&id=100075491365696&mibextid=qC1gEa
It is sad that the real victims are neglected. UNHRC head Navi Pillay arrived in Sri Lanka – she did not meet a single LTTE victim. UNSG Ban Ki Moon arrived in Sri Lanka, he too did not meet a single LTTE victim. Many foreign envoys regularly arrive – they too do not meet LTTE victims. Why is that?
Shenali D Waduge