MCC Agreement: Hidden costs not factored by Sri Lanka's Government & People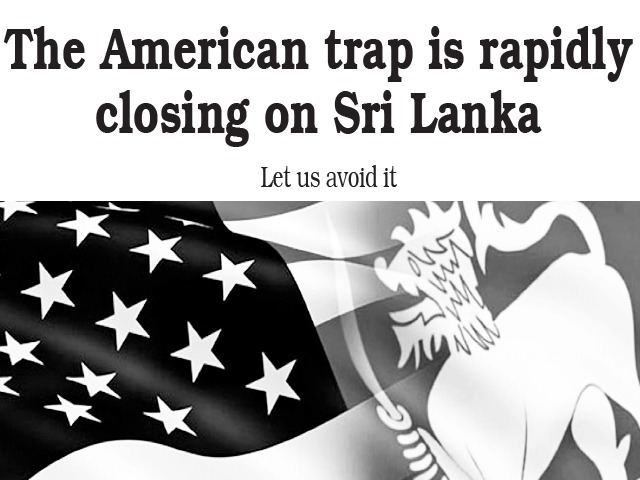 The People of Sri Lanka are supposed to feel elated that the US Government is giving a 'gift' of $480m across a period of 5 years. This gift comes with plenty of strings. Sri Lanka has to commit to a set of preconditions which include privatizing of all state land as well as agreeing to honor undisclosed notifications sent by MCC from time to time via letters. Only after signing MCC Compact, Sri Lanka is given $32,5m. The Compact enters into force only after domestic requirements are completed, Program Implementation Agreements are signed & AG's signed legal opinion is sent to MCC. The remaining $447.5m is given across 5 years through a private bank to a private company reporting to US Govt/MCC, established after Sri Lanka's Parliament passes the MCC and makes MCC into a domestic law (similar to 13a). While the land project is just $67million there are a host of costings that the GoSL has to incur.
Has the GoSL prepared a costing? Have Sri Lanka's professional bodiesincluding accountants/auditors also done a costing?
How MCC unfolded
January 2015 – regime change
September 2015 – Co-Sponsoring of UNHRC Resolution/lifting of ban on some LTTE fronts
December 2015 – MCC Board selects Sri Lanka to develop threshold program
November 2016 – Constraints Analysis Report released by Harvard University with local inputs claiming Transport & Land as constraints to economic growth
December 2016 – Threshold becomes Compact & MCC Team is deployed in PM's Office
November 2017 – GoSL submits project proposals as part of its Vision 2020 plan
May 2018 – Finalizing MCC Compact
MCC Agreement says a portion of $32.5m will be used for Transport Feasibility study.
HOW MUCH IS THAT?
Only after signing the MCC Agreement, $32.5m Compact CDF is given to facilitate implementation of Compact.
GoSL has agreed that MCC will "directly administer & manage a component of Compact CDF" (what component is not defined)
Only after entry into force that MCC will disburse $447 to implement the Program based on yearly disbursements. Each disbursement subject to various criteria allowing MCC to even withdraw/reduce amounts.
Entry into force takes place after MCC sends GoSL a letter confirming Sri Lanka has completed domestic requirements & conditions precedent to entry into force.
These domestic requirements are
Signing PIA by MCC & GoSL
Letter signed & dated by Principal Representative of Govt confirming GoSL has completed domestic requirements
AG's letter clearing MCC
Certified copies of all decrees, legislation, regulations & other govt documents relating to GoSL's domestic requirements necessary for Compact & PIA
Breakdown of disbursement of MCC Funding to a private bank & handled by a private company set up in Sri Lanka.
Year 1 – $82.8m
Year 2 – $120.9m
Year 3 – $97.7m
Year 4 – $89.1m
Year 5 – $57m
MCC Agreement says Sri Lanka has to procure computers, equipment etc according to US Govt procurement rules & regulations?
HOW MUCH IS THAT FOR SRI LANKA?
MCC Funding includes clauses relating to REFUNDS, REIMBURSEMENTS of PROGRAM FUNDING or COMPACT CDF paid by Govt to MCC –
HAS THE GOSL FACTORED THIS LIKELY COSTING TO BE BORNE BY SRI LANKA?
GoSL has to pay or transfer to MCC as per PIA any interest or other earnings that accrue on MCC Funding prior to funding being used for Program
IF THE MONEY SENT BY US/MCC IS TO GO TO A PRIVATE BANK – WHY SHOULD GOSL PAY DOLLAR INTEREST TO MCC?
GoSL has to provide funds & other resources & take "all other actions necessary to carry out the Governments responsibilities". The Agreement also binds GoSL to not reduce 'normal & expected resources it would receive or budget from sources other than MCC for activities contemplated under Compact & Program.
Clause 2.6d says MCC Funding is ONLY in ADDITION to resources GoSL budgets for Compact/Program
HOW MUCH IS THIS LIKELY COST to SRI LANKA?
Section 2.8 declares MCC Funding free from payments or imposition of 'existing, future taxes, duties, levies, contributions or similar charges' at national, regional, local or other governmental or taxing authority in Sri Lanka.
This includes tariffs, customs duties, import taxes, export taxes, sales tax, value added tax, excise tax, PROPERTY TRANSFER TAX, taxes on OWNERSHIP, POSSESSION, charges on INCOME, PROFITS, social security applicable to ALL NATURAL or LEGAL PERSONS performing work in connection with MCC except Sri Lankan citizens.
GIVEN THAT THESE ACTIVITIES HAVE A COST – DOES THIS MEAN SRI LANKA HAS TO INDIRECTLY BEAR THAT COST. IF SO, HOW MUCH IS IT?
The MCC will not be paying any taxes, duties – what is the likely cost GoSL will have to incur as a loss of revenue as GoSL would be tasked to facilitate most of these project efforts.
GoSL has to follow US Procurement guidelines, rules & regulations.
WOULD THAT ENTAIL ANY ADDITIONAL COST TO THE GOVT. HOW MUCH?
The GoSL's responsibilities are covered in the following sections
Section 5 – use of MCC Funding
Section 2.7 – Limitations to MCC Funding
Section 2.8 – Taxes
Section 3.7 – Records, Accounting, Covered Providers, Access
Section 3.8 – Audits Reviews
Section 3.9 – Intellectual Property
Section 5.2 – Consequences of Termination, Suspension or Expiration
Section 5.3 – Refunds & Violations
Section 5.4 – Late Payment interest
Section 6.4 –  Governing Law (International law)
MCC says it will remain until it is satisfied Sri Lanka has satisfactorily completed the Compact agreement. MCC also claims that over 20 years 11m are to benefit by its Compact (7m from Transport Project & 5m from Land Project).
DOES THIS MEAN MCC WILL REMAIN IN SRI LANKA FOR 20 YEARS?
MCA-Sri Lanka has to undertake measures to avoid adverse environmental & social impacts.
HOW MUCH WILL THIS COST THE GOSL?
Who is responsible for Land Acquisition & Resettlement?
WHAT IS THIS COST THAT GOSL WILL HAVE TO BEAR?
GoSL has to develop and implement a national campaign on female safety throughout Government transport system
WHAT IS THE COST TO THE GOSL FOR THIS CAMPAIGN & ROLL OUT?
GoSL has to conduct gender & social assessment analysis, a social & gender integration plan
WHAT IS THE COST TO THE GOSL FOR THIS?
GoSL has to include a 'distinct budget category in the national budget for the ATMS Activity as well as allocate sufficient funds to cover cost of staffing & O&M requirements at each stage of ATMS implementation
HOW MUCH IS THIS GOING TO COST THE GOSL?
GoSL has to establish a steering committee to develop, manage, maintain & update operations for traffic management system & facilitate maintenance & protection of traffic during construction
HOW MUCH WILL GOSL NEED TO ALLOCATE FOR THIS?
The Transport Project also requires GoSL to facilitate deployment & adoption of an automated fare card system & performance-based bus operations.
IS THIS COSTED INTO TRANSPORT PROJECT VIA MCC FUNDING OR IS IT A SEPARATE COST BORN BY GOSL – IF SO, HOW MUCH?
The MCC also requires GoSL to fund any intervention requiring direct support of Sri Lanka police during implementation of Transport Project (presumably this is if protests by public ensues)
IF SO, WHAT IS THE COST FOR THE GOSL IF BY POLICE INTERVENTION SRI LANKAN LIVES ARE LOST OR INJURED FOR LIFE?
Existing Electronic State Land Information Management System (eSLIMS)
Eland Registry System & Title Registration (known as Bim Saviya)
Land Valuation System by Valuation Department & ICTA are being incorporated into the MCC Land Project.
Have these proposals initiated by World Bank, USAID and other players who are part of MCC stake holders prepared the ground work by recommending proposals aheadof MCC?
Are all these studies, recommendations and proposals together with funding part of a larger plan?
The Land Project includes a public outreach & communication campaign
WHO IS FUNDING THIS & HOW MUCH WILL IT COST?
Yahapalana Government outsourced cadastral mapping from Survey Dept to an American firm Trimble for a cost of $154m
IS THIS COVERED IN THE MCC OR IS IT A COSTING TO THE GOSL WHICH MEANS THIS WOULD BE AN ADDITIONAL COST TO ALL OF THE OTHER COSTS SRI LANKA HAS TO BEAR SIMPLY TO SIGN A 'GIFT' THAT IS $447M – IS THIS WORTHWHILE FOR SRI LANKA?
MCC funding for Land Project is $67m and covers only 28% of land in 7 districts.
MCC claims the gift is for Sri Lanka but in reality its land project is covering 28% of land area in 7 districts (Anuradhapura,Kandy,Kegalle,Kurunegala,Matale,Polonnaruwa,andTrincomalee) while GoSL has to bear the rest of the cost. How viable is this for Sri Lanka?
MCC also claims that the State Land inventory system will enable GoSL to see who are 'occupying state lands' & determine their rights
is this another way of telling GoSL to evict citizens living on State land?
MCC Land Project $67m will fund the following as per agreement
Preparation of parcel fabric map in Targeted districts (is this not being done by Trimble under $154m cadastral mapping outsourced by yahapalana)
Inventory & mapping of State Land Parcels vested in State institutions in the 7 districts (is this also not being done by Trimble)
MCC MAY support preparation of parcel fabric map in geographical areas outside of targeted districts. (what is MCC implying by geographical areas — is it where our best mineral resources are hidden which MCC claims this lcovers 67% of land area – which makes up virtually all of Sri Lanka)
MCC – Deeds Registry – MCC will fund scanning digitizing paper records, land parcel identification to include in eland registry & then linked to digital parcel fabric map to facilitate real property transactions.
MCC will fund creation of digital folio for each land parcel
MCC will fund capacity building and training at land registry offices & upgrading of 10 deeds registry offices in the 7 targeted districts
IF MCC IS ONLY FUNDING ONLY 10 LAND REGISTRIES AND ONLY 7 DISTRICTS, THE GOSL WILL HAVE TO BEAR THE COST FOR THE REST.
HOW MUCH WILL THIS COST THE GOSL? WILL IT NOT BE MORE THAN THE $67M ALLOCATED FOR THE 10 LAND REGISTRIES IN 7 DISTRICTS BY MCC?
Why is there any requirement for MCC Funding to create a title registration system of not only private lands which was what Title Registration Act was originally meant to do but transfer State land also into title registration system?
When the apparatus for deed system already exists, why should GoSL make legislative changes to the Title Registration Act to incorporate what already exists under customary law & applied to deed system?
Why is MCC wanting everyone to have freehold title deeds with provision for easy sale & demanding GoSL remove restrictions for such sales?
Why does MCC want GoSL to pass the Land Special Provisions Act privatizing all state land before signing of MCC? MCC Funding will only come about after LSPA has been done.
MCC acknowledges that Title Registration Act passed in 1998 commenced only in 2006 and has done only 600,000 title registrations out of 8m private properties.
The Commissioner of Titles also acknowledges the legal difficulties of transferring from deeds to title registration. The MCC answer is to change legislation every time legal issues crop up. This is not a solution & will only impact the land owners.
According to the Commissioner of Titles in 2018 Report – there are 12m blocks of land
GoSL has spent $2.5m per year to do less than 1million blocks.
Based on this cost GoSL will take 240 years to do the remaining blocks & have to spend over $50m to do so. If these figures are wrong the GoSL must produce true costs.
MCC says 5million beneficiaries in 20 years.
WHO IS GOING TO FUND GOSL to transfer to title certificate from already existing deed simply because MCC wants to roll out its Compact in Sri Lanka?
GoSL must establish a Land Policy Research Group
HOW MUCH IS THIS TO COST THE GOSL?
The LPRG is to also conduct a mandatory study on scale and management of encroachment in nationally protected areas
WHO IS GOING TO FUND THIS? HOW MUCH WILL IT COST IF THE GOSL HAS TO BEAR THIS COST?
GoSL has to also maintain land information technology systems & provide budget funding for its maintenance & updating of software and hardware across 5 years.
HOW MUCH IS THIS GOING TO COST THE GOSL & HAS THE GOSL BUDGETED THIS COST NOT INCLUDING INTO MCC FUNDING?
GoSL has to also bear project costs & project-associated costs for O&M & any systems or data put in place
HOW MUCH IS THIS LIKELY TO BE & HAS THE GOSL COSTED THIS?
Where is the money for the Assurance Fund?
Under Title registration act, land owners defrauded of their lands cannot go to courts to regain their land – their only solace is the Assurance Fund which the GoSL must maintain.
In lieu of court action, the people are given only compensation for their lost land.
The Assurance Fund will also have to cover land lost from the 10 Lang Registries in 7 districts that MCC is Funding.
Is this the 'gift' that Sri Lanka's land owners are getting from MCC?
The Land Registry is now charging a fee for registration of title certificates. As there is no money in the Assurance Fund. This is like an insurance premium – money built up by charging us the land owners. This fee will be increasing as is happening in other countries.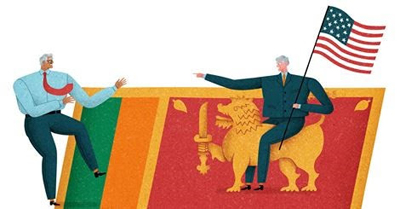 After making legislative changes demanded by MCC
After getting AG to sign approval
After catering to all domestic requirements demanded by MCC
After passing MCC in Parliament – making MCC Agreement a domestic law
After passing MCC in Parliament by agreeing to apply only international law to a domestic enactment
After forming a private company to administer entire MCC program & funding
After appointing State officials to that private company as Board of Directors
After opening a private bank account to which MCC sends funds
After agreeing to take all responsibilities for actions of the private company reporting to MCC
After agreeing to pay an unknown amount of funds and obligations to US/MCC
MCC claims that  it consulted a plethora of individuals & organizations & sought their consent. Every public official, private sector, civil society & development partners. government ministries & agencies, CCC and AMCHAM Sri Lanka who okayed this agreement ignoring the implications to the country must be held accountable for putting Sri Lanka into a vulnerable situation.
WHAT EXACTLY IS SRI LANKA & ITS PEOPLE GETTING OUT OF THIS MCC????
Shenali D Waduge