Right of Reply: Sri Lanka is lucky to lose MCC
This is a right of reply to an article appearing on Daily FT titled "History repeating – Are we going to lose MCC or not?" by an anonymous international development expert on 22 October 2020. It would be nice for this so-called international development expert with 25 year's experience to reveal his name if he claims to have contributed to Sri Lanka's 'development' over a quarter of a decade. It is no surprise Sri Lanka is in a sorry mess economically with such experts promoting the advantages for the 'other side' and not considering what Sri Lanka is to gain by this MCC agreement.
http://www.ft.lk/opinion/History-repeating-Are-we-going-to-lose-MCC-or-not/14-707851
Is MCC an outright grant?
If so, why is the MCC not just giving the money to the GoSL?
Why is this $480m being disbursed across 5 years?
Why is it not even going to the Sri Lankan Treasury but to a private bank?
If it's an outright grant, why does the GoSL have to open a private company and outsource all of the GoSL's obligations under the agreement to this private company?
If it's an outright grant, why is MCC funding only for 7 targeted districts & 10 land registries?
There is no distortion – the 7 districts cover 28% land area and is mentioned in MCC agreement itself.
The 'economic corridor' with a map was presented by MCC Team leader Steve via a powerpoint presentation made at Temple Trees. Therefore, the writer has totally missed and messed up his argument on the economic corridor. In fact Ranil Wickremasinghe was quoted by an Indian newspaper to say that British law would apply along the corridor.
The electric fence was also mentioned via media reports with Japan funding it.
The reference to US soldiers is primarily as MCC-SOFA-ACSA all are US Government linked agreements. ACSA is already signed and enables US troops to use Sri Lanka's Ports & Airports for logistics purposes.
It is noteworthy that the so-called international development expert with 25 year's refers to Ranil's 1stperiod as PM when there was an attempt to sign off our forest against loans taken from US. This attempt proved futile after environmentalists and patriots objected. Since this topic is on MCC, the other issues highlighted by this expert can be addressed separately.
All that this development expert needs to do without claiming everything is fake news is to simply answer some basic and straight forward questions.
If MCC $480m is an outright grant/gift – why demand Sri Lanka privatize all State land & convert all deeds to title registration BEFORE the annual disbursement of MCC Funding is made?
If MCC $480m is an outright grant/gift – why does Sri Lanka need to sign MCC agreement & pass that agreement in Parliament (given that the compact is only for 5 years)
If MCC $480m is an outright grant/gift – why does the GoSL have to open a company MCA-Sri Lanka & outsource all of the Governments obligations under the agreement to a private company?
If MCC $480m is an outright grant/gift – why is this money going to a private bank?
If MCC $480m is an outright grant/gift – why does Sri Lanka have to apply ONLY US procurement guidelines and not Sri Lanka procurement guidelines?
If MCC $480m is an outright grant/gift – why does the Attorney General need to submit a letter claiming everything is constitutional?
If MCC $480m is an outright grant/gift – why so much lobbying and funding of promotional campaigns with many like these experts virtually begging Sri Lanka to accept it! If the People of Sri Lanka are saying they don't want this 'gift' just take it away and give it to another country or better still use it for the American people.
–       38million Americans live off foot stamps (uplift these Americans from poverty first)
552,830 (counted as Homeless – WhiteHouse data)
31% of the nation's homeless population are over 50 years
51m Americans are unemployed & filed for benefits (Dept of Labor)
We can list out more questions, but hope this expert can answer these first!
The expert claims that the MCC Review Committee have included false statements & assumptions – how about listing these out instead of simply making empty statements!
The expert claims that though GoSL was eligible to apply for MCC in 2004-2007, only in 2015 GoSL applied for the grant. The MCC agreement itself negates this statement by this expert.
This is what Annex 1 under description of Program Overview says giving 'Background & Consultative Process"
Background:
"In December2015,MCC'sBoardofDirectorsselectedSriLankatodevelopathresholdprogram" (note MCC selected Sri Lanka not the other way round)
"In December 2016, MCC's Board of Directors selected Sri Lanka to develop a compact" (not MCC selected Sri Lanka)
In the same paragraph MCC says that the MCC compact development team was 'housed in the Prime Minister's Office of Policy Development'.
This economic expert is challenged to produce hard facts & evidence to prove what he claims as 'paranoia and suspicion' to be false. Without that simply plucking out words is useless. If he says any statement is false or fake, he must produce the correct version, which he is not doing.
If this economic expert claims that clauses in the MCC agreement are standard, why has he not quoted the same from other aid agreements to showcase his argument! All that this expert had to do was to quote from MCC and match that with other international agreement clauses. Why has he not done so?
If MCC Africa is so great and doing marvelously well, can this expert show how these MCC Compact countries of Africa have developed because of MCC since launching their projects? Can we have some hard data to show of development & poverty alleviation in these countries. How many Africans have been brought out of poverty as a result of MCC compact? Can we have some data and facts please.
It is naïve to even say that neither MCC-SOFA-ACSA mention each other in their agreements, while ignoring that all of these agreements are championed by the US Government. The MCC Board comprises the US Secretary of State, the Secretary of the Treasury, the U.S. Trade Representative, the Administrator of USAID, the CEO of MCC and four private sector members appointed by the President of the United States with the advice and consent of the U.S. Senate. The Secretary of State serves as the Chair of the Board and the Secretary of the Treasury serves as the Vice Chair. The SOFA or Status of Forces Agreement is signed with the US Govt while the ACSA (Acquisition and Cross-Servicing Agreement) is also signed with the US Govt. MCC-SOFA-ACSA are connected because they are all part of US Govt & constitutes the 3 D policy of the US – MCC (development) –SOFA (diplomacy) – ACSA (defense)
MCC Clause 3.9 on Intellectual Property is described thus:
Section 3.9     Intellectual Property.
The Government grants to MCC a perpetual, irrevocable, royalty-free, worldwide, fully paid, assignable right and license to practice or have practiced on its behalf (including the right to produce, reproduce, publish, repurpose, use, store, modify, or make available) any portion or portions of Intellectual Property as MCC sees fit in any medium, now known or hereafter developed, for any purpose whatsoever.
MCC defines Intellectual Property also
Intellectual Property means all registered and unregistered trademarks, service marks, logos, names, trade names and all other trademark rights; all registered and unregistered copyrights; all patents, inventions, shop rights, know how, trade secrets, designs, drawings, art work, plans, prints, manuals, computer files, computer software, hard copyfiles, catalogues, specifications, and other proprietary technology and similar information; and all registrations for, and applications for registration of, any of the foregoing, that are financed,  in whole or in part, using MCC Funding.
Do we have no right to question this & worry about the outcome?
The so-called expert resorts to taking potshots at the GMOA & SPUR and other associations claiming them to be anti-MCC spreading fake news & misinformation. How about relieving doubts and directly answering the questions, which this expert and many other pro-MCC promoters are failing to do.
Why is the MCC Agreement not translated to Sinhala or Tamil? Why does the US embassy have a few page 'fact sheet' only? The entire MCC agreement is only in English. Also noteworthy is that pages 12 & 13 were purposely left out and after objections only it was inserted.
The expert takes pain to showcase how other aid agencies like USAID are involved in development initiatives in Sri Lanka, agreed, but have these programs come with the list of demands and obligations that MCC is demanding as preconditions, signing and even post-signing as well as the many undisclosed letters and correspondence that the GOSL has to agree to abide after passing MCC in Parliament. How can a country agree to abide letters and correspondence from a foreign country without knowing what they are?
The expert also takes a shot at Minister Wimal Weerawansa claiming he propagated misinformation. If our memory serves well, the Minister claimed MCC was operating from PM Ranil's office and it was denied by the Govt and pro-MCC campaigners but the agreement itself says that the MCC was operating from PM's office! So where is the misinformation by this Minister?
This is how MCC Funding will be disbursed. It is tuppence compared to the fact that 1million of our workers in Middle East remit annually $7billion.
The comparison will reveal the absurdity of this 'outright grant/gift' that industry experts like this and other pro-MCC campaigners are promoting.
Our workers send $7billion annually – MCC 1styear we get $82.8m / 2ndyear $120m / 3rdyear $97m, 4thyear $89.1m & 5thyear $57m.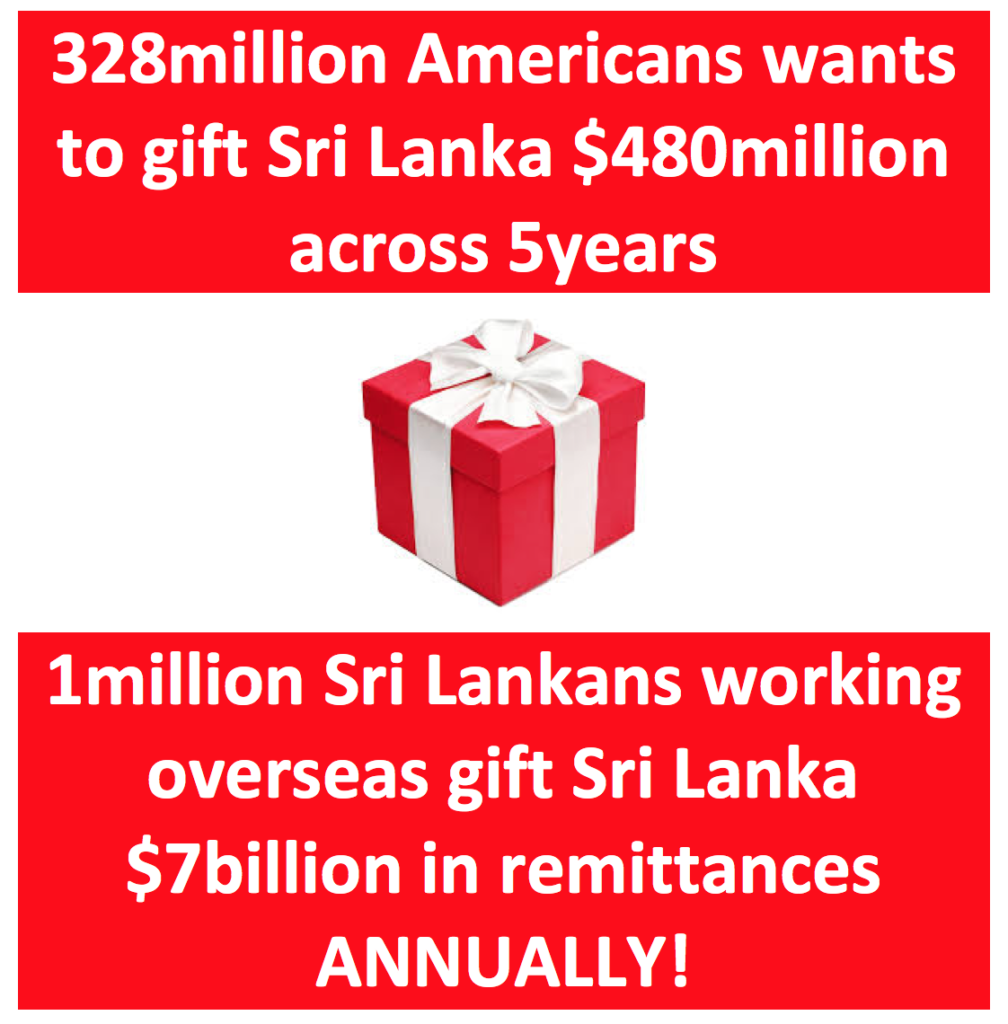 It is no surprise that Sri Lanka's development is this sad condition when there are industry experts like this promoting interests of other countries throughout 25 years instead of looking at what is beneficial to Sri Lanka and Sri Lankans FIRST.
Shenali D Waduge