Sri Lanka's system change: Electing Members to Parliament & National List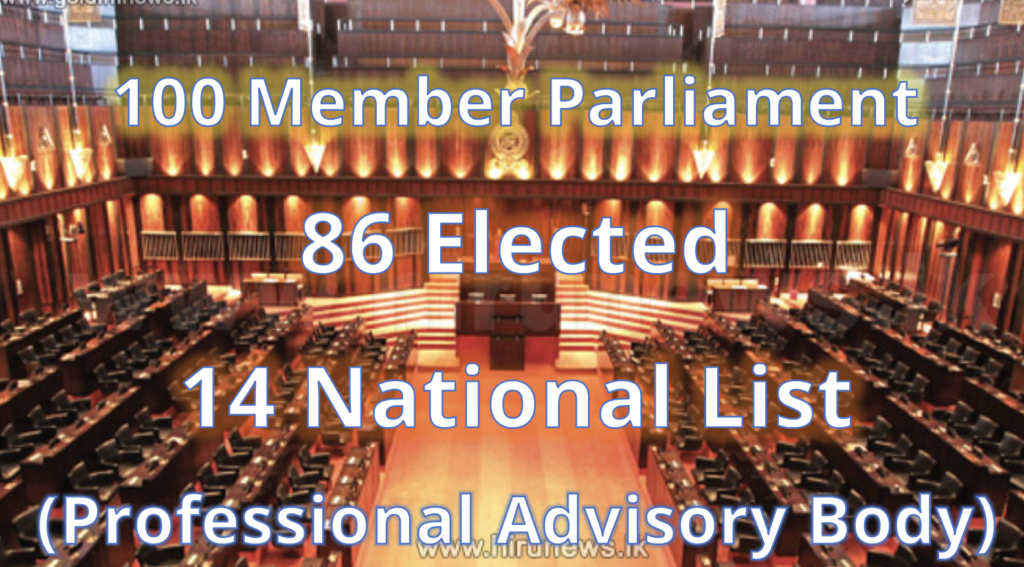 It is without a doubt that neither the Government or Opposition are suitable to represent the Nation or its People. They have all lost our trust. Their greed for power & lust for luxuries at the cost of the People, requires the People to demand to change the system. This proposal is presented to the public taking to consideration the need to clip the perks as this is a key area that lures the corrupt to enter politics & change the present election system to prevent people who do not command the peoples vote from entering parliament through a bogus preferential voting system. We return to the first past the post system.
The legislature will be 86 elected MPs via first-past-the-post system & 14 member national list of only professionals, altogether making a 100 member Parliament.
Elections – 86 Member Parliament + 14 National List
86 Members to be elected to Parliament by the People from 25 districts & 160 polling divisions.
There is no requirement for proportional representation.
If preferential voting system is to continue, entry requirement should return to original 12.5% of total votes.
Criteria
Above 30 years
No criminal record
Advanced Level or equivalent (based on contribution to society)
Must declare assets
Cannot hold position or be employed in any form or draw salaries from any entity.
No family members can hold positions in Ministry
Perks & Remunerations (remove the perks & quality individuals enter)
The unlimited nature of perks & privileges has spoilt the concept of being a Parliamentarian encouraging people to enter politics to simply enjoy unlimited luxuries courtesy of the State. The moment this is curtailed, unsavoury individuals will drop out from the race, realizing they cannot drain the State coffers & are required to serve the people. So we can expect to have individuals who wish to serve the people enter politics.
Salary & Remunerations
Salary
Entertainment – Limit set (varying on ministry)
Travel allowance – Limit set (additional to be paid by Minister)
Vehicle – 3 (2 official use / 1 family)
Petrol/Diesel – Limit set (additional to be paid by Minister)
Electricity & Water – limit set (additional to be paid by Minister)
Official residence – refurbishing only on approval
Staff for residence – 5 including 3 drivers (salaries paid by State)
Security – 2 (varying depending on level of threat) – paid by State
Removal/Resignations
The President can in consultation with the Prime Minister change or remove a Minister/Portfolio
No MP can cross over to another party except to sit in Opposition until a by-election is held to replace him.
All MPs must pledge to oath (as is presently given in constitution) anyone not willing to take this oath will lose his position in parliament & will be replaced by the candidate obtaining next highest votes.
The oath includes the provision that no MP attempts to separate/divide the unitary state of Sri Lanka – anyone doing so can face removal by President or People can petition Supreme Court & remove him/her.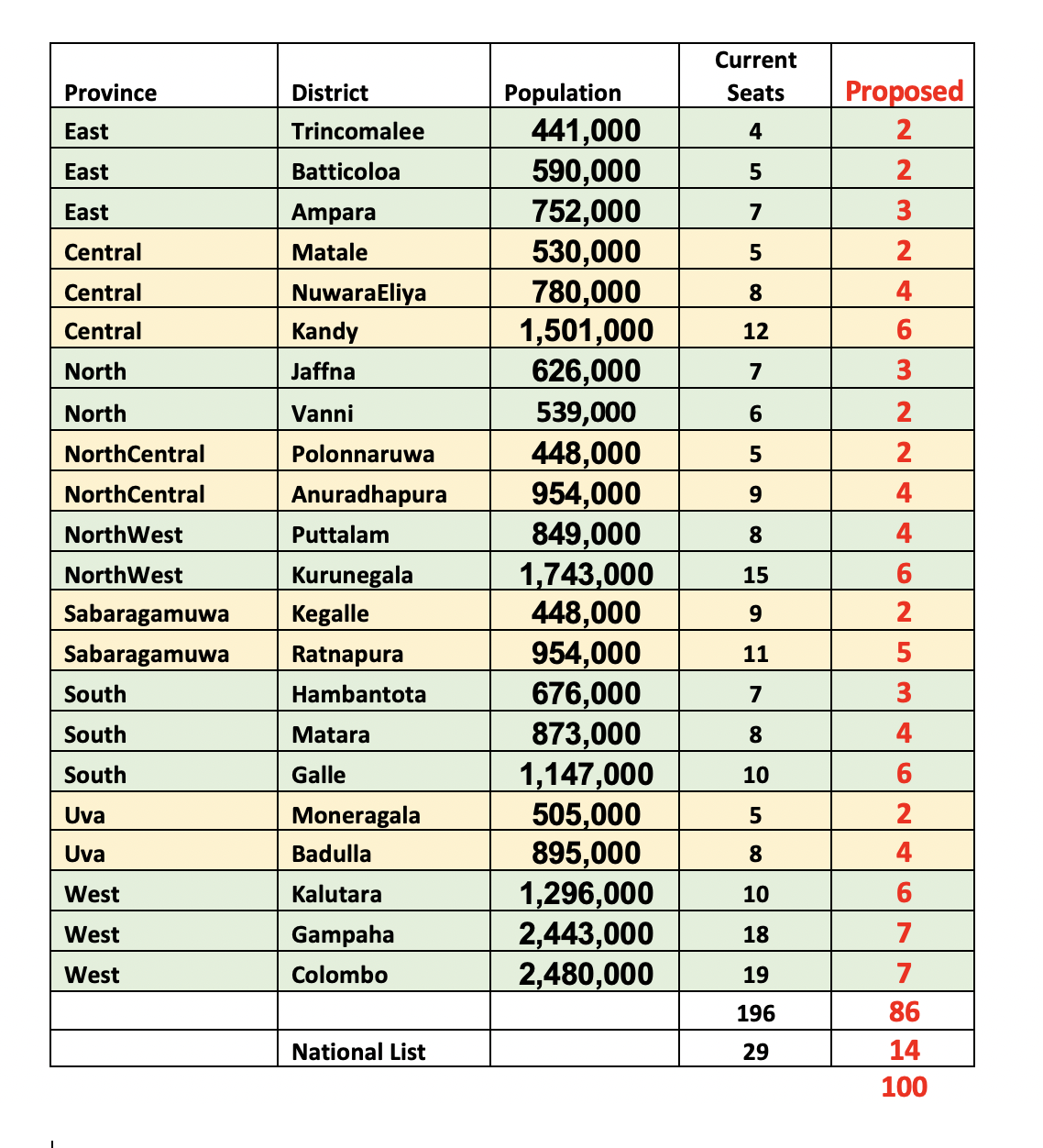 Proposed new ministries
14 cabinet ministers with President as Head of Cabinet
Prime Minister is head of the legislature.
Prime Minister is selected by majority vote in Parliament of the party/coalition that has gained majority votes.
14 Ministries
NATIONAL DEFENSE / SECURITY & SOVEREIGNTY
FINANCE /ECONOMIC DEVELOPMENT / INDUSTRIES & TRADE
FOREIGN AFFAIRS / TOURISM
BUDDHASASANA/RELIGIOUS AFFAIRS/CULTURE
EDUCATION/TEACHER TRAINING/VOCATIONAL/ENTREPRENEURSHIP/SPORTS & YOUTH
HEALTH & INDIGENOUS MEDICINES
LAW & ORDER & JUSTICE /PUBLIC ADMINISTRATION/HOME AFFAIRS
MASS MEDIA/COMMUNICATIONS
TRANSPORT – CIVIL AVIATION, ROAD, HIGHWAYS, RAILWAYS, SHIPPING & PORTS
POWER & ENERGY
SCIENCE, INFORMATION TECHNOLOGY, RESEARCH & DEVELOPMENT/INNOVATION
AGRICULTURE/FARMING, IRRIGATION/WATER SUPPLY/ENVIRONMENT
NATIONAL POLICY PLANNING / NATION PLANNING – URBAN & RURAL
OMBUDSMAN – PUBLIC COMPLAINTS / PUBLIC SECTOR COMPLAINTS
Each Ministry will have 14 Ministers & 14 Deputy Ministers only. No requirement for non-cabinet/state ministers.
Each Ministry will have a Secretary for each of the areas that the scope of his ministry covers (ex: Transport / Agriculture)
14 MEMBER NATIONAL LIST – ADVISORY BOARD
14 Member National List – will function as an advisory body to the Ministries & be the conduit between the Govt & the People.
They are not MPs but function in an advisory capacity only as they are not elected by the People to be referred to as MPs.
Any person above 30 years & without criminal record
No politician can become a member of the national list
No politician who has failed to get elected can enter via national list
Names of 14 Professionals in areas of expertise must be nominated by each party to represent the 14 ministries.
No dual citizen/businessmen/NGO representative can hold post, in view of conflict of interest (they cannot hold public or private positions while being a member of the National List) – an oath will need to be taken, anyone flouting this can be removed & next nominee on the list will take over.
These 14 members will meet weekly to discuss progress reports of each ministry & highlight areas of concern to the President & the Prime Minister. The head of the National List will have to present a list of concerns to be discussed at the Cabinet as well as the National Security meetings. In this way, both Cabinet & National Security council are aware of the ground situation from a professional point of view.
The 14 member national list will provide weekly briefings to the Ministry of Mass Media/Communications in order to assist them in providing an up to date briefing to communicate to the public.
The national list Members are given a remuneration for their role and they will have a staff comprising a Secretary, typist, translator, clerical staff, official vehicle & driver and a separate office.
The modalities of how a Bill is to enacted, the criteria and ratification process.
The process and manner a Bill is presented to the Supreme Court for determination
The process and manner a Referendum can be held will be discussed in a later article.
This primarily is meant to address the need to change the way people elect their representatives & what should be given to these representatives to reduce any opportunities for corruptions.
Shenali D Waduge