Tamil Eelam in Canada —- coming soon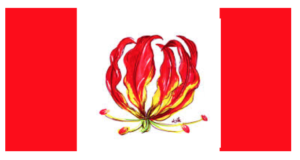 From 150 Tamils living in Canada prior to 1983, just over 35 years later, Tamils in Canada constitute close to 300,000 or more counting the illegals. Official statistics as per 2016 census claim 157,000 Tamils living in Canada with 122,000 in Toronto. Toronto holds the largest Tamil speaking population outside Asia, while Montreal holds the record for Tamil being the most spoken South Asian language beating even Bengali, Punjabi & Urdu and the 3rdmost spoken South Asian language in Canada. Toronto & Montreal have since 1990 at least 10 weekly language newspapers as well as radio stations and 3 language tv stations! Since fall of LTTE and Prabakaran, a plethora of Tamil organizations have mushroomed. Tamils are setting a name for themselves in Canada and able to lobby and redefine what Canada thinks about Tamils. Sooner than later, Tamils will be dictating to the White Canadians in what we hope will become the realization of a Tamil Eelam in Canada. Not bad for 35 years!
The white Canadians have re-written history and continue to re-write history usurping the indigenous rights of those that lived before the arrival of the white colonial's. Well, what do you know the Eelam Tamils are also re-writing history, so naturally they have much in common. The start of this effort is to coerce via lobbying the House of Commons to declare January as Tamil Heritage Month.Hurray – so the first step to re-writing Canada's history as per Eelam Tamil doctrine commenced with the 'Tamil Heritage Month Act 2014'.
Tamil Eelam in Canada's story will begin by 'recognizing contributions that Tamil-Canadians have made to Canadian society, the richness of the Tamil culture, language, traditions and the importance of educating and reflecting upon Tamil heritage for future generations'. Tamil Eelam Canada first step sealed. Congratulations.
The plan looks obvious enough though the White Canadians have not picked it up. The incremental increase in tempo has made enviable progress and return on investment. The powerful lobby groups are creating magic at municipal, provincial and federal levels extending internationally too. Eelam Tamils have strategically placed themselves inside every mainstream political party across the globe. In Canada, within just 3 decades they are calling the shots inside the Liberal Party, New Democratic Party & Conservative Party. It is likely they will make major legislative changes in their favor too.
It was in 2011 that Rathika Sitsabaiesan was eleced as a MP representing the New Democratic Party in Scarborough-Rouge River. Logan Kanapathi was elected as a councilor in Markham. Rathika in 2014 was bold enough to stand to commemorate Tamil Heroes Day, which honours fallen Tamil Tigers rebels and even went on to equate it to the Remembrance Day that Canadians honour their fallen Canadian heroes." And she got away with it too! Only Canada's Public Safety Minister Steven Blaney demanded an apology as LTTE had been banned by Canada since 2006!
These Tamil Canadians even got Parliamentary Secretary of Foreign Affairs & International Human Rights Deepak Obhrai to place a wreath for LTTE fallen heroes! Now that is a major achievement.
Inspite of LTTE being banned in Canada LTTE Heroes Day is commemorated in Markham with full LTTE paraphernalia.
Tamils are making the white nations & their officials dance to their tune. Just look at the statements by people in position praising the entity defeated in May 2009. Would Al Qaeda be able to do the same – no way.
We must feel proud of these Eelam Tamil organizations for their ability to get these international figureheads to deliver such statements. We look in awe at how they have managed to get even Prime Ministers, Opposition Leaders, high profile personalities of countries to attend their events and make statements and speeches against a sovereign country. That is a remarkable achievement. They are so inspired by these Eelam Tamils and want to somehow give them an Eelam …. Give it first in Canada, we say.
Political correctness and multiculturalism have provided bonus points and the loopholes. Anything they do is game so long as you master the art of using political correctness and multiculturalism to your advantage. In most areas where Tamils reside, it doesn't look like Canada but mini Tamil Nadu. Tamil Eelam ethos is slowly but surely taking shape. What more when restaurants have photos of Prabakaran! You won't find this anywhere in a country that has banned LTTE!
The issue is obviously not getting drilled into Canada as yet. They may like to look at the tragedy that has befallen Belgium, France and Britain where the whites are likely to soon be in the minority! Let's also not forget that the whites are a fast dwindling group! Ironically, they are outsourcing their powers to the world's mischief makers! Good for them!
Eelam Tamils have made sure they cover all corners of Canadian polity – making a mark and name for themselves and grabbing attention across the propaganda platforms – from blood donations, walkathons, helping sick kids, the aged – these have provided super cover to camouflage their other insidious local and international networks. Involving themselves in many charities provides good enough reason to float the slogan 'how can they be involved in terrorism … they do so much for Canadian society' and this is exactly the purpose of these initiatives.
Look at all those issuing statements for Tamil Eelam National Day May 2020 – Andrea Howarth, Peter Mackay, John Tory, Patrick Brown, Doly Begum, Jagmeet Singh.
There's a whole list of Canadians supporting Tamil Eelam.
Bonnie Crombie, Mayor of Mississauga issuing statement for Tamil Memorial Day!
Brampton City Council Mayor Patrick Brown declared May 18 as the City's Remembrance Day of Tamil Genocide – keep going until the 'genocide' term gets backfired on Canada too!  Today it will be Tamil Genocide Education Bill 104" —- we cannot wait till enough Tamils are placed in prominent roles to bring legislation that will undoubtedly shock the Canadians!
We've also not forgotten the purposely left out 'Sinhala New Year' by the Canadian Prime Minister. But that's alright if that is what it costs for Tamil Eelam in Canada, by all means leave out the Sinhalese!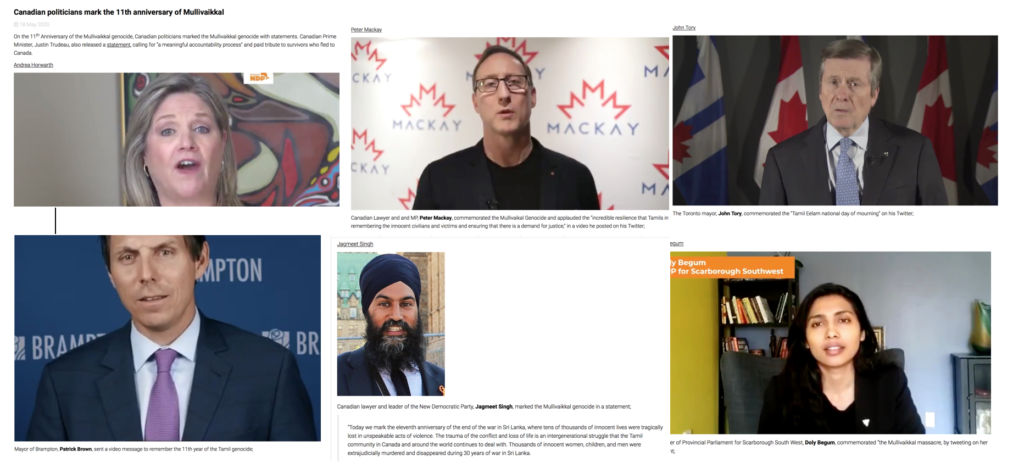 So, back home we should be really happy with the progress Eelam Tamils are making in taking the whites and playing them at their own game. This template appears to be applied elsewhere too — the Eelam lobby is powerful in UK, France, Australia and other parts of Europe and when self-determination for a Tamil Homeland was called in both Tamil Nadu and Sri Lanka, who says it should not be sought in Canada, Australia and Europe too…we're keeping the crackers!
Canada has plenty of land to declare Eelam too.
Sri Lanka's Northern provinces is just 8,884 km² – Toronto Canada (where 122,000 Tamils live) covers 630.2 km² while entire Canada consists of 9.985 million km²
You will hardly find 50 people gathered demanding Eelam in Sri Lanka nowadays but just look at the enthusiasm by the LTTE diaspora overseas and none of them will even dream of packing their bags to reside in either Tamil Nadu or Sri Lanka, so ideally the Eelam if at all should end up legally established where they are strategically operating from.
Kudos to them… even with the best of diplomats, we have not been able to get any white man to utter anything more than the usual stiff upper lip statements but just look at the progress being made by the LTTE lobby — who would have thought even self-righteous Navi Pillay would come out of the woodwork and drum for Eelam.
Our wishes to the LTTE Diaspora and look forward to them passing more Bills in Canada and carving out Toronto as Tamil Eelam very soon.
Imagine the day the Maple Flower becomes Gloriosa Lily (LTTE flower)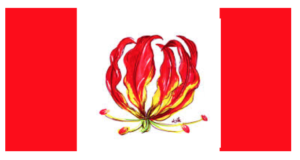 It's been a piece of cake so far. The rebel Tigers said they admired Canada's system because it includes mechanisms for self-determination such as the 1995 Quebec referendum on sovereignty. This will decide Tamil Eelam in Canada – we Sri Lankans wish them success.
Shenali D Waduge