Can a sitting Magistrate/Judge make public sentiments, violating Sri Lanka's Constitution?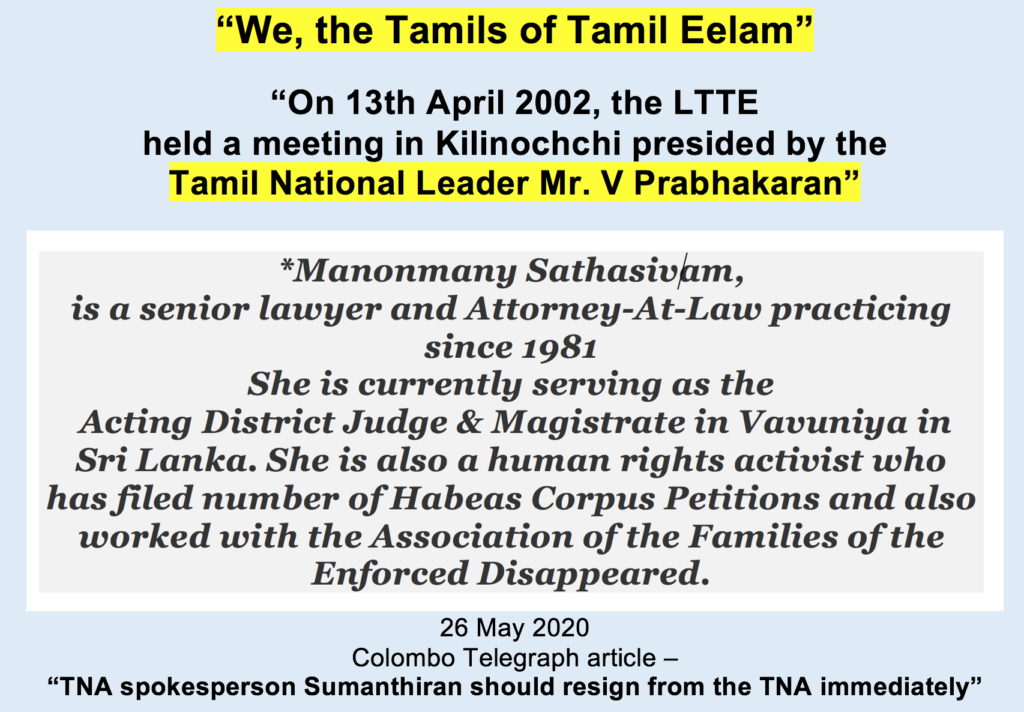 In a very bold move, the Acting District Judge and Magistrate of Vavuniya has written an open letter virtually demanding a Member of Parliament to resign from his political party but what is more alarming is that she is making her position as 'We, the Tamils of Tamil Eelam'.Since when has she been employed by this utopian "Tamil Eelam"? Isn't she paid to uphold the Constitution of Sri Lanka by the Government of Sri Lanka? She is, thus, bound by the oath she has taken to function in her role. The President of Sri Lanka, the country's Chief Justice, Judicial Services Commission, BASL, must immediately respond and demand this Acting District Judge & Magistrate of Vavuniya who has been an attorney since 1981 show cause and offer explanation. Inaction, by those tasked to discipline public officials and ensure they are accountable for their public roles, would end up in every public servant also boldly castigating each other publicly. This is unacceptable & unethical behavior for a public servant. A biased judge/magistrate sets a bad image to Sri Lanka's judiciary. No Judge while in office can play politics. She cannot express personal views on controversial matters while sitting in office.
https://www.colombotelegraph.com/index.php/tna-spokesperson-sumanthiran-should-resign-from-the-tna-immediately/?fbclid=IwAR2OJcdlvEqtTFBMwj4LWpeIdKok6p6nhCjar3bbWAYrQ5gYTaOTZn78kRE
They say Justice is Blind because the deliverer of justice is not supposed to take sides.
The Judiciary is one of the 3 main pillars of democracy tasked to be the judge and to deliver justice. But when an appointed judge or anyone functioning in similar role like a magistrate shows partiality, bias and espouses to promote an entity that remains banned in Sri Lanka and an entity that had to be militarily defeated by sacrificing 30,000 soldiers, the Government and the apparatus tasked to look into the ethical performance of those under its pillar, cannot ignore and turn a blind eye without taking action.
She is bound by the oath she has taken. Rules and regulations cannot be confined to just paper. Action must be taken for those that flout the rules. By her actions she has self-exposed herself to be not neutral. How can a judge/magistrate perform in their roles if they show bias? She has completely smeared the image of the judiciary.
It is astonishing that a sitting magistrate & judge is bold enough to write an article titled "TNA spokesperson Sumanthiran should resign from the TNA immediately"which was published by a social media website on 26 May 2020. The author is Manomany Sathasivam sitting Acting District Judge & Magistrate in Vavuniya.

"We, the Tamils of Tamil Eelam"she writes – now where is this? As far as we know she is a citizen of Sri Lanka and a public servant & employee of Sri Lanka.
These very lines suffice to call for an explanation.
When and who appointed her as the flag bearer of "Tamil Eelam'.
"We …. have been constantly betrayed by the traitors in our own community'.
'We have no tolerance and cannot suffer from these disloyal actions any longer' –
As a public servant and a sitting judge/magistrate can she be speaking for one community? This seriously questions her cases since becoming an attorney in 1981!
She goes on to ask former MP M A Sumanthiran to resign not only from his post as spokesperson but to leave TNA 'forthwith'.
Who is she to demand a MP to resign from a political party?
Who is she to demand TNA to sack him?
Who is she to tell the TNA that it must 'honor the wishes of the people and remove him (Sumanthiran)'?
Her tirade also sets to rest controversies regarding how TNA was formed and who formed it.  She clearly links LTTE with TNA.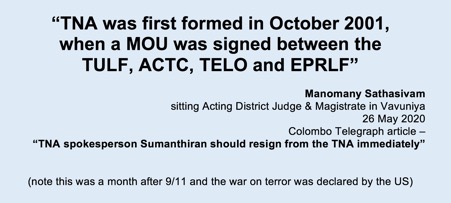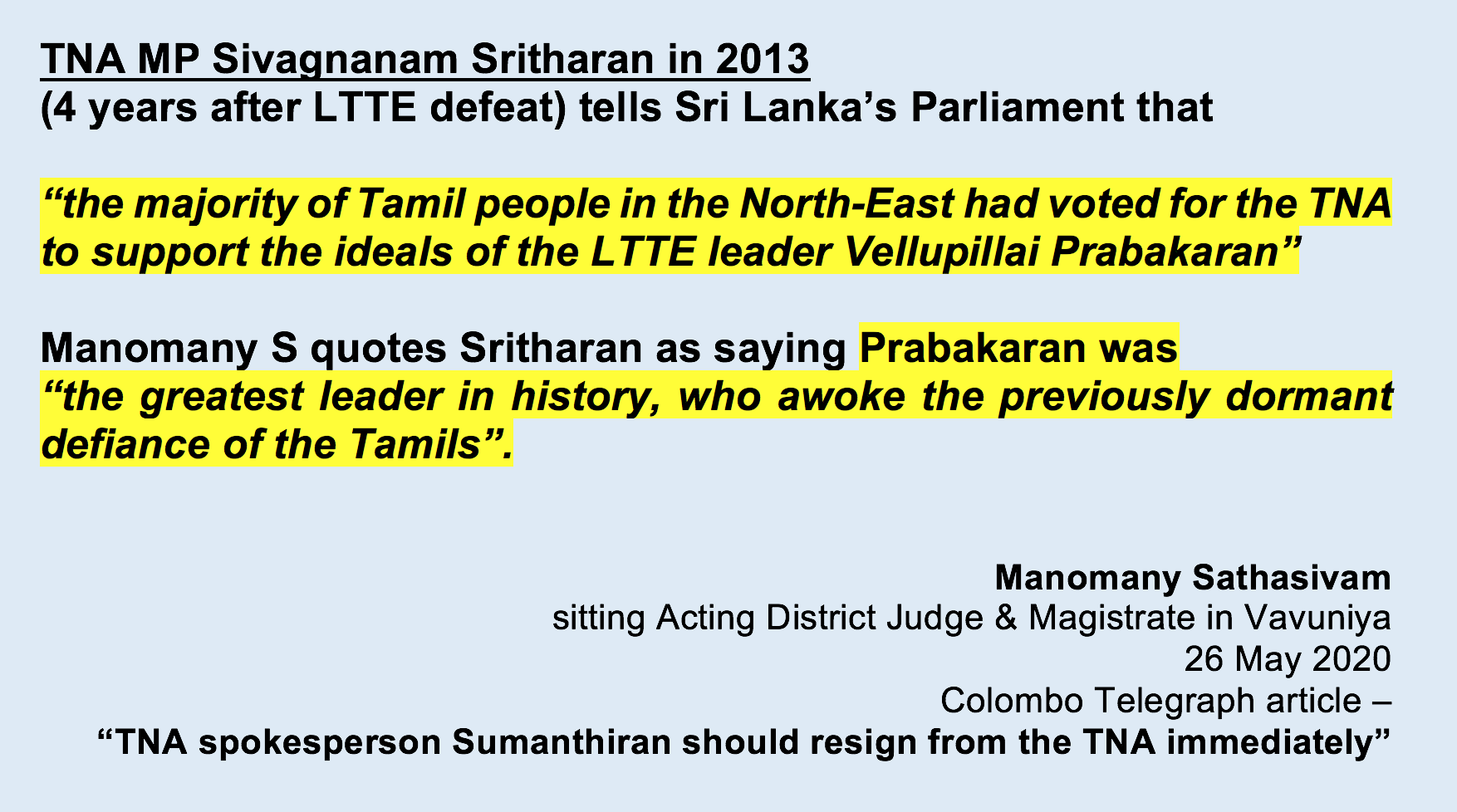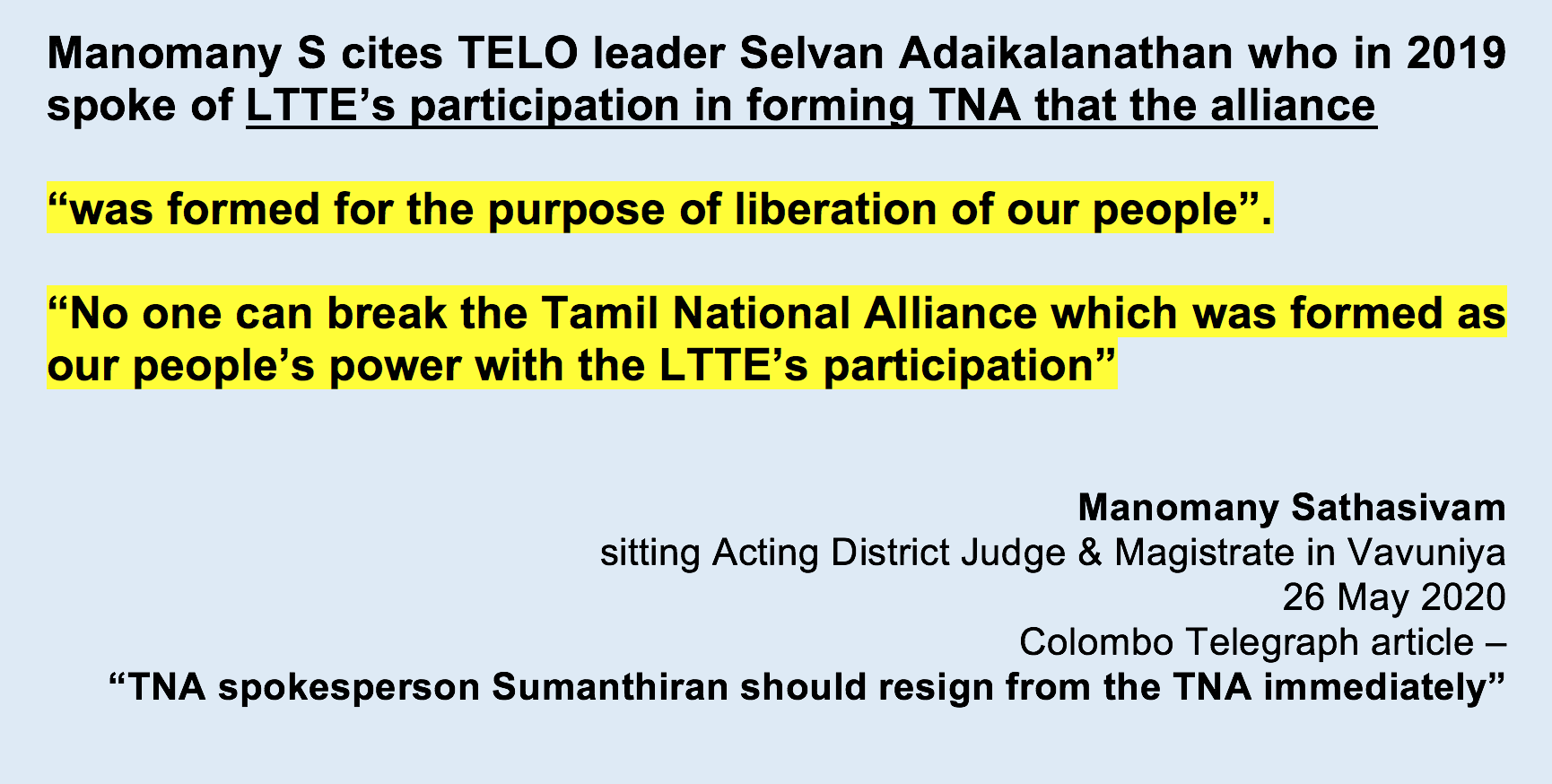 Can a magistrate & acting district judge make public outbursts of the nature being done in castigating an elected Member of Parliament and apparently praising an outfit taking up arms to separate Sri Lanka and create a Tamil Eelam of which she describes 'We,
What is the issue an Acting District Judge & Vavuniya Magistratehas with M. A. Sumanthiran? These are her allegations against Sumanthiran
Joined TNA only after Prabakaran's death as a National List MP in 2010
No evidence he is a 'real human rights lawyer' or studied human rights law/international law or representing political prisoners
Not involved in public interest cases (but lines later she says he appeared for a TELO case in 2006 and withdrew case without informing petitioners)
'money-minded commercial lawyer based in Colombo'
'never cared about the lives of the Tamils in the North & East' (how did he get 58,043 votes in August 2015?)
She alleges he had in November 2015 on the expulsion of Muslims from North declared "the en-masse expulsion of Muslims by the LTTE amounts to ethnic cleansing'. She says this contradicts with Hakeel-Balasingham tete-a-tete in 2002 to forgive and forget as LTTE had said "Tamil homeland and the Tamil territory in the North-East "belonged to the Muslim people also."
She accuses him of 'third-grade strategy' to open 'old wounds and trigger hatred between Tamil & Muslim communities for his own selfish reasons'. What authority does this acting judge & magistrate have to write 'that the LTTE neither had a "plan" nor "a purposeful policy" to remove Muslims and create a homogenous Tamil Eelam and claims it was on a 'strategic' move to prevent riots after weapons were found in Muslim houses, shops and mosques in Jaffna! She says that Tamils were not allow to occupy or take over the Muslim properties and they were returned to Muslim owners after the ceasefire of 2002 (is this true – Muslims can answer) Why has she conveniently omitted the eviction of Sinhalese too along with the Muslims?
She quotes Dr. S I Keethapocalan who writing to Colombo Telegraph in Dec 2015 accused Sumanthiran of going to UNHRC & saying what happened during the last phase of the war was not genocide! Is she claiming 'genocide'?
She asks if Sumanthiran thinks he is superior to Francis Boyle, Prof. Ramu Manivannan, Prof. Sornaraja, Bruce Fein, Lee Rhiannon, Deirdre McConnell, Lelio Basso?
She accuses him of being 'ignorant of international law' with 'poor knowledge of history' and not knowing the difference between 'ethnic cleansing and genocide'.
She cites the UN Commission of Experts investigating violations of international humanitarian law in former Yugoslavia in their S/25274 interim report, defined ethnic cleansing as "rendering an area ethnically homogeneous by using force or intimidation to remove persons of given groups from the area" but its final report, ethnic cleansing was defined as 'a purposeful policy designed by one ethnic or religious group to remove by violent and terror-inspiring means the civilian population of another ethnic or religious group from certain geographic areas". https://undocs.org/S/25274UN definition of ethnic cleansing (interim report) https://undocs.org/S/1994/674UN definition of ethnic cleansing (final report)
She says that he keeps telling Tamil diaspora 'time is not right to pursue the genocide claim because the 'ingredients' of it cannot be proved'.
She accuses him of going against the Northern Provincial Council genocide resolution
She demands to know why Sumanthiran doesn't quote from OISL report
She accuses him of stating that 'his party has no allegiance to the Liberation Tigers of Tamil Eelam' and is 'not committed to their ideology' and that TNA is not in favor of 'terrorism' – inadvertently implying LTTE was!
She says that by distancing himself from Tamil diaspora groups he has 'seriously offended the Tamil diaspora'.
She asks if he is not aware of the statements by his own TNA colleagues who link LTTE to TNA & cites TELO leader Selvam Adaikalanathan in 2019 who stated that TNA 'was formed for the purpose of liberation of our people'…. 'no one can break the Tamil National Alliance which was formed as our people's power with the LTTE's participation"
She says that Sambanthan's remark on Sumanthiran's interview is only his personal view and not that of the TNA or the Tamil People and to lend weight to this she quotes ITAK leader Mavai Senathirajah 'comments cannot be accepted. Mr. Sumanthiran stated he cannot accept the armed struggle of the LTTE and the TNA is as culpable for these comments as him".
She claims Sumanthiran refers to Tamil Diaspora as 'Tiger Diaspora'
She says the February 2017 alleged attempt to kill Sumanthiran was staged by him as 'reliable sources' say it was only to gain himself STF protection and accuses him of putting 5 ex-LTTE in prison accused of trying to kill him.
Her tirade against Sumanthiran concludes by saying he is not a leader of his community because he has not bothered to voice the 'views of his own people'. Not voicing the views of his own people she attributes to his 8 May 2020 interview where according to this acting judge and magistrate he 'bluntly lied about the formation of the TNA' and 'vulgarized the armed liberation struggle of the Tamils' while saying he accepted the lion flag and national anthem.
https://www.youtube.com/watch?v=fCWNTlzREb8&feature=youtu.be
She provides a list of other Tamils who are also attacking Sumanthiran and their statements are being shown to showcase that we are living among people who wish to continue LTTE separatism, who are drumming separatism, who are venerating mass murderers and terrorists and who are unafraid to publicly say so simply because the law is not being used against them. They are all making a mockery out of the law against terrorism and separatism in Sri Lanka and as ordinary people we are really shocked that they can boldly make such statements and get away.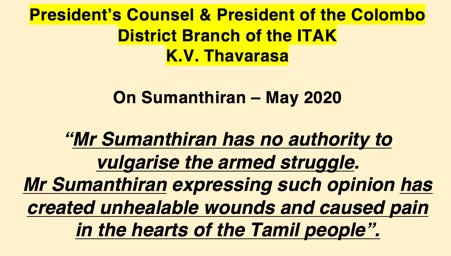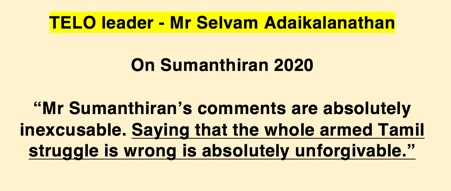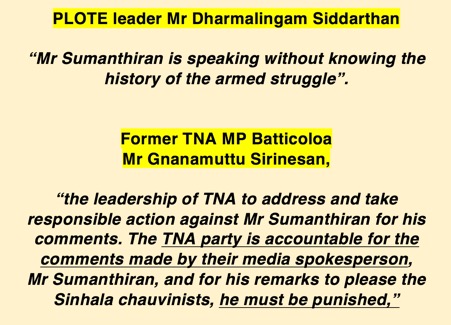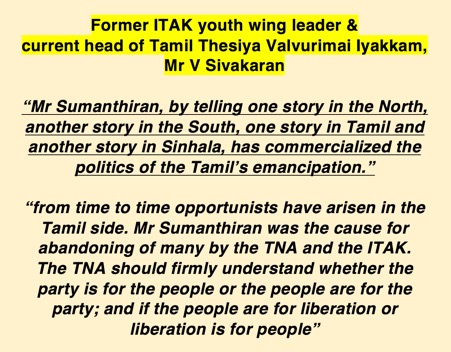 She makes a major faux pas by referring to former Chief Minister of the Northern Province C V Wigneswaran as CHIEF JUSTICE – being in the legal profession this is totally unacceptable. C V Wigneswaran was NEVER a Chief Justice – he was however a Supreme Court judge.
https://www.tamilguardian.com/content/sumanthiran-bows-head-prabhakaran-criticism-mounts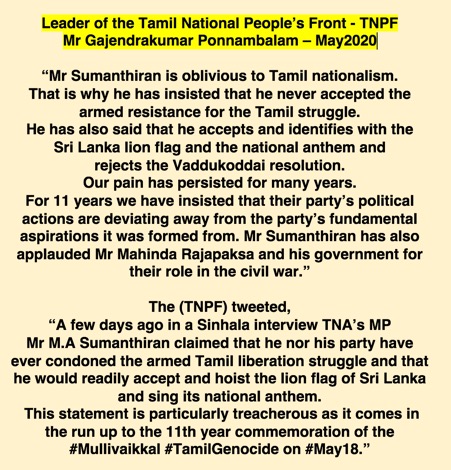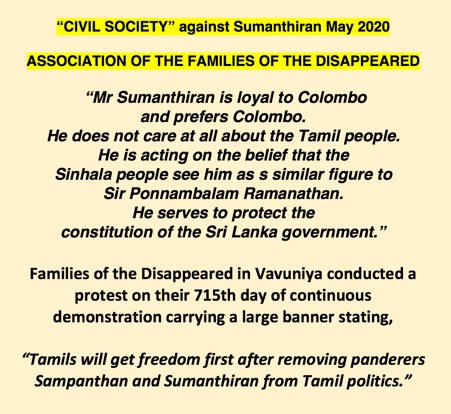 This article written by a sitting judge/magistrate is replete in questions as it is virtually mocking the Executive/Judicial pillars taunting them to respond. They should because no public servant in particular those tasked to judge the law can flout the law and demean the oath they have taken to uphold the constitution. The superiors to whom she is accountable must seek response and explanation.
This is a very bad and ugly precedent if no action is taken for it questions the judgements and the CJ, Judicial Services Commission, BASL and even the President must make a statement on this. No public servant can flout the constitution.
Shenali D Waduge