Threat to World Peace: What if Terrorist Leaders set up 'Virtual Governments' like Rudrakumaran/TGTE?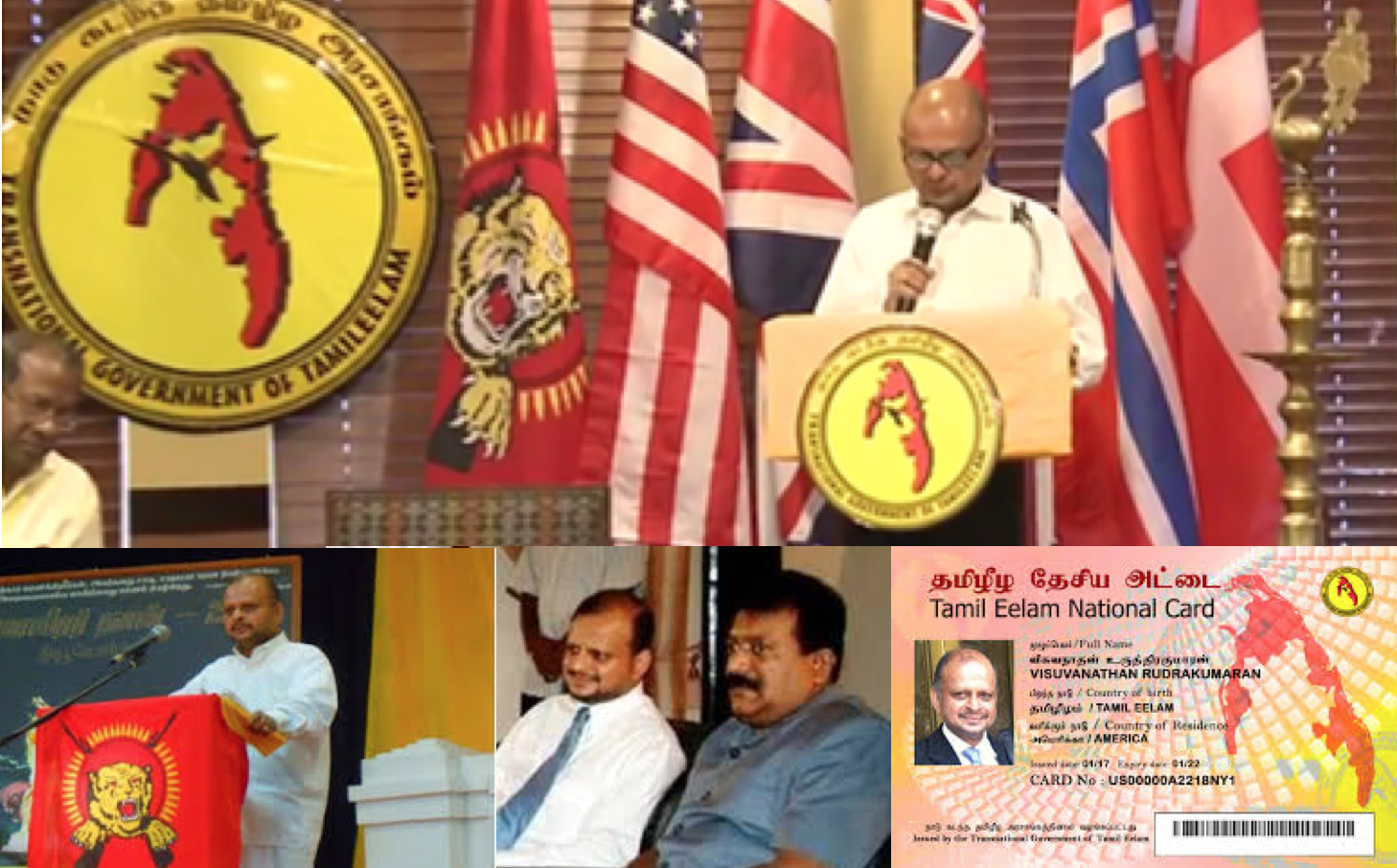 The UN & foreign governments facing some form of terrorist threat should be worried about a new trend taking place with terrorist fronts forming virtual governments and referring to themselves as Prime Ministers.We are looking at shadow world governments setting up across the world where most of these terrorist organizations have kitty's fatter than the GDP of sovereign states. By virtue of their ability to connect across the board and link international illicit and illegal operations, they would pose a formidable threat in the future. Rudrakumaran has no qualms about putting a terrorist flag alongside the mighty US National Flag and delivering speeches.The manner their illegal money has managed to scoop powerful politicians and professionals to speak on their behalf is also worrisome. That people like Rudrakumaran and his entity are able to mix and mingle with powerful world bodies and lobbies on the strength of their 'funding' will soon get copied by other terrorist fronts to do the same. Let it not be forgotten that it was from LTTE that the world's terrorists copied modern suicide terrorism, child soldiers and other modus operandi that turned a guerilla movement to become FBI's most dangerous terrorist outfit.
Rudrakumaran is a US citizen living and working in the USA.
Rudrakumaran was terrorist LTTE leader Prabakaran's legal advisor during 1985 Thimpu talks, 1996 Canberra Conference. Rudrakumaran organized the LTTE Hero's Day in New Jersey in November 1998 the year after LTTE was designated as a foreign terrorist organization by the US.  Rudrakumaran was also legal advisor for LTTE during Peace Talks in Thailand in 2003. Rudrakumaran was also defending LTTE during the Rajiv Gandhi assassination trial in 1997.
http://www.c-r.org/who-we-are/people/author/visuvanathan-rudrakumaran clearly identifies Rudrakumaran's role as legal advisor to LTTE – a FTO banned by US since 1997.
Rudrakumaran's association with LTTE goes further he was LTTE's chief negotiator in 2006 (Oslo/Geneva Talks). He even delivered LTTE's policy statement in Switzerland in 2006 and address Tamils in Germany months after LTTE defeat in September 2009. He went on to deliver LTTE's Heros Day statement in November 2009 – the first time such a statement was delivered without Prabakaran.
No sooner Prabakaran and LTTE were militarily eliminated, Rudrakumaran set up the TGTE in 2010. This entity was banned by Sri Lanka's Government as a LTTE front in April 2014 and remains banned to date. LTTE is also banned in US since 1997.
How is TGTE registered in US?
If US has a Presidential system and President Trump is the President, how can Rudrakumaran be Prime Minister?
What if other terrorist fronts operating from US start calling themselves 'Prime Minister' or even "President' what a joke that would be for the US!
Transnational Government of Tamil Eelam website – http://www.tgte-us.org
This youtube video shows Rudrakumaran speaking with the banned LTTE flag next to the US flag .https://www.youtube.com/watch?v=brDnMRWJJvM (2010)
https://www.youtube.com/watch?v=OJecykY5wng (in 2015 in New York again with banned LTTE flag
LTTE lobbies across the world have found it easy to tap people's weaknesses. Likewise, the bevy of personalities that speak on the LTTE front stages, shows how money can "buy" the most "respected" of people if they have a penchant to be 'bought over'.
We all know that LTTE survived to kill over 3 decades on the strength of its foreign lobbying and propaganda primarily as a result of the souls the LTTE kitty could win over.
Rudrakumaran has also been coordinating with South Sudan People's Liberation Movement – imagine them also creating a virtual government and designating that leader the 'Prime Minister or President'?
What if all terrorist organizations who create virtual governments & call themselves 'prime ministers' or 'presidents' also begin to challenge arrests of their combatants as Rudrakumaran did in challenging US designation of LTTE in the Suresh Manikkavasagar trial in Canada?
Can US continue to watch as their citizens who hold allegiance to the US flag and pledge to uphold US values & the US constitution also function as Prime Ministers or Presidents of governments in the sky with parallel laws and objectives?
What if all terrorist organizations start holding virtual elections like TGTE and appointing their cabinet of Ministers? What if these terrorist organizations start dealing in the very same relations that sovereign governments deal in but at a virtual level?
LTTE was banned since 1993 by India and since 1997 by US. Rudrakumaran publicly spoke on behalf of the LTTE
http://tamilnation.co/conflictresolution/tamileelam/cnfZU06/05rudrakumaran.html
If Rudrakumaran & TGTE 'VIRTUAL GOVERNMENT' is allowed to continue, it is simply encouraging other terrorist organizations to also set up similar virtual governments and together they can pose a more lethal threat to sovereign governments.
Imagine these terrorists operating Virtual Governments with their own banking, credit card systems, travel/tourism, illegal trade, exchanging illegal armaments & weapons, dealing in illegal narcotics etc?
Shenali D Waduge