US Capitol Hill Investigations & Charges key to Sri Lanka's Investigation & Charges

On 6th January 2021 groups of Americans, some armed, stormed Capitol Hill and even captured and held an autonomous zone. Extensive damage was caused and US National Guards had to be brought in to disburse the unruly mobs. The whole world took the side of the US Govt & demanded action against the mobsters. After investigations, US authorities are now charging all those who took part in the mob protests. In Sri Lanka, on 9th July 2022 autonomous areas had been created over 100 days and protestors stormed 6 state buildings destroying and pilfering contents of the buildings. Surprisingly a handful of powerful nations prevented the GoSL from taking action claiming it to be the human rights of protestors to do as they liked. Extensive damage, destruction and theft resulted and even when action was taken to disburse those illegally inside buildings were considered against 'human rights' of the protestors. Would they say the same if their embassies were the next target of these mobs to the extent of even occupying them. Would these embassy heads ask GoSL not to take action and allow these mobs to remain inside their embassies?
The 9 member select House committee investigated the 6 Jan 2021 Capitol riot & invasion of Capitol Hill. 10 months of investigations / interviewing over 1000 witnesses / gathering over 140,000 documents including video & audio from the riots. FBI sought public help to identify people who took part.
Five people died in connection with the riot. This included a pregnant female, Capitol Police officer, and a member of the mob who was shot while breaching a room adjacent to the House chamber. More than 100 police were injured. More than 800 arrests made of which more than 300 have pleaded guilty & 5 convicted at trial. Over $1million damages were caused by the mobs.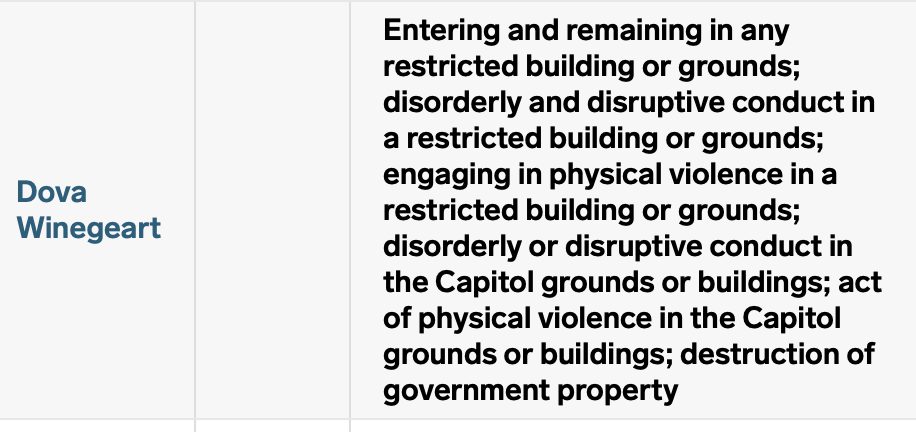 Capitol Hill Police officer Caroline Edwards suffered a traumatic brain injury
https://www.youtube.com/watch?v=ZZujB5tSqek
https://www.cnbc.com/video/2022/06/09/video-of-the-capitol-breach-on-january-6-2021.html
The video showing rioters rushing toward the Capitol, swarming police officers and attacking them with weapons beating officers with hockey sticks and other objects. Inspite of visibly seeing this there were some to claim the protestors were 'peaceful'. It was no different to the scenario in Sri Lanka.
https://www.insider.com/all-the-us-capitol-pro-trump-riot-arrests-charges-names-2021-1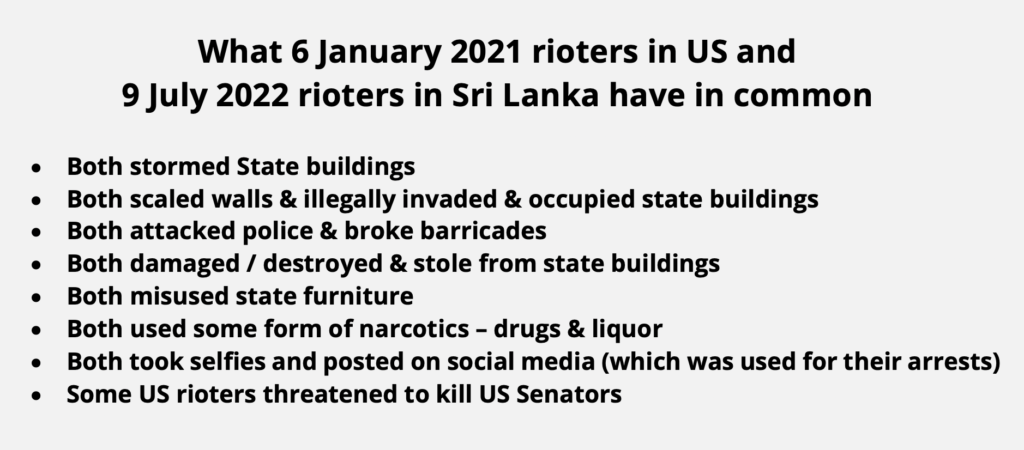 When comparing July 9th riots with January 6th riots some are quick to claim the two cannot be compared. However, the US incident was regarding people supporting the former President refusing to accept election outcome. Sri Lanka's incident was part related to the cost of living which later escalated into a political opposition against the elected President to oust him (many now admit that political parties and lobby groups were linked to the riots). Indirectly both incidents were to oust an elected President as was in the case of US President & Sri Lankan President. If it was wrong to oust elected President Biden it cannot be different in Sri Lanka too.
How can it be wrong to scale walls & occupy State buildings & damage its contents in the US but the same things done in Sri Lanka is acceptable simple because the excuse given for the action is that the Sri Lankan President did not have dollars to provide gas / petrol & left people in queues & was being held responsible for 44 years of debt & corruptions?
Secondly, both rioters attempted to overtake state buildings. Whatever justifications they give, this remains an illegal act. While the trial in the US, the legal arguments present the illegalities of the act, the situation cannot be any different in Sri Lanka from a legal point of view.
As senior attorney Manoli Jinadasa pointed out it is unfortunate that the Head of the premier legal association in Sri Lanka chose not to denounce the illegal invasion and occupation of state buildings except to ask them to use the items carefully (which they did not as footage now reveals)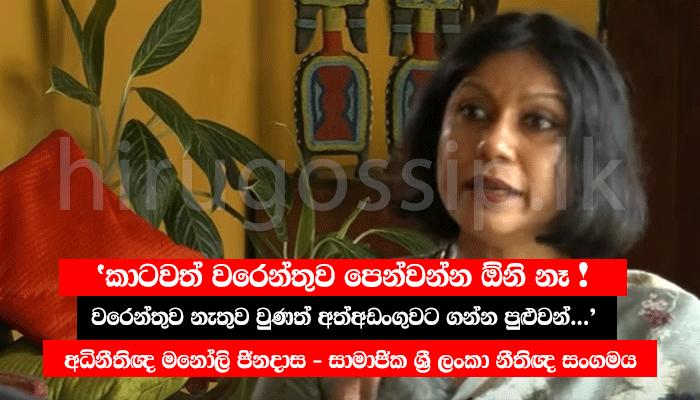 https://www.youtube.com/watch?v=zF3HGas_348 Interview with senior attorney Manoli Jinadasa
https://news.sky.com/story/sri-lankans-take-selfies-and-use-the-gym-as-they-roam-around-ransacked-presidential-palace-after-night-of-unrest-12649273
https://www.youtube.com/watch?v=GfyG09GNL98 – Selfies & Picnics inside Presidential Palace
https://www.businessinsider.com/photos-sri-lanka-protesters-occupying-mansions-make-themselves-at-home-2022-7 – Protestors make themselves at home in the Presidential mansion
https://www.news9.com/story/62cc7ad611b9b80728e4c6d7/taking-selfies-sri-lankans-converge-on-presidential-palace – More selfies
https://www.abc.net.au/news/2022-07-11/sri-lankan-protesters-vow-not-to-leave-until-leaders-quit/101225646 – Storming presidential palace & enjoying a dip in the pool
https://www.thelallantop.com/news/post/protesters-in-srilanka-turns-presidential-palace-in-tourist-spot – Presidential Palace a tourist spot
https://www.indiatoday.in/world/story/india-today-discovers-high-security-bunker-sri-lanka-presidential-palace-video-1974016-2022-07-10 – Exposing Presidential Palace layout
https://www.ndtv.com/world-news/video-protesters-discover-high-security-bunker-at-lanka-presidential-palace-3144231 – exposing secret bunkers used to protect not only Sri Lankan leaders but foreign leaders in an emergency.
If the US riot was instigated by Trump supporters it is now clear that the riots that ensued in Sri Lanka had not only political backing of JVP, FSP, SJB, TNA but also their associated student unions, LTTE Diaspora & Catholic Church as well as a handful of controversial Buddhist clergy. The moment protestors went beyond holding placards to setting up illegal structures, forcibly taking public land, pushing barricades, it no longer became classified as a 'peaceful protest'.
Sri Lanka is now investigating the not-so-peaceful protests together with the illegal invasion & occupation as well as damage/destruction and theft of State belongings. If US could put on trial rioters that entered its State buildings, there is no reason why Sri Lanka should not do same.
What is wrong is wrong, what is illegal is illegal and no justification can remove this. No one can take law into their hands.
Shenali D Waduge