When EPRLF kidnapped an American couple in 1984 & sought ransom paid to Tamil Nadu Government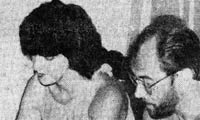 On 10 May 1984 an American couple Stanley & Mary Allen were kidnapped by EPRLF.in Jaffna. The kidnapping was timed with the visit of Snr George Bush former CIA director's visit to New Delhi. EPRLF demanded Rs.50m in gold paid to the Tamil Nadu Government (very strange request) plus the release of 20 EPRLF cadres arrested by the Sri Lankan Government under the PTA. The kidnapping was the first of its kind in Sri Lanka.
According to Minister Lalith Athulathmudali the American couple had been taken to Tamil Nadu. The ransom note had accused the couple of being CIA agents. Mr. Allen was working for Akron-based Ruhlin company. He was project manager of a $4m fresh-water distribution system being built in Sri Lanka. Was this built, what happened to this project?
The Sri Lankan Government, ordered all foreigners to leave the Jaffna region
Appeals to release the American couple came from all quarters including threats by India's RAW including a person letter addressed by Indira Gandhi to EPRLF Leader Padmanabha.
The deposition by K Mohandas, former Director General of Police (Intelligence) Tamil Nadu to the Commission on 2 January 1996 following the assassination of Rajiv Gandhi is interesting.
"One night I was sleeping in my house. I got a call from the US Consul General from Madras at 11 PM. He told me frantically that Mr. and Mrs. Allen, who are working as water resources experts in Jaffna had been kidnapped by militants. He wanted my assistance to rescue them. I told him how could I help him for the incident that had happened in Jaffna. He pressed that the President of the United States of America was interested. The Consul General said that a large amount of gold and six or so militants in Sri Lankan custody must be released. This must be done within 48 hours or else Mr. and Mrs. Allens would be shot dead. Then something struck me and I asked the Consul General to find out the names of the militants whom they were asking for release. Then as soon as I placed the phone down, I got a call from G. Parthasarthy from Delhi repeating the same request. I rang up MGR and took his permission to take up this matter. I immediately proceeded to office calling all my principal officers to come to the office. As soon as I reached the office, I got a call from the US Consul General revealing the names of the militants whose release the kidnappers had wanted. My officers immediately said that they were from the EPRLF. So the hunt began to find out whether there are any important EPRLF fellows in Madras. After about 24 hours, we got 3 or 4 of them sleeping in a house. There were also two women who were released. The catch was very important. Among the people we caught were one Mr. Padmanabha who was later massacred by LTTE. Then, two, Varadharaja Perumal, the subsequent Chief Minister installed by the IPKF in East Sri Lanka, and three, General Douglas, self styled, who was the chief of militant wing of the EPRLF. I asked my officers to take the three to a five star hotel. It was at about 2.00 A.M. with a lot of security, the officers started questioning. But upto 6.00 A.M. they did not budge. So I went there with two commandos with loaded revolver. I made the three fellows stand. I placed my revolver on the table and made the commandos aim with their AK-47 at them. There was silence for two minutes. I looked at them straight and said: `It is your people who have made ransom demand on Mr. Allens. I will not allow you to open your mouth. Whatever happens to Allens will happen to you three right in this room.' After five minutes, General Douglas said that he would speak to his people in Jaffna to release Allens. I said 'Mind you, nothing in return; no gold; no release of their comrades.' General Douglas contacted Jaffna and got the release of Mr. and Mrs. Allens and, within four hours, Mr. and Mrs. Allens were released at the residence of Bishop of Jaffna with their eyes blindfolded. There were kidnappings and counter kidnappings within the Sri Lankan militant groups in Tamil Nadu."
K.Mohandas, the then police chief of Tamil Nadu, who was a confidant of MGR, exposed (Douglas) Devananda as the culprit of the 1984 kidnapping drama in his 1992 book. During the Lessons Learnt and Reconciliation Commission on September 3 in 2010 Devananda apologized for the mistakes made during his militant life.
The week following the release of the American couple the EPRLF, TELO stormed the Batticoloa jail to release Reverend A. Singarayar & Nirmala Nithyanathan, a lecturer at the University of Jaffna who were to stand trial for terrorist offences. Their names were included to the list of detainees the EPRLF wanted released in exchange for the American couple. A Roman Catholic priest & a Jaffna University lecturer in prison for terrorism certainly confirms our contention of both links to terrorism in Sri Lanka.
In 1984
National Security Minister/Minister of Trade & Shipping, Lalith Athulathmudal
Foreign Minister A.C.S.Hameed
United States Ambassador to Colombo, John H.Reed
cabinet spokesman, Ananda Tissa De Alwis
Indian High Commissioner to Colombo, Chhatwal
Indian Foreign Minister Narasimha Rao
Parthasarathy, Chairman of the Foreign Policy Advisory Committee in New Delhi
According to T. Sabaratnam, Sri Lanka's Foreign Minister Hameed had asked of the Indian High Commissioner Do you say the kidnappers asked Sri Lanka to hand over the prisoners and the money to the Tamil Nadu government without even mentioning the matter to someone in authority in Tamil Nadu?"
While Athulathmudali called a press conference that evening and accused India of complicity.http://www.nation.lk/2010/09/12/newsfe5.htm
1984 New York Times – https://www.nytimes.com/1984/05/16/world/kidnapped-us-couple-released-by-guerrilla-group-in-sri-lanka.html
1984 UPI Mike Casey's article Religious violence between the minority Tamils and the majority Sinhalese in the former British colony of Ceylon has left more than 450 people dead in the last year."
https://www.upi.com/Archives/1984/05/16/The-newlyweds-seized-last-week-by-Sri-Lankan-terrorists/1308453528000/
According to USA Today (15 May 1984)  U.S. policy regarding kidnapping is well known, said Kevin O'Connell of the Office for Combating Terrorism. 'We will not pay ransom or release prisoners. We make no deals with kidnappers"
According to The Hindu (18 May 1984) titled Aim of exposing CIA achieved – EPRLF"
EPRLF said they had been watching the activities of the Allens for the past six months…..'Although they claimed they were water resources experts, they did little on this project, and along with two other Americans, were taking photographs and making logistic studies of the Jaffna peninsula.'
Sunday Times Sri Lanka quoting extracts from N K Narayan Swami's Inside an Elusive Mind – Prabakaran" The EPRLF, the small leftist group also trained by India, kidnapped a young American couple working on a US funded water project at Point Pedro, a coastal town in the Jaffna peninsula. They were accused of being CIA agents. The EPRLF demanded a huge ransom. The group wanted the amount deposited with the Tamil Nadu government. An outraged New Delhi came down heavily on the EPRLF, resulting in the release of the Americans."
According to the Economist (19 May 1984)
The kidnappers were from a group that calls itself the Eelamist People's Revolutionary Front (Eelam is the name given by separatists to their would-be Tamil state). Its secretary-general, Mr.K.Pathmanathan [sic: the correct name is Padmanabha; who was a pal of Dayan Jayatilleka whose father Mervyn de Silva, should have contributed this news report, since he was the Sri Lankan correspondent of the Economist] who is believed to have had training in Lebanon, was picked up in Delhi with five colleagues and questioned"
Some memories are good to relive to ensure mistakes are never repeated
Shenali D Waduge