Who is NED & what is its role in Sri Lanka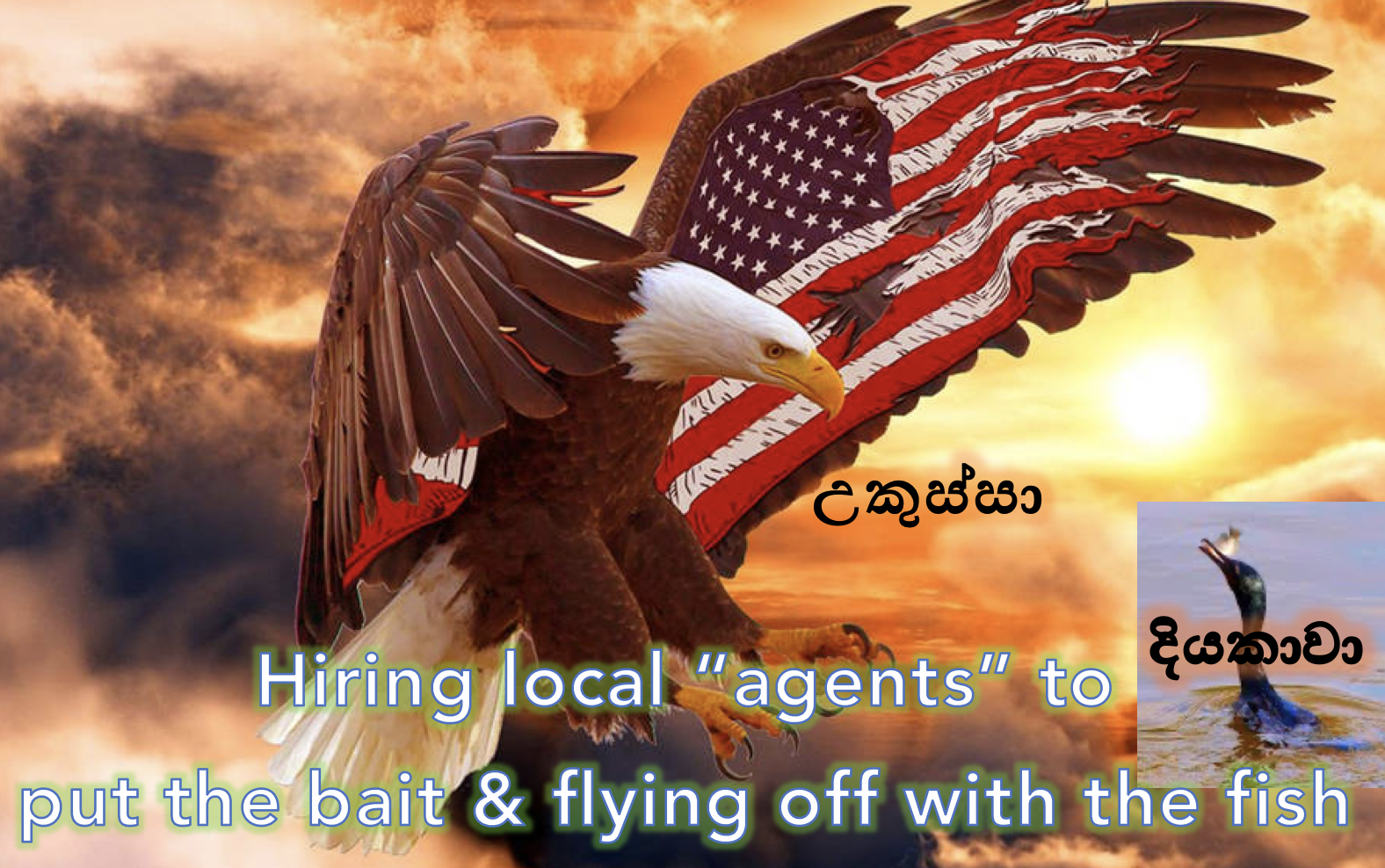 The term "democracy" has become a tool used to undermine democracy in the name of democracy by interfering into the internal affairs of countries & causing mayhem. What the CIA did back in the 1970s has now been outsourced to an entity called NED – National Endowment for Democracy. Entire vocabulary of "democracy" "rule of law" "freedoms & rights" "peace" "reconciliation" are encrypted to mean the opposite of what they profess to promote. NED founder Alan Weinstein called it the "second CIA" in 1991.
The NED was designed to enable bogus "democracy promoting bandwagon" to get closer to the People with initiatives that were tasked to private parties on NED's behalf. The modus operandi was to hire private entities to do the dirty work of NED's goals. These private entities became NGOs and Civil Society groups & their heads.
US Govt gives NED funds, NED in turn creates a program, outsources it to a NGO who are tasked to carry it out under supervision of NED or reporting to NED. These NGOs are the vassals for the bogus "democratic values" spread among citizens to advance US strategic interests. This is why countries need to have a mechanism to keep an eye on the programs launched by NGOs/Civil Society as funding is sent for them to "brainwash" citizens under cover of a program that looks quite "innocent" on the exterior. Within the program the goal or outcome is different.
National Endowment for Democracy (NED) comprises 4 key subsidies
National Democratic Institute
International Republican Institute (supports local political groups)
American Centre for International Labor Solidarity (supports trade unions & labor movements)
Centre for International Private Enterprise (supports private enterprises)
Thus NED entraps the politicians-the trade unions & private organizations to facilitate riots, coloured revolutions, political crisis, to spread lies & rumors & infiltrate into local administrative systems. In Sri Lanka, we can notice that their tentacles have gone further to tap the Public Sector and top administrative posts.
NED disintegrated the Soviet Union, NED was responsible for the Rose Revolution in Georgia, NED instigated the Velvet Revolution in Serbia, NED led the Orange Revolution in Ukraine, NED was responsible for the Arab Spring across the Middle East, NED was responsible for Pakistan and there is no reason not to believe NED did not have its hands in what took place in Sri Lanka.
https://www.youtube.com/watch?v=Ysy6qrXi0m0 US fingerprint behind Sri Lanka's unrest.
https://www.youtube.com/watch?v=XNZZmErTqbw Why the US National Endowment for Democracy Has Nothing to do with "Democracy"
https://www.youtube.com/watch?v=omwCiF-Vt3Q
What is the National Endowment for Democracy & Why it's Wrong to Take their Money
https://www.youtube.com/watch?v=NzIJ25ob1aA    
Inside America's Meddling Machine: NED, the US-Funded Org Interfering in Elections Across the Globe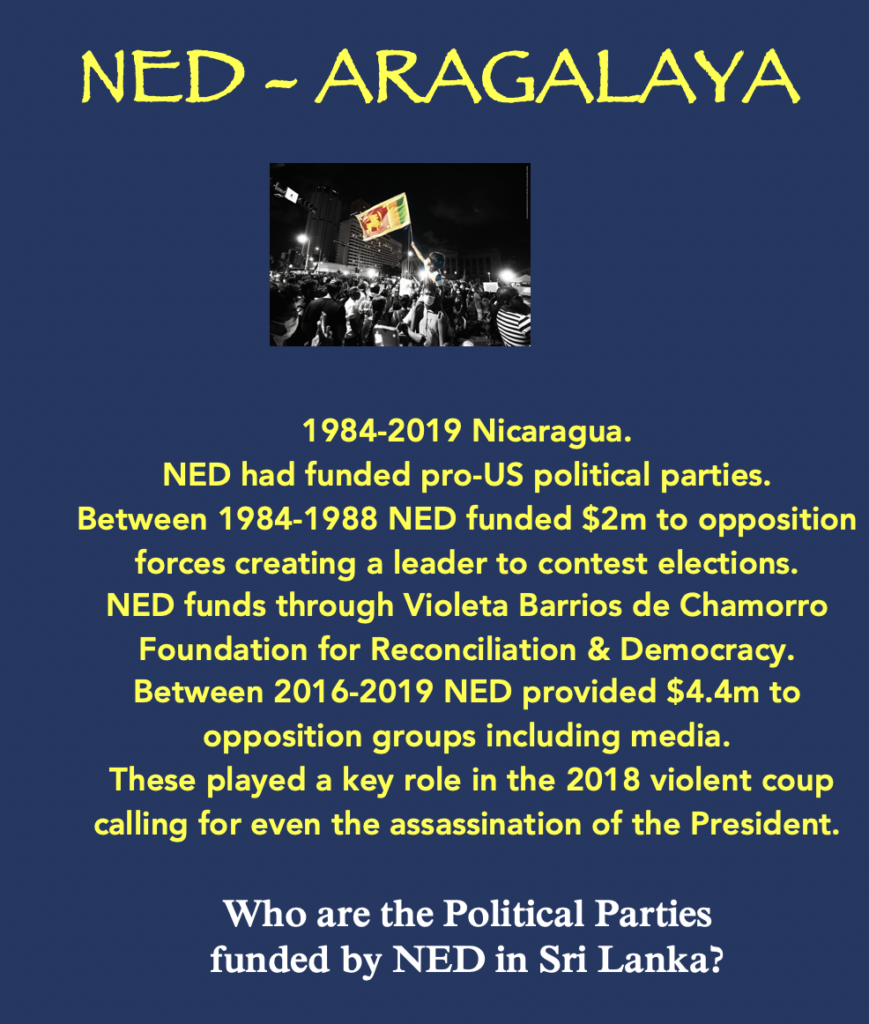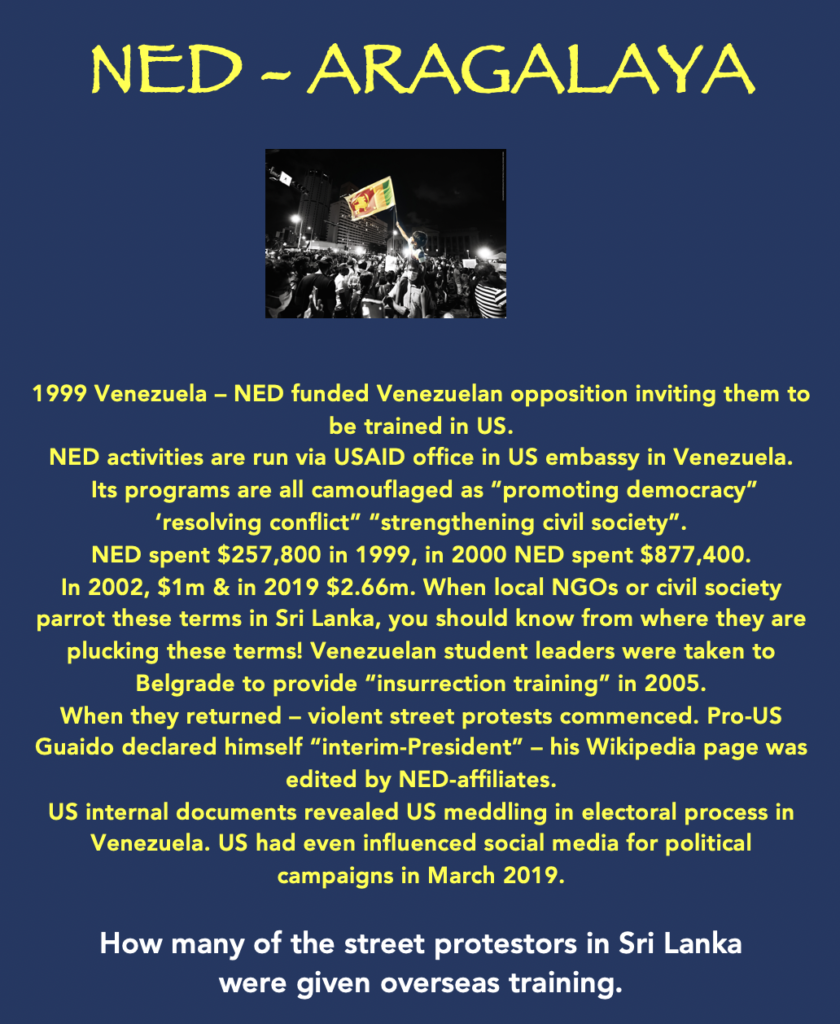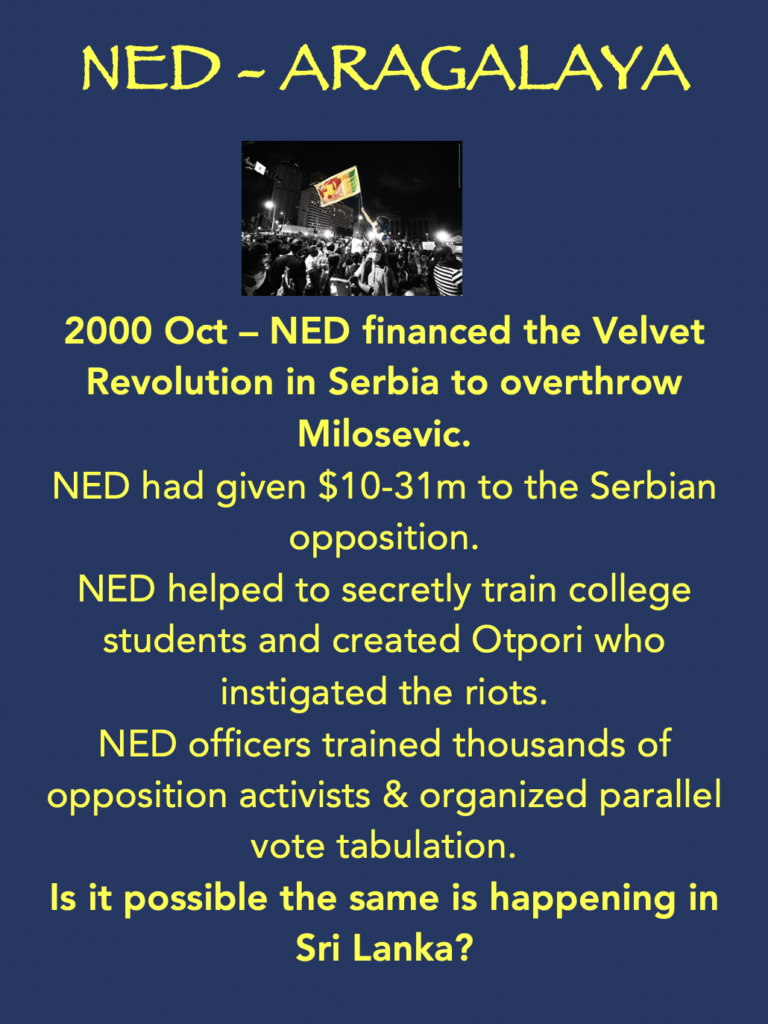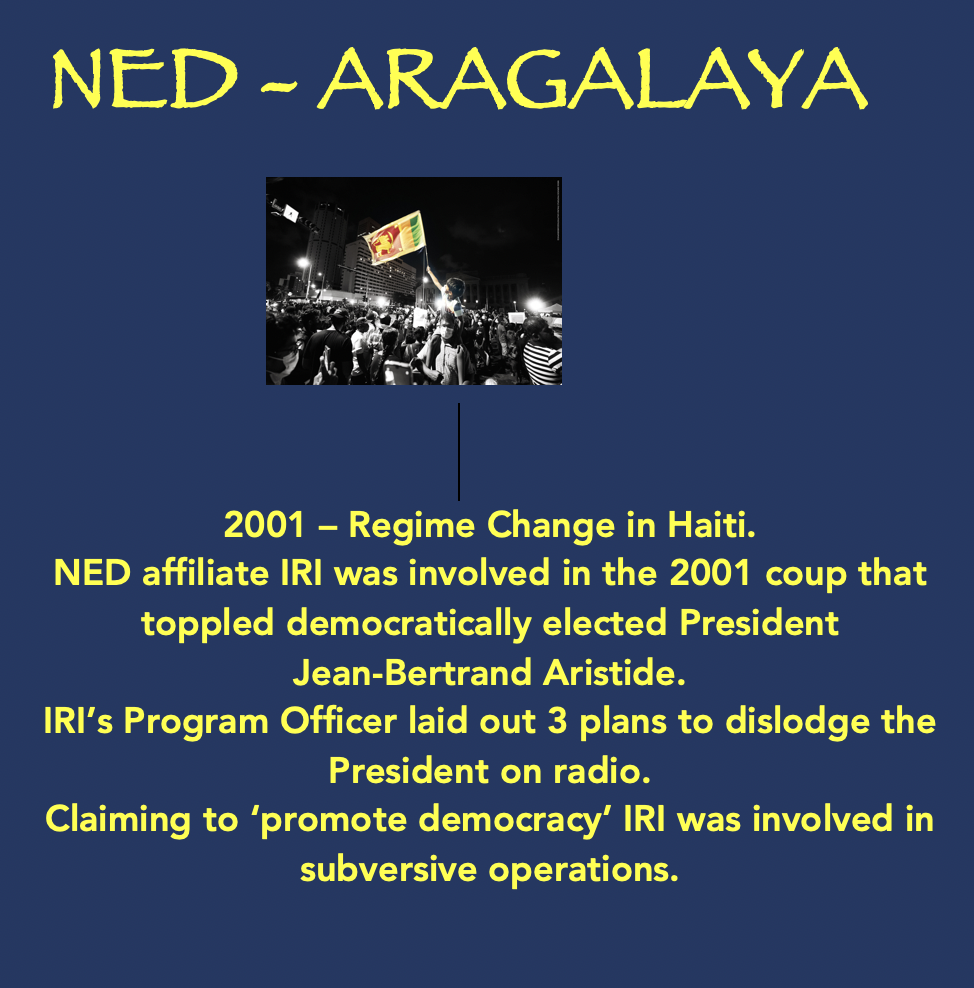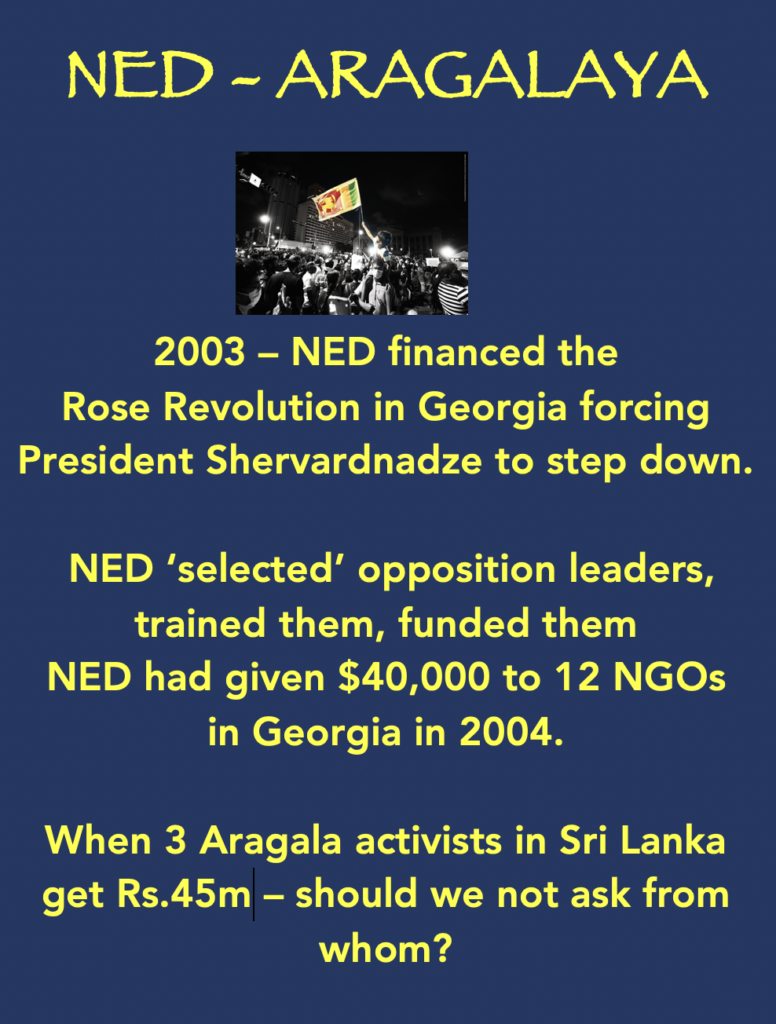 https://www.youtube.com/watch?v=SAmcdfjk0mo NED Partners from Ukraine Discuss How Civil Society Responds to the Current Crisis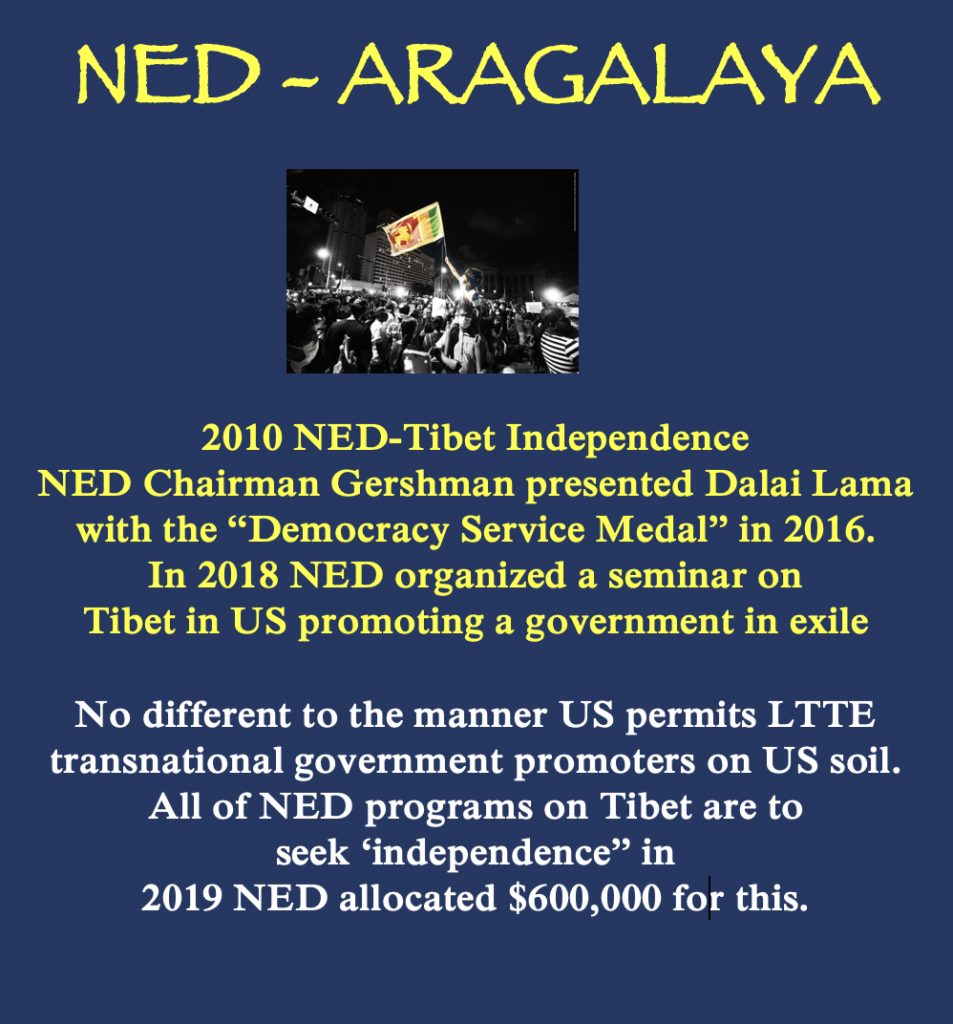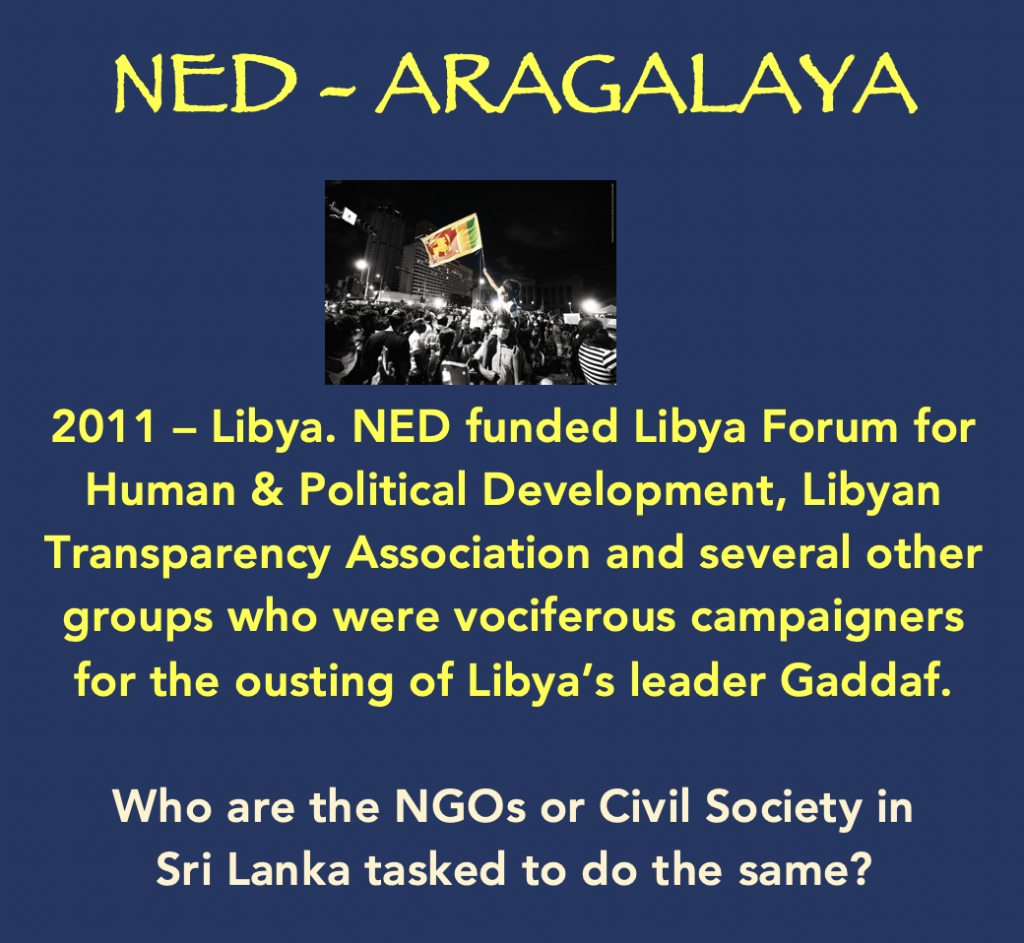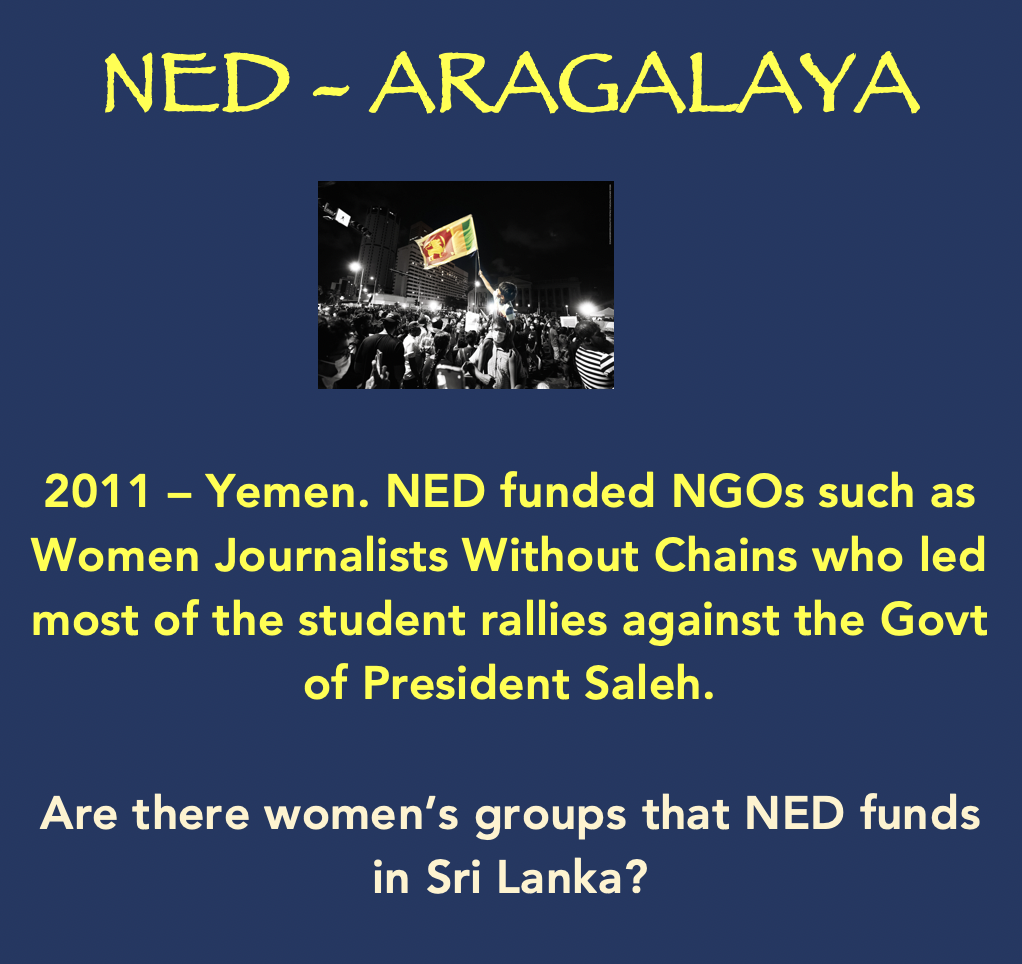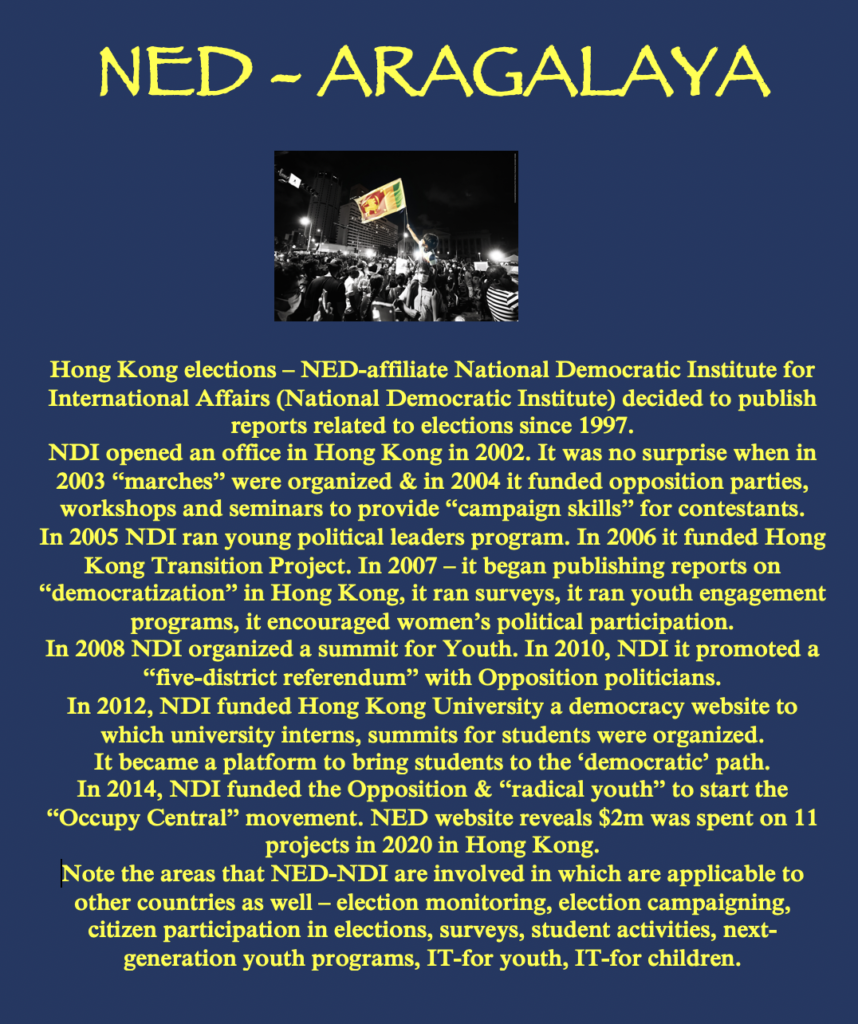 https://www.youtube.com/watch?v=nJHngOuthzs Thai Opposition Leader Paid Lobbyists to Arrange Meeting with USAID, NED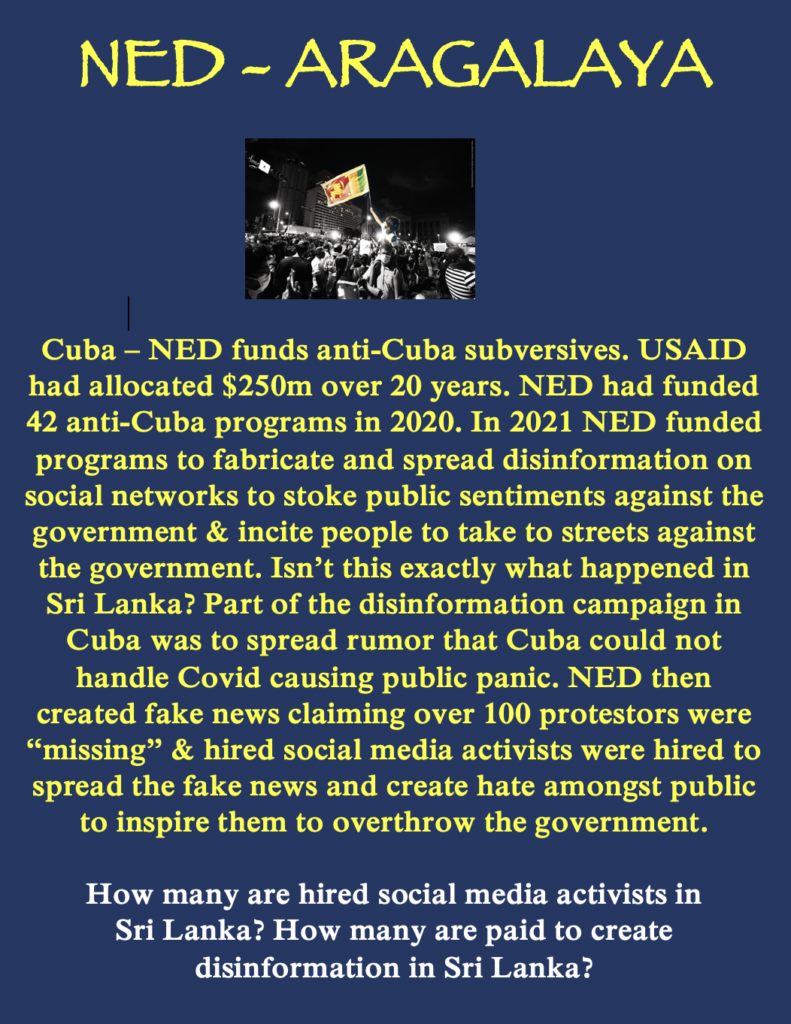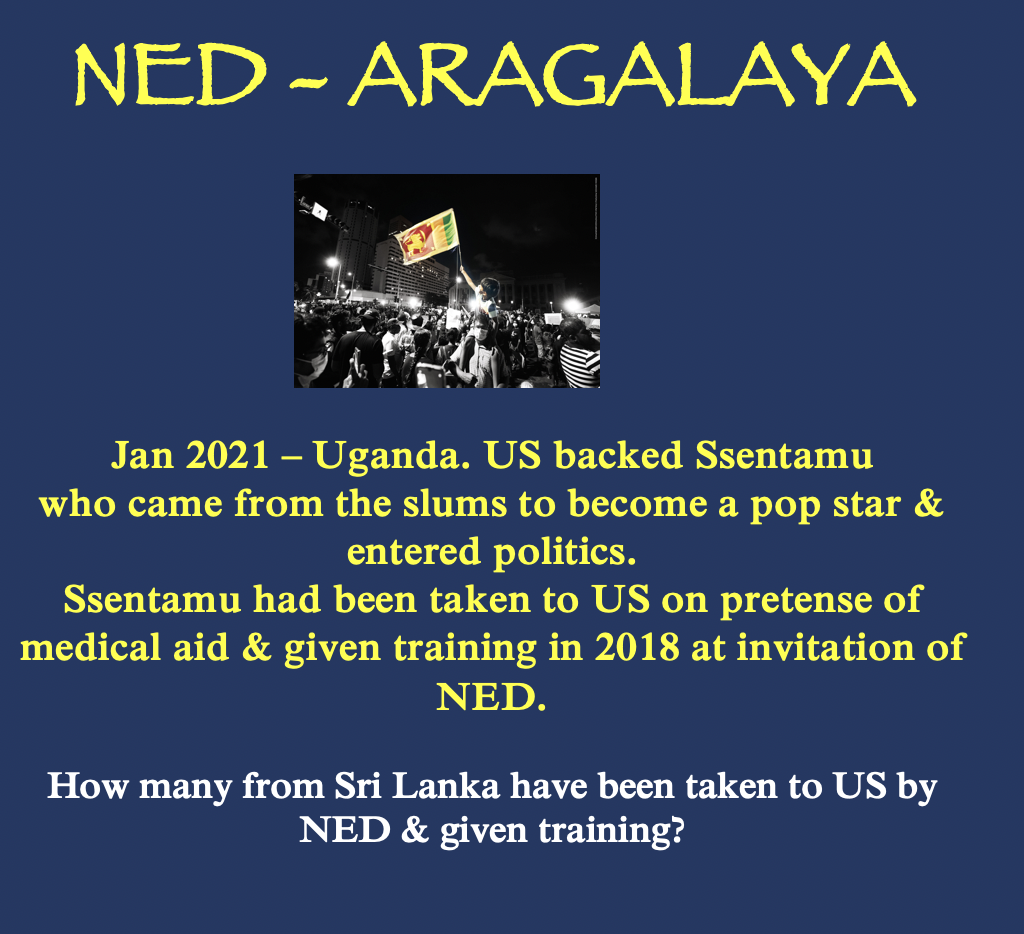 https://www.ned.org/region/asia/sri-lanka-2021/ NED funding to Sri Lanka in 2021 is clearly given in its own website.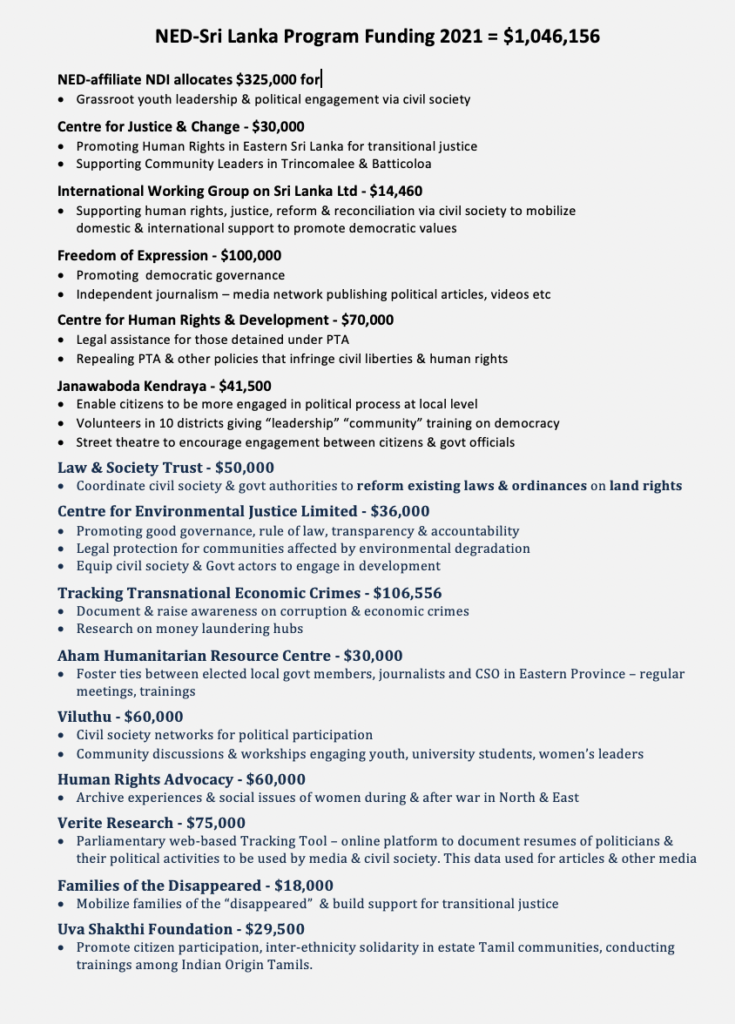 A series of twitter posts further showed NED/USAID involvement in Sri Lanka.
USAID is banned by several countries for its subversive activities.
It has been seen playing a role in the aragalaya in Sri Lanka too
https://twitter.com/BattlementLK/status/1549015749934649346
NED funded Law & Society Trust for land rights (note recent Land Privatization bill attempting to privatize all state land)
LST was formed by late Neelan Tiruchelvan had on its board of Directors – Chairman Chandra Jayaratne (supporter of yahapalana government) Prof. Jayadeva Uyangoda, G Alagaratnam (BASL President in 2015),
https://lstlanka.org/wp-content/uploads/2019/06/Annual-Report-2018-V2.20-for-website.pdf
Transparency International – Sri Lanka
Its top donors are USAID, NED, Open Society
NED-Affiliate – National Democratic Institute – Sri Lanka
https://www.ndi.org/asia/sri-lanka
NDI in Sri Lanka is linked with civil society groups & was involved in the 2000, 2005, 2010, 2015 and 2019 elections. NDI and IRI did a joint survey ahead of Nov 2019 Presidential Election
https://www.ndi.org/publications/statement-joint-iri-and-ndi-pre-election-assessment-mission-sri-lankas-2019
https://www.ndi.org/sites/default/files/STATEMENT%20OF%20JOINT%20IRI%20AND%20NDI%20PRE-ELECTION%20ASSESSMENT%20MISSION%20%20TO%20SRI%20LANKA'S%202019%20PRESIDENTIAL%20ELECTION.pdf
NDI is funded by NED, USAID, US State Dept, Consortium for Elections & Political Process Strengthening,
NDI also received contributions from Govt of Australia, Govt of Denmark, Govt of Belgium and Open Society Foundation of George Soros. Yasmin Sooka's report against Sri Lanka was funded by George Soros Open Society Foundation. The Google balloon over Sri Lanka Google Loon Project" is also a George Soros project. In 2016 it was announced that George Soros was to fund a 3 year economic plan for Sri Lanka. http://www.sundaytimes.lk/160110/business-times/soros-to-boost-sri-lankan-economy-stiglitz-to-provide-sound-advice-177966.htm
NDI also funds Centre for Policy Alternatives
In 2015 Sri Lanka became the 1st South Asian country to be a member of the Open Government Partnership of NDI to which Sri Lanka pledge 15 commitments.
https://www.opengovpartnership.org/documents/sri-lanka-hybrid-report-2019-2021/ Sachini de Fonseka has been selected as OGP Researcher
Thusitha Pilapitiya is the Country Director of NDI Sri Lanka
OGP aspires to create a multi-party Open Parliament Caucus & Open Parliament Plan combining civil society. In short, the aim is to create a Parliament that includes civil society without them standing for election.
NDI partners with SARVODAYA https://www.ndi.org/our-stories/sri-lanka-sarvodaya-developing-next-generation-youth-leaders
Sarvodaya's Vinya Ariyaratne in 2018 formed the National People's Movement  combining its Deshodaya with United Professionals Movement & 17 civil society groups using slogans like "Together We Can" "Save-Serve-Sri Lanka" to bring a new face to Sri Lankan politics. Nagahananda Kodituwakku of Vinivida Foundation is also a partner of NPM.
Sarvodaya Deshodaya "Next Generation" youth development training program
Waruna Padmasiri, Project Manager
NED-Affiliate – Solidarity Centre – Sri Lanka
https://www.solidaritycenter.org/category/asia/sri-lanka/
NED-Affiliate – Centre for International Private Enterprise – Sri Lanka
https://www.cipe.org/projects/sri-lanka/
CIPE partners with Verite Research in Sri Lanka
Nishan de Mel – Executive Director who is also on Board of ADVOCATA
https://www.cipe.org/who-we-are/people/verite-research/
https://dailynews.lk/2022/01/21/business/270669/cosmi-cipe-vr-partner-explore-externalities-large-scale-infrastructure?page=23
We are living in a cuckoo land if we think these same tactics and manipulations are not being applied in Sri Lanka, tapping Sri Lankans and working with NGOs, Civil Society, legal fraternity, media, youth leaders, human rights activists. The manner they quote terms and phrases in vogue among these "democracy" promoters is a giveaway & showcases the training given to them.
The question we all hate to ask is – who are these people on NED payroll, or who are being manipulated as a result of NED-funding to outsourced local entities?
What is certain is that we need to find who are working against the state – be they in the government, in opposition, among universities, among professional organizations, among youth, among media, among public service, among legal fraternity, among judiciary and especially among NGOs and Civil Society.
In looking at the areas that NED targets it is easy to decipher their favored hot spots – elections / opposition parties / youth movements / leadership programs / women / the poor local communities. These are all nerve centres that they can work with against a government pressing the buttons when necessary while building their psyche via programs rolled out through NGOs and grassroot civil society. They have infiltrated into every sphere possible.
The governmental apparatus does not realize the extent of their outreach and people are oblivious to how much they are unknowingly being manipulated via programs on the one hand and via social media platforms as well.
With time people will understand the dangers but it shouldn't be too late.
Shenali D Waduge