Yasmin Sooka/ITJP blurring distinction of 'civilian' & slurring Sri Lanka Army when LTTE had Armed Civilian killer units.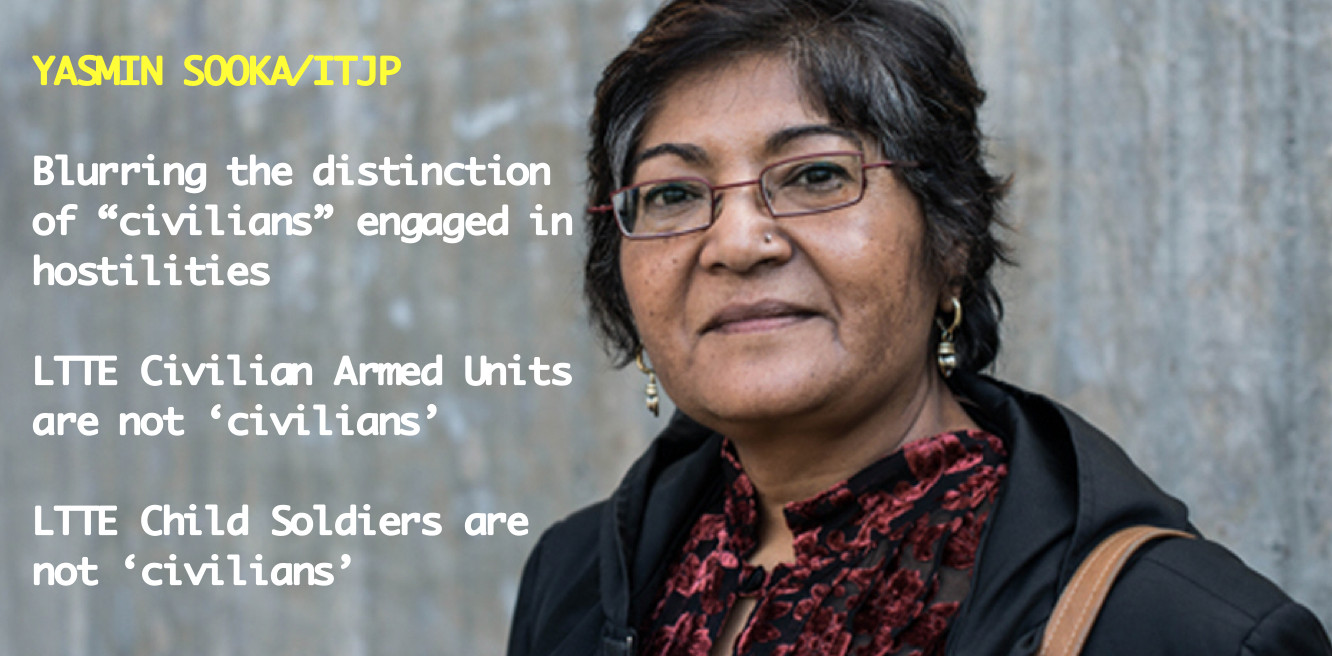 The whole 'war crime' 'genocide' sing song is based on an unsubstantiated allegation of intentional mass killing of some blown up figures ranging from 40,000 to 200,000 CIVILIANS by various third party groups & individuals. This allegation is questioned because it has ignored several important factors. Firstly, LTTE had its own civilian force who were trained and armed to kill alongside armed & trained children, none of these can claim to be or can be categorized as a civilian. Confounding matters further is LTTE also fought in civilian clothes while during the last stages ordinary civilians were forcibly given basic training and made to shoot. None of these civilians engaged in hostilities and dying can be designated as a civilian either.How can Sooka/ITJP or anyone not present in the war zone make any conclusions or allegations ignoring these fundamental facts? Sooka/ITJP has presented 2 LTTE civilian armed members in their list of missing. On what basis can she categorize them as 'civilians' when they were trained killers?
International Humanitarian Law & CIVILIANS – LTTE blurring distinction
Rules of war requires a clear distinction between members of armed forces & civilians.
LTTE has thrown that to the dogs (LTTE fights in both uniform & civilian clothing & LTTE has fighting units comprising civilians)
How do we apply the rule civilians must be protected against direct attack "unless and for such time as they take a direct part in hostilities" – LTTE civilian forces were 24×7 fighters in civilian clothing!
Geneva Conventions nor its Additional Protocols define what is direct participation in hostilities. The lack of definition cannot penalize Sri Lanka's Armed Forces.
ICRC asks 3 questions
(1) Who is considered a civilian for the purposes of conducting hostilities?
(2) What conduct amounts to direct participation in hostilities?
(3) What are the precise modalities according to which civilians directly participating in hostilities lose their protection against direct attack?
Any member of LTTE (civilian or uniformed) cease to be civilians and loses protection against direct attack, for as long as they assume their continuous combat function.
Rule 6 will apply.
LTTE National Auxiliary Force: LTTE had 6 civilian combatant groups all of whom comprised some 50,000 Tamil civilians
Thesiya Thunai Padai (Support Force)- – formed in early 1990s to defend borders in Vanni region
Ellai Padai(Border Force) – formed after 1995 when LTTE retreated from Jaffna
Kiramiya Padaiyani/Grama Padai(Village Defense Force) – – formed after 1995 when LTTE retreated from Jaffna
Makkal Padai (People's Force)
Thamil Eela Thesiya Thunai Padai (Tamil Eelam National Auxiliary Force)
Thamil Eela Thesiya Iranuvam (Tamil Eelam National Army) – salaried combatants
Poruthavi Padai (War Support Force)
The male/female civilian units were formed in 1999as 'civilian militias' to support the LTTE military. They were given basic military training as well as casualty evacuation training. Initially these civilians were known as 'podians' as they were school children or youth trained to use a pistol and tasked to commit hit & run assassinations. Now tell us, if such a 'podian' is shot dead while engaged in hostilities, can he/she be described as a 'civilian'?
Number of 'civilians' in all of the 6 units together with the child soldiers would have made over 50,000 civilians trained in armed warfare.
Eela Padai – 5000 civilians receiving monthly salary of Rs.2500 from LTTE
Grama Padai – 5000 civilians who fought alongside regular LTTE military units
It is certainly shocking that LTTE's civilian armed force was double in number to the hardcore LTTE. This is a crucial figure to take note of.
Yasmin Sooka in her presentation of LTTE & LTTE family members as missing and attempting to fool the world by posing them as 'civilians' has done great injustice to the Sri Lankan Armed Forces as well as made a mockery of international terminologies used in the rules of war.
We will take 2 examples to highlight this.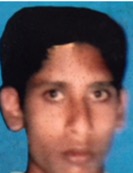 Yasmin Sooka/ITJP names Michael Joseph (Kumanan)born 24 November 1981 (28years) as a member of the LTTE auxiliary (civilian) force.
ITJP claims he went 'missing' on 17 May 2009 in Mullaiwaikkal. No witnesses are mentioned.
Can Sooka/ITJP claim Kumanan (LTTE name) as a civilian missing if he was a member of LTTE's civilian armed force, paid by LTTE to kill?
Yasmin Sooka/ITJP next names Kathiresan Kalaichelvan (Ramanan)born 08 March 1984 (25 years) as a member of the LTTE auxiliary (civilian) force.
ITJP claims he went 'missing' on 18 May 2009 also in Mullaiwaikkal. ITJP claims he 'surrendered' to the Army but there is no one given as witness.
Can Sooka/ITJP claim Ramanan (LTTE name) as a civilian missing if he was a member of LTTE's civilian armed force, paid by LTTE to kill?
The Lessons Learnt & Reconciliation Commission Report of November 2011 declared 22,247 LTTE dead of which 11,812 had been identified by name.
However, 10,435 LTTE dead had not been identified by the time LLRC report was released in November 2011.
Over 10 years since elimination of LTTE, it is time to put to rest these 10,435 unidentified LTTE dead and to ascertain whether the LTTE & LTTE families listed by Sooka is amongst them.
But the fact remains, none of them if they were LTTE (hardcore or members of LTTE civilian force) or had died engaged in hostilities can claim to be CIVILIAN. This means NONE of these dead can be featured in any list as civilians or use their names & numbers to claim the Sri Lanka Army committed war crimes or genocide.
Anyone who wishes to make such claims must first prove the dead were 100% civilian and that the army killed them with intent. But even this argument holds no water as the Sri Lankan Army physically brought to safety close to 300,000 Tamils and this is no small number that they saved.
Confounding matters further was the recruitment of children (Child Soldiers) by LTTE from late 1970s. Adele Balasingham trained these children until her departure to UK in 1999. Children were taught to kill and to commit suicide by Adele.
In 1998 Sri Lanka's Directorate of Military Intelligence estimated that 60% of the LTTE's fighters were children.
LTTE's child soldiers like the civilian force were recruited from late 1970s.
Children were first used to attack Mankulam camp on 22 November 1990.
LTTE child soldiers were used next to attack the Elephant Pass camp on 10 July 1991.
LTTE child soldiers even fought with elite Black Tigers in 1993 and 1996 against 2 army camps and naval camps seizing $100m worth of military hardware.
In Mullaitivu attack child soldiers shot dead 300 unarmed military personnel!
However, many LTTE child soldiers perished during the Weli Oya assault in July 1995. Some 200 child soldiers died during the attack on the Wanni defense line on 1 February 1998. In another battle in October 1999, over 80 male and female child soldiers perished.
Siruthai Puli brigade (Leopard Brigade) was the fiercest & comprised children raised in LTTE orphanages who had no choice but to kill as per orders. They gunned down 200 Sri Lankan military on 4 December 1997 at Kanakarankulam, Vanni.
That children were recruited by LTTE was reason for the visit of UN Special Rapporteur for Children and Armed Conflict Olara Otunnu to Sri Lanka in May 1998. The United Nations Convention on the Rights of the Child in 1989, article 39, recognized conscription of children as detrimental to those rights. But what did UN do since 1989 against LTTE conscription of children?
The fatalities of children as a result of child conscription is a different topic but the fact that children were used in armed warfare removes their right as a child/civilian when engaged in hostilities. Such casualties cannot be passed off as civilian deaths. Anyone making allegations must first prove that they were not child soldiers.
Thus, the whole world has been fooled by LTTE lobbies and entities like Yasmin Sooka who have presented to the world LTTE terrorists as civilians. This faux pas needs to be corrected by the international organizations lest other terrorist entities use this precedence too.
International law manuals must seriously take stock of LTTE's civilian armed force and child soldiers in their international definition of 'civilian' in IHL. LTTE's civilian armed force units outnumbered that of the hardcore groups.
Shenali D Waduge