Case study for Management Institutes: 65year old blind man begs for 25 years & builds 3 houses & saved 500,000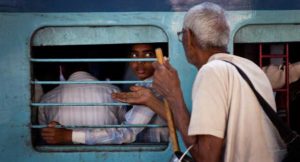 In early March the Daily Mirror reported the arrest of a blind man by the Railway Security Service – his crime begging on the train. That arrest resulted in a sensational story that has to enter any management case study and he should be invited by some of Sri Lanka's management institutes to share with others his story. What is his story?
Blindness he says was a blessing in disguise. It is probably as a result of losing his wife that he resorted to begging on trains which he had been doing for 25 years. From age of 40 to 65 years this blind man has achieved what no person with qualifications or 5 figure salaries will dream of but be unable to achieve.
What has he achieved throughout these 25 years begging on trains?
He has been able to earn Rs.150,000 a month which even a graduate cannot earn nowadays.
He has built 3 houses – 2 given to his 2 daughters as dowries & the 3rd he planned to rent out.
Both daughters own cars and the son-in-laws are doing good jobs.
He has a bank account with Rs.500,000 savings in it
At the time of his arrest by the Railway Security Service he had Rs.4000 in his possession.
His daughters are aware of his begging and when informed of the fathers arrest one of the daughters arrived in her own car.
Obviously the train passengers on the Gampaha-Colombo Train route are extremely compassionate people & much karmic merit to them for they would have been regularly giving him money otherwise it is impossible to collect Rs.150,000 a month.
In times of day light robberies being committed by politicians, public officials and even white-collar corporate heads NONE OF WHOM GET ARRESTED, it is baffling why a blind man gets arrested for begging because he has not taken a penny illegally or forcefully from anyone.
He would not have demanded how much any kind hearted person had to give and would have accepted whatever came his way humbly. What is stupefying is how he had managed the money coming to him out of charity which is not a fixed income gained monthly but went on to build 3 houses plus saved Rs.500,000 as well.
When people are clueless on how to save even with a fixed income, this blind man from Gampaha is the person to tap to learn how to save and he should seriously be invited by management institutes to share his story with all Sri Lankans.
Shenali D Waduge
http://www.dailymirror.lk/front_page/He-built-three-houses-while-begging–for-25-years/238-163496