Mahaveerar Naal (Great Heroes Day) / 'Maaveerar Vaaram' (Great Heroes Week)– Is it a LTTE event?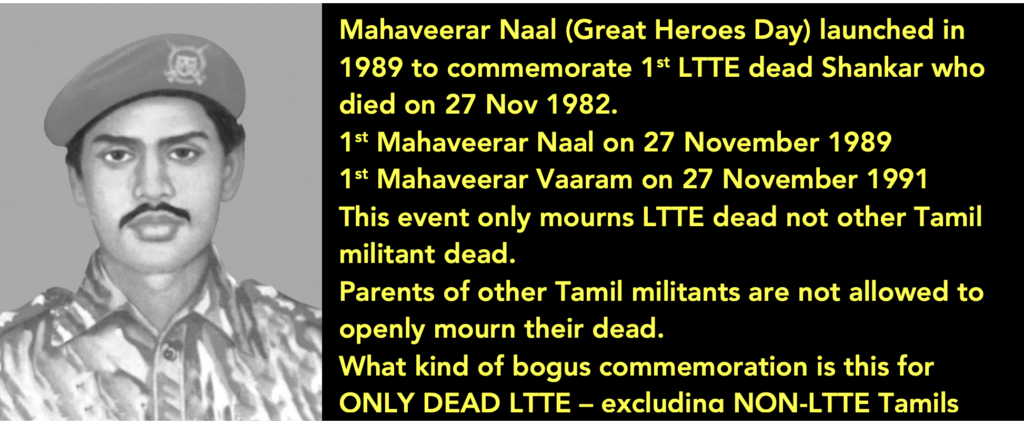 Mahaveerar Naal is a LTTE mourning event – it does not mourn Tamils & certainly not Tamils killed by LTTE. Mahaveerar Naal is an event annually organized by LTTE supporters to commemorate all LTTE who died for terrorist cause. Other Tamil militant groups are not allowed to commemorate their dead on this day – 27 November. It is only dedicated to LTTE dead. All those gathered for Mahaveerar Naal commemorations are LTTE only. The LTTE families mourning LTTE dead are known as Maaveerar Kudumbangal.
Why 27th November becomes Maaveerar Naal Day?
It is the day the first LTTE died fighting the Sri Lanka Army. He was Sathiyanathan or Shankar. He died on 27 November 1982. Shankar's sister is married to Sea Tiger Soosai.
Therefore it commemorates the first terrorist to be killed.
What is the background to 27 November Mahaveerar Naal commemoration!
Shankar was a friend of Prabakaran. Shankar visited Nithiyanandan's residences in Jaffna to warn him & his wife Nirmala that the army was looking for those sympathetic to LTTE. Nithiyanandan was a lecturer at the Jaffna University & Nirmala was a teacher at a leading girls school. The army arrived while Shankar was inside & tried to shoot his way out but was shot. Nithiyanandans were arrested. Sivakumar (Anton Master) took Shankar by boat to Tamil Nadu for urgent treatment & left him in a safe house provided by Nedumaran (Member of Tamil Nadu Legislative Assembly). Sivakumar went to Madurai where Prabakaran & others were staying following court order after the shoot out with PLOTE leader Uma Maheshwaran at Pondi Bazaar in Chennai. Shankar died in Madurai on 27 November 1982.
Then, 7 years after Shankars death in 1989 – Prabakaran and around 600 LTTE gathered in the jungles of Nithikaikulam, Mullaitivu to declare the Great Heroes Day or Mahaveerar Naal day.
When was the 1st Mahaveerar Naal commemoration?
27 November 1989 in Mullaitivu (7 years after Shankars death)
Subsequently from 1991 it was turned into a week-long commemoration (Great Heroes Week) from 21-27 November. It was turned into a week to cover Prabakaran's birthday which fell on 26 November (day before Shankar died)
There have been 34 Mahaveerar Naal (Great Heroes Day) since 1989
There have been 32 Mahaveerar Vaaram (Great Heroes Week)  since 1991
Mahaveerar Naal – evidence that establish it is a LTTE event
Is always inaugurated by LTTE military commanders
Tamil Eelam flag is hoisted
Flame of sacrifice is lighted
Homage is paid to LTTE dead members by constructing several cemeteries with tombs & names engraved of the dead LTTE called "Maaveerar Thuyilum Illangai" (abode where great heroes sleep)
LTTE marked this event as it motivated other youths to join LTTE
LTTE families – Maaveerar Kudumbangal gather to mourn their dead sons & daughters (families of other Tamil militant groups are not allowed to openly mourn their dead)
Great Heroes Day address by Prabakaran on 27 November (his birthday) – this was a policy statement written by Anton Balasingham & read out by Prabakaran. Prabakaran's address stars at 0605p.m. (the time Shankar died)
The speech was relayed by LTTE's Voice of Tiger radio station – Puligalin Kural
LTTE TV – Nitharsanam also telecast to the world from Vanni.
LTTE colors – red & yellow flags were always used at Mahaveerar Naal commemorations.
LTTE flag & emblems were a key highlight.
In 2003 LTTE declared Senkaanthal flower as Kaarthigai Poo (flower of Tamil Eelam) – it is known as the Gloriosa Lily & this flower also takes a prominence place at Mahaveer Naal commemorations since 2003.
Prabakaran garlanded the picture of Shankar the 1st great hero thereafter flowers & lamps are placed before other martyrs by others. Nowadays, we even see foreign MPs placing lamps & flowers in front of dead LTTE in western shores! If only there was a garland for stupidity.
Not only is Mahaveerar Naal a LTTE event that mourns LTTE dead, it is a dad that does not commemorate or mourn the dead of other Tamil militant groups.
Mahaveerar Naal does not regard dead of other Tamil groups as heroes.
Mahaveerar Naal only regards LTTE dead as martyrs not members of EROS, PLOTE, EPRLF etc… parents of these dead are not allowed to mourn their dead.
These parents can only mourn their dead children in private. They are not included into the Mahaveerar Naal commemorations.
Mahaveerar Naal excludes other Tamil militant dead
Mahaveerar Naal excludes mothers & fathers of other militant groups to mourn their sons & daughters.
Parents of other Tamil militant groups have to mourn their dead children in private.
Mahaveerar Naal (Great Heroes Day), Mahaveerar Vaaram (Great Heroes Week) are only for LTTE dead ending on LTTE leaders birthday after a weeklong comemoration of LTTE dead.
When TNA goes to commemorate Mahaveerar Naal – they are commemorating/mourning dead LTTE & considering them as martyrs.
LTTE is banned & as such everything associated with LTTE should also be banned (LTTE flag, flowers, emblems) etc.
Clearly, Mahaveerar Naal is not only a LTTE commemoration it is only for LTTE Tamils. Non-LTTE Tamils are excluded. Therefore, this cannot be allowed at all.
It is not an event that is relevant to ALL TAMILS and only a segment of Tamils aspiring to separate Sri Lanka by hook or by crook.
No Government should allow commemorations of this nature.
For a mother or father – it is irrelevant whether their son or daughter is a terrorist or a patriot. However, no mother or father can demand that they must mourn their dead child surrounded by terrorist paraphernalia. No parents mourning can become greater with the presence of LTTE flags, flowers or emblems! No parent is forbidden to mourn their dead LTTE in private – why do they need to make a tamasha out of it with foreign media, foreign press releases, foreign MPs, political speeches etc? This shows a political agenda behind the move.
Moreover, these LTTE parents should have some empathy to the other parents of Tamil militant groups who have died but who are not allowed to commemorate their dead. If the parents of EROS, PLOTE, EPRLF etc mourn their sons & daughters in private, why can't LTTE parents?  https://www.lankaweb.com/news/items/2021/11/22/if-maaveerar-naal-hails-ltte-dead-what-do-we-call-event-to-commemorate-tamils-killed-by-ltte/
https://www.shenaliwaduge.com/commemorating-maaveerar-naal-is-tamil-peoples-right-wigneswaran-then-who-is-going-to-commemorate-tamils-killed-by-ltte/
Why should only LTTE be given exclusivity or exceptionalism among Tamils? Moreover, Prabakaran & LTTE's Tamil Eelam is ONLY for LTTE Tamils and not for other Tamils…. How many Tamils are ready to accept this reality?
Shenali D Waduge