Message that Sri Lanka's President Gotabaya Rajapakse must convey
Sri Lanka re-reversed a regime change orchestrated in January 2015 which spiraled Sri Lanka towards a wave of catastrophic changes unbeknown to most, outcomes which will be felt only as the new administration now takes over. The election is one that will enter history books for several reasons and resonates the resilience of a proud nation grappling to preserve their history and heritage protecting the islands every inch of turf. As we enter the closure of 2019 and look ahead to 2020 it has a lot of promise in store but there are some factors that needs to be laid out openly and some messages that need to get drilled into the minds of people.
Gotabaya Rajapakse has become the 7th President of Sri Lanka and will be taking oaths on 18 November, the birthday of his elder brother Mahinda Rajapakse in Anuradhapura – the first citadel of Sri Lanka & where sacred Sri Maha Bodhi is enshrined. The two brothers will enter history books. Poland had twin brothers who were both President & Prime Minister! Mahinda Rajapakse served as President, Prime Minister, Opposition Leader and likely to be Prime Minister again all in a space of 5 years! Without a doubt they will be envied by many which sadly stands out as reason for most of the ill-feelings towards the Rajapakses.
Why has the Rajapakse's received the wrath of many? For the West it is obviously the elimination of their pet LTTE on which West was riding to exert influence over Sri Lanka politically and economically. The co-partners UN/NGO nexus with their local stooges played a pivotal role in driving a steady anti-Rajapakse wave that ignored its development and post-2009 programs to divert attention against Rajapakse, though within camp, too, they had numerous shortcomings which should have been immediately addressed. These in fact became golden opportunities used during the regime change campaign.
UNP just blew the chance it was given with a string of corruptions, mismanagement and treacheries some of which are unforgiveable. The manner they have allowed public sector personnel to be a law unto themselves is unacceptable. Today some of these treacherous secretaries who have helped sign treacherous bilateral agreements have fled the nation while others have helped tweak the law to the advantage of the enemies. These treacheries now need to be investigated and culprits duly served justice. Their crimes are no small ones.
We have seen a very significant campaign unfolding. The outgoing President left on a controversial note surrounding a prison pardoning. The UNP without fielding its own candidate once more opted to field a candidate under the infamous swan symbol. It placed its trust in a plethora of parties and individuals that were the team that brought the outgoing President to power. That victory came with the same minority bloc vote while also breaking the Sinhala vote and winning a bonus in anti-Rajapakse votes.
The SLPP candidate was finally named Gotabaya Rajapakse whose candidature was more of a problem to the competition than those proposing to vote for him. Gotabaya was a victim of political/diplomatic/NGO victimization via courts both in Sri Lanka & overseas with a $ funded campaign that did not stop at anything to tarnish his image and raise doubts about his candidacy via an unbelievable fake news campaign that even made a joke out of the US State Dept by changing the spokespersons dress and dubbing her and no action from US raises eyebrows as to whether they were aware of it!
The MCC agreement together with the exposure on the immunities that were to be given to ACSA and SOFA & US Peace Corps raised alarm bells among the nationalists as to what would become of Sri Lanka & the Asian region if it becomes the base for military maneuvers and manipulations which Sri Lanka wished to play no role in antagonizing its traditional friends. The Maha Sangha and nationalist organizations played a pivotal role in carrying the message to the masses that made the majority realize that the election required them to rise to defend the sovereignty & territorial integrity of the nation.
For Sajith campaigning meant solidifying the UNP bloc vote and garnering as many bloc vote via the minority leaders who were all part of the UNP team. The campaign did not require any national policies for it was only meant to appeal to and satisfy the bloc votes. The assurance of TNA's 13 demands was always a question that many watched to see how far Tamils aligned to TNA separatism and Muslims to Muslim fundamentalism. The voter map sadly established that answer. The result destroyed 2 myths – May 2009 showed that the "War" can be won and November 2019 election victory showed elections can be won without North East votes.
What can we make out of the North & East votes?
Ethno-religious political parties has become a bane and divider of people. The people are misled by these leaders who use minorities as their pawns for personal bargaining for themselves. However, the elders cannot destroy the youth by them shouldering divisive politics and separatist notions brainwashed into their minds by their political leaders. Gotabaya Rajapakse's political campaign will go down as one of the cleanest with no posters and encouraging tree planting as well as drawing youth into a future of hope. He stuck to policy and explaining how policy will be implemented. There was no character assassinations or mudslinging on his stages except to alert people of impending dangers to the Nation & its people. The Youth in particular were promised a better and brighter future.
The Tamil & Muslim youth cannot be disassociated from these programs by their elders nursing separatism & fundamentalism. Therefore, the new government must adopt new methods to embrace the youth and children to integrate and leave the separatist elders to take their hatred and revenge to their grave. The youth deserve far more than hatred to be passed from their elders. These are long term efforts but worth every effort.
India was one of the first to extend congratulatory message to the new President. It is to India's own advantage that they develop genuine and non-bullying methods of diplomatic relations in realizing the threat to peace with West entering Asia's shore. The Indian Ocean Rim as a Zone of Peace is something that India needs to work with Sri Lanka on and ensure Sri Lanka does not end up another Middle East or Africa. Asia's future is development not wars and India must realize that this is a priority that requires a trilateral approach with India-Sri Lanka & China's inclusive diplomacy. Russia must also play a pivotal role. The world should no longer be a militarized zone but one with shared development dividends for mutual benefit. No country can force Sri Lanka to disassociate with countries that have been Sri Lanka's friend in times of need both in the past & present.
The West will no doubt re-strategize and return to the UN to again bring in tremendous pressure upon Sri Lanka using their usual chorus of 'war crimes' 'human rights' 'law & order' state of democracy vocabulary. This is where Sri Lanka needs to place patriotic diplomats to handle Sri Lanka's diplomacy to Sri Lanka's advantage on international platforms and not have representatives working for the enemy. We do not need any more PrasadK's in foreign service. A shake up of the foreign ministry is a must.
GR has a vision and we saw that from his work as Defense Secretary but a single man cannot rebuild a nation – it is a clarion call for all citizens to step forward as citizens disassociating from petty party politics. From the results in key pro-UNP belts it is clear that they had put country first and that is a very noteworthy sign that people can change thinking of the country and it should give hope to minorities too that they need not live wearing the mask of a minority with the mindset that they are marginalized but instead think of becoming a stakeholder and partner in development & sustainability. People have been victims of mind conditioning – to make demands alone without asking what they have contributed to society and the nation to make demands – what they have reciprocated to make unfair demands. It is time they should pose these questions to themselves. Reconciliation is no one way street – without reciprocity and without duty it does not hold water.
The academics – professionals, public & private sector will play a major role in the future. Let 2020 begin with a set of goals that look forward to rebuilding the nation with hope – with prosperity where new programs will leverage every level of society a level above what they were. The drastic and dangerous legislative changes made by politicians and public officials need to all be revisited and corrected as an immediate action. Any new changes must come with open discourse to ensure that the interests of the country and people and future generations come first.
We must also mention the nationalists that have always stood as pillars and guardians of Mother Lanka. They have known when dangers loom and come forward to alert and avert the dangers. If not for their silent and vocal contribution the President would not have got close to 7million votes – a first for any President contesting an election and a first for a non-politician to obtain. The volunteers and expats who arrived to vote for the first time on behalf of their birth home deserve much gratitude. No paid campaign could have matched how they contributed to this victory – so many unsung heroes and heroines cannot be made but they did a major contribution to this victory.
Sri Lanka must streamline the national security first – shortcomings, negligence, and disregard for national security enabled innocent people to die while allowing fundamentalisms to take shape. These must be nipped in the bud as we do not wish to walk into another 30 years of death and destruction.
Gotabaya Rajapakse extended the leaf of peace to all and it is those that rejected who must now come forward and attempt to retake that leaf of peace with good intention as Gotabaya Rajapakse is after all the President of all. The minorities must learn to live in an inclusive society and it is good to rethink how they have voted. The result showcased where the extremism lay and that is not healthy for the Youth and it is the Youth that matters.
In Gotabaya Rajapakse, we have a straight forward leader – therefore the citizens must also lean to bat straight. The floating voters and youth vote realized this and made their voice clear. Mudslinging has a short life span and people realized that they needed a future of policies and not character assassinations.
The divine powers have always guarded this nation and this time Sri Lanka has been very fortunate.
To everyone planning to gang up again and torment the new leadership – our kind appeal to you, please leave this nation to breath a bit, allow us the solace to rethink how Sri Lanka should progress, we have not harmed any nation or its security and we never will, all that we ask from the world is to leave us alone to gather our broken pieces and put it all together on our terms and sort out our differences amongst us and by us because like in any home, only we know how to put the puzzle back together again.
Please give us a little room and non-interference into our internal affairs.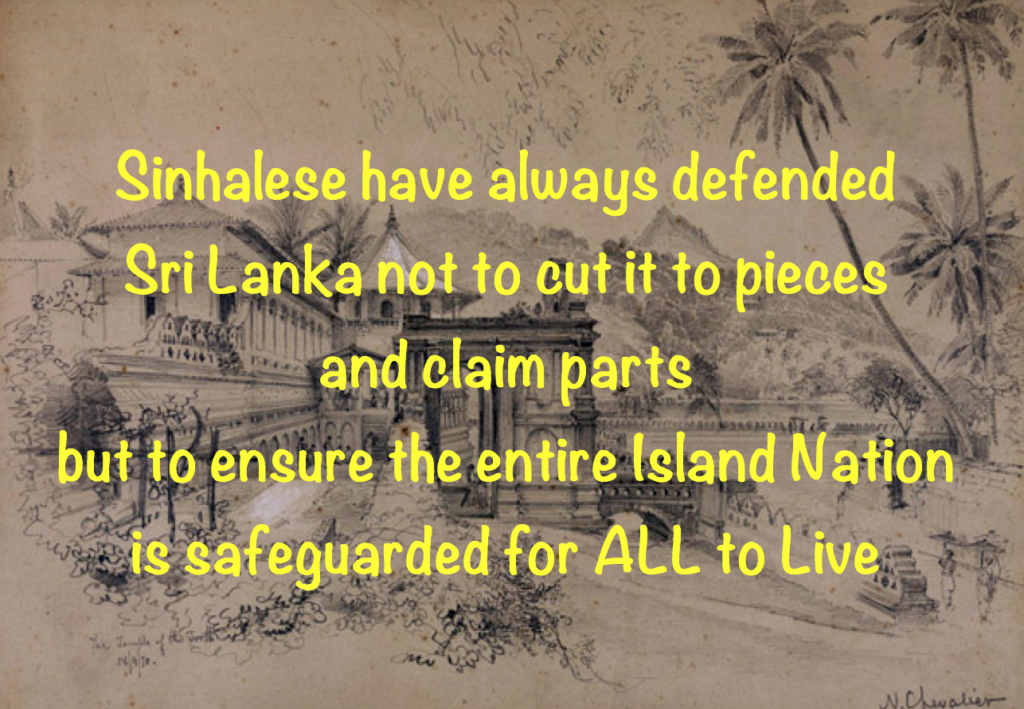 Shenali D Waduge