Minister Amunugama – Promote the Alliance of Buddhist Nations while acknowledging Senaka Weeraratne who conceived the idea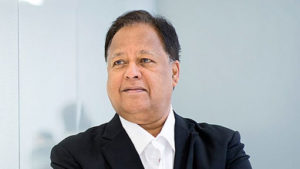 On 9th July 2018 the 'Island' Newspaper carried a report titled Minister Amunugama proposes alliance of Buddhist countries in the region". Minister Sarath Amunugama declared that he would initiate the alliance while attending a seminar for heads of Pirivena in Kandy.
http://www.island.lk/index.php?page_cat=article-details&page=article-details&code_title=187627
While welcoming an initiative of this nature given that other international Buddhist organisations such as the World Fellowship of Buddhists (WFB) do not provide a voice for the Buddhists worldwide but prefer to restrict itself to fellowship exclusively leaving threatened Buddhist communities and Buddhist nations without an international voice on par with say the Organisation of Islamic Co – operation (OIC) or European Union (EU), which take up the grievances of Muslims and Christians, it must be noted however that this idea was initially promoted in the form of a League of Buddhist Nations by Mr. Senaka Weeraratna, Attorney –at – Law, Hony. Secretary and Trustee of the German Dharmaduta Society and Chapter Leader of the Dharma Voices for Animals, Colombo, Sri Lanka Chapter, and a regular contributor to newspapers and journals on a variety of topics including Global Buddhism, Animal Rights and Colonialism.
Mr. Senaka Weeraratna has written numerous articles over the years on this regional alliance & it is strange that Government Ministers or Public Officials do not appear to have read a single article of his to realize the need & potential of such a regional alliance. Sadly, India is now using Buddhism as a soft power tool as its politically strategic pivot to Asia.
Given below are a handful of articles written by Mr. Senaka Weeraratna promoting the League of Buddhist Nations:
1)    League of Buddhist Nations – An idea whose time has come
http://www.buddhistchannel.tv/index.php?id=8,10167,0,0,1,0#.W0UDa9IzaUk
2)      The Crisis facing the Buddhist World – The Buddhist World lacks an effective mechanism to help save a Buddhist Nation in Danger"
http://www.buddhistchannel.tv/index.php?id=8,11783,0,0,1,0#.W01n5dIzaUl
http://www.lankaweb.com/news/items/2017/06/01/the-buddhist-world-lacks-an-effective-mechanism-to-help-save-a-buddhist-nation-in-danger/
http://hlaoo1980.blogspot.com/2014/04/buddhist-world-in-crisis-buddhist.html
3)    The Voices of threatened Buddhists must be heard at the UN Day of Vesak 2017 Conference
http://www.lankaweb.com/news/items/2017/03/11/the-voices-of-threatened-buddhists-must-be-heard-at-the-un-day-of-vesak-2017-conference/
4)    China must lead the Buddhist World
http://www.buddhistchannel.tv/index.php?id=8,12756,0,0,1,0#.W01r5NIzaUk
2014 – China taking lead of Buddhist World http://www.vijayvaani.com/ArticleDisplay.aspx?aid=3386
It has become fashionable to suggest alliances of this nature whenever a Buddhist foreign dignitary is arriving or simply to curry favour with the majority Buddhist community. How sincere in going forward with these suggestions has been proven by the fact that neither has the government made foreign ministry desk initiatives or given instructions for the Buddha Sasana Ministry to make the initial connections or rallied the Buddhist Associations/Organizations to help launch the initiative.
UDRS (or DRS) in International Cricket
This is not the only time that credit has been denied to Mr. Senaka Weeraratna. He has been engaged in a sole battle to claim ownership of the 'Player Referral' concept which underlies the UDRS ( Umpire Decision Review System), a brainchild he came up with in 1997 for which the International Cricket authorities i.e. ICC,  are not giving him due acknowledgment while the Sri Lankan Cricket Board & even Sports Ministry/Minister are not willing to take up for if UDRS is renamed the Weeraratne Rule it not becomes a proud moment for only Mr. Weeraratna but also a feather on the cap for Sri Lanka.
https://www.onlanka.com/news/decolonize-cricket-re-name-udrs-as-the-weeraratna-rule.html
https://cricketique.wordpress.com/2017/01/29/the-drs-in-cricket-and-senaka-weeratnas-early-initiatives/
https://www.onlanka.com/news/recognition-of-authorship-of-udrs-conspiracy-of-silence-detrimental-to-sri-lanka.html
http://archives.dailynews.lk/2013/01/29/fea03.asp
It is unfortunate that Sri Lankans have no time to speak on behalf of others deserving justice & fair play and it is also unfortunate that even credit due to people who originate the idea (intellectual property)  is also completely forgotten. These are shallow qualities that we Sri Lankans cannot be proud of.
Mr. Amunugama or any other are more than welcome to carry forward the idea of an Alliance of Buddhist Nations but due credit and acknowledgement must be given to the person who came up with the original idea of a League of Buddhist Nations and publicized it worldwide.
Shenali D. Waduge