No hired Tamil racist-separatist hooligans could prevent commemoration of 270 years of Sri Lanka-Thai Buddhist friendship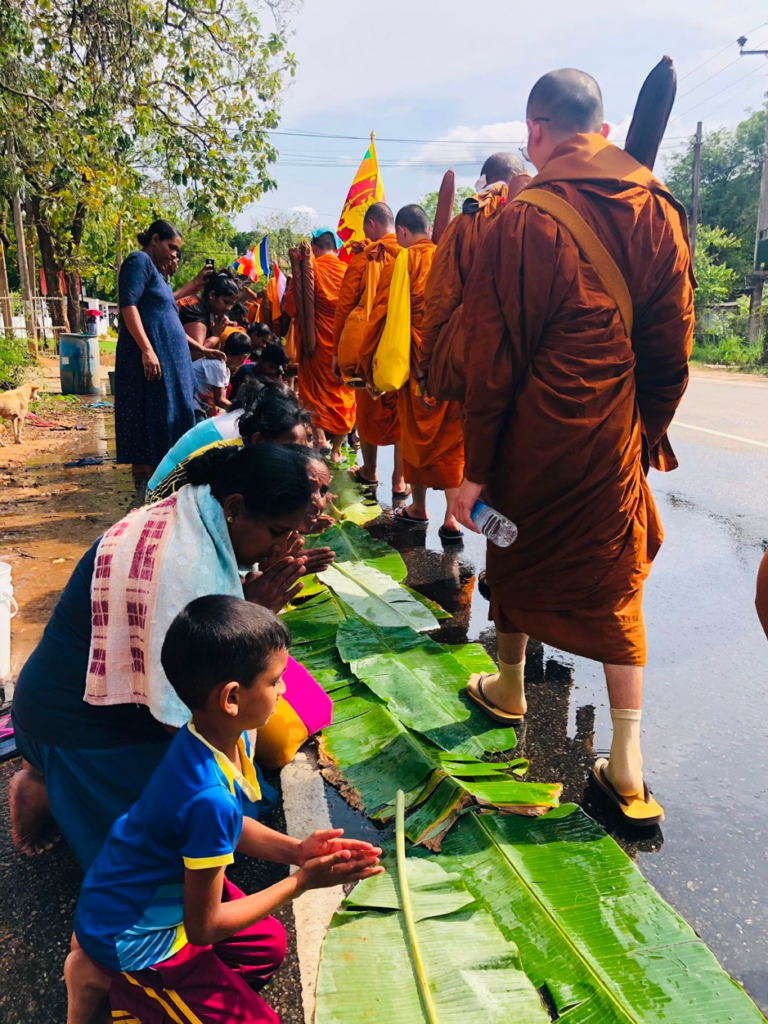 It was in 1752 that Ven. Upali Thera of Siam was assigned by the Siamese monarch to visit Sri Lanka to restore the Buddhist Sangha Order in Sri Lanka. The backdrop to this was the request made by King Keerthi Sri Rajasinghe who sent a convoy of monks initiated by Ven. Weliwita Saranankara to Siam.
The hospitality shown by Siam continues unabated to this day and Sri Lanka acknowledges with pride the warmth with which a fellow Theravada nation continues to uphold traditions.
The Sri Lankan delegation headed by Wilbagedera was a journey that departed from Trincomalee Port on 1stAugust 1750 & took 3 months passing Cambodia to reach Siam. The delegation returned on 30 May 1753.
The detailed and picturesque account of the respect and honor given to the Sri Lankan 60 member delegation in 32 boats by the Siamese King is enchanting to any reader.
It was after this visit that Sri Lanka saw a revitalization of Buddhism & within 3 years, 3000 samaneras had joined the Sasana.
Over 50 Buddhist theros from Thailand arrived by boat to commorate the 270th anniversary of this journey.
But this commemoration was disturbed by a mob of unruly protestors organized by Jaffna District Parliamentarian S. Gajendran infront of the playground in Trincomalee. The behavior of the hooligans necessitated the decision to change the venue of the protest for the safety of the theroes.
Had this happened to a non-Buddhist event, by now the entire diplomatic entourage would have been blowing hot & cold and Geneva would be issuing non-stop statements against Buddhists.
With very little or no support from the Government top brass or the Minister tasked to protect Buddhism, the non-Buddhists of the area alongside the Sri Lanka Armed Forces & Police, took mattes into their hands & facilitated the commemoration as planned. Though it is extremely sad that in a majority Buddhist country, the Buddhists have been brought to a level where commemorating an ancient journey is prevented by protests that are excused on the bogey of bogus reconciliation & promoted by a bunch of racist separatist Tamil politicians & their hired stooges.
https://www.dailymirror.lk/worldnews/breaking_news/Protest-against-higher-ordination-ceremony-in-Trinco/108-259222
https://www.youtube.com/watch?v=TF65pVrg7v4
https://www.facebook.com/watch/?extid=CL-UNK-UNK-UNK-AN_GK0T-GK1C&mibextid=2Rb1fB&v=1152143515615347
https://www.facebook.com/watch/?v=591002939839491&extid=CL-UNK-UNK-UNK-AN_GK0T-GK1C&mibextid=2Rb1fB&ref=sharing
Arun Siddharth has declared that the protestors protesting against the Thai theros commemorating 270thAnniversary were hired Jaffna university students – we are not a bit surprised.
https://www.youtube.com/watch?v=hElaUY7YdDk
270 years ago Sri Lanka had to seek the assistance of the Royal Thai king & it is prudent that we have returned to warrant a similar request on account of the challenges & denigrations the Sinhala Buddhists of Sri Lanka currently face.
It is unfortunate that inspite of holding a Buddhist Summit in India, no statement has been issued against the Tamil politicians by India against this racist act of attempting to prevent a religious commemoration while also scaring Buddhist theros arriving from Thailand to mark this anniversary.
Shenali D Waduge