Prabakaran/LTTE would be alive if Swarnam didn't close Mavil Aru water supply in 2006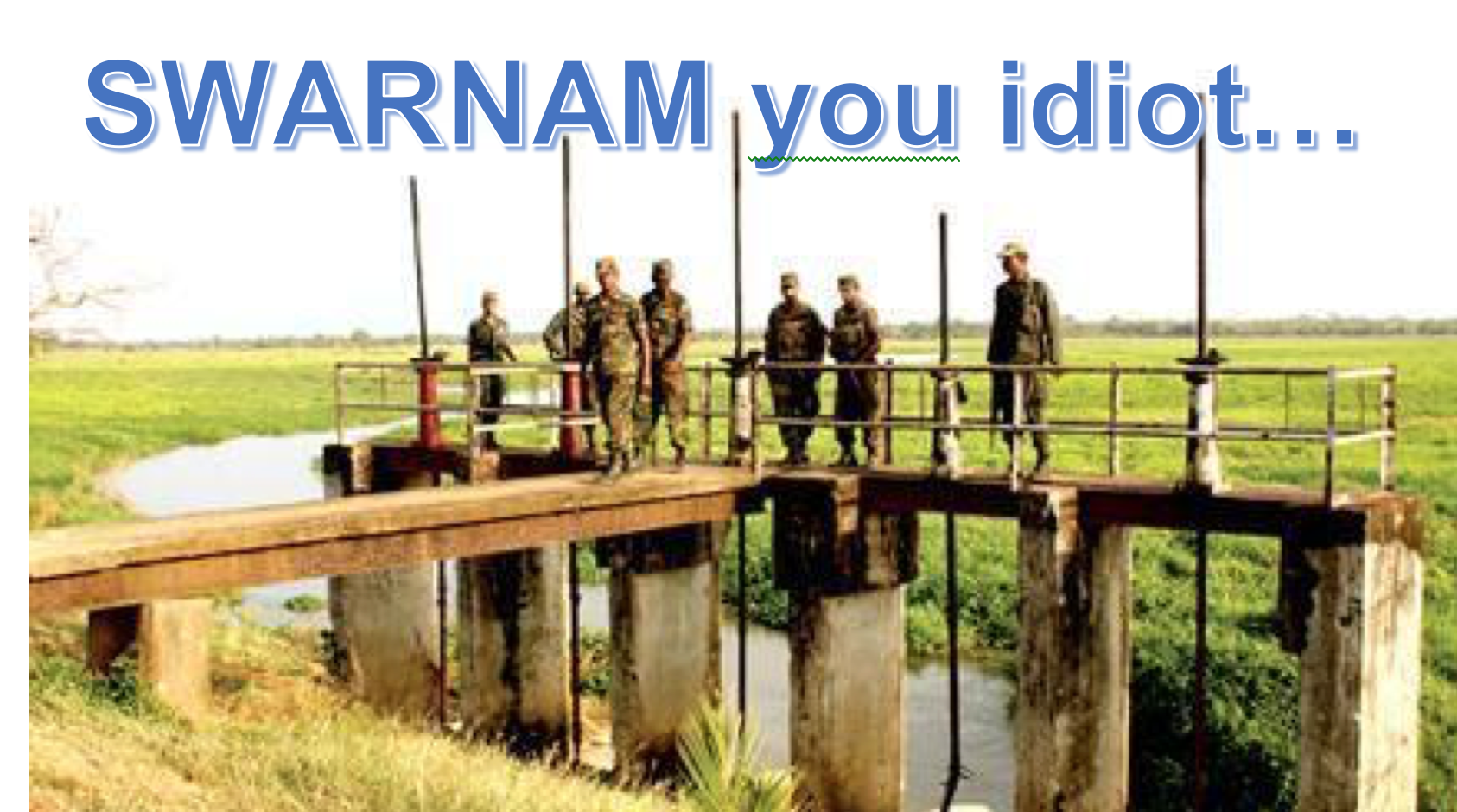 In hindsight all LTTE supporters should feel the need to kick themselves for the decision to close the Mavil Aru sluice gates in July 2006 that kickstarted the dissemination of LTTE ground force closing the chapter to 30 years of LTTE terror in just 3 years a fete no national army has accomplished while simultaneously carrying out a humanitarian rescue operation that brought to safety close to 300,000 Tamils. If anyone is wondering how or why LTTE perished in May 2009 all they need to do is go back to July 2006 & ask who the hell ordered the closure of the Mavil Aru sluice gates for that nailed LTTE's coffin. LTTE's SWARNAM is one hell of an idiot.
Timeline:
Inspite of the infamous ceasefire agreement signed in February 2002 between PM Ranil Wickremasinghe and LTTE leader Prabakaran, LTTE committed over 3000 violations of the CFA and went on to carry 2 daring attacks.
12 August 2005, LTTE assassinate another Tamil – this time Sri Lanka's Foreign Minister Mr. Lakshman Kadiragamar in his own residence using a sniper.
April 2006 LTTE attempted to assassinate the Army Commander Sarath Fonseka
21 July 2006 – LTTE closed the Mavil Aru sluice gates depriving over 15,000 farmers water. This affected over 30,000 acres of paddy & crops and water for drinking.
LTTE's intention in denying water supply was to drive the villagers from their homes.
The people requested LTTE to release the water. LTTE refused.
The Sri Lankan Army was ordered to open the sluice gates
LTTE's 2nd mistake came in attacking villages when Army went to open sluice gates (Muttur, Kattaparichchan, Selvanagar, Mahindapura, Pahala Thoppur) resulting in large displacements of people.
8 August 2006 – Sluice gates reopened by SL Army.
26 August 2006 – SL troops commenced liberation of Sampur (LTTE stronghold South of Trincomalee)
2 September 2006 – LTTE defeated in Sampur (week after assault)
26 October 2006 – launching capture of Vakarai (coastal town between Batticoloa & Trincomalee) first instance LTTE used civilians as human shields.
21 January 2007 – Vakarai liberated by SL Military (after 87 days of launch)
Thoppigala was the last bastion of the LTTE in East Sri Lanka.
11 July 2007 Thoppigala was captured
After a year of taking on the LTTE and with the final capture of Thoppigala, the East of Sri Lanka came under the State of Sri Lanka and out of the hands of illegal terrorist rule.
The loss to LTTE in being defeated in the East was a blow militarily & economically.
LTTE collected taxes from the people – farmers, fishermen, illicit timber racketeers, cultivators of cannabis,
President Rajapakse addressed the nation in July 2007
"When the first humanitarian operation to free Mavil Aru was launched, many said that our troops will not be able to free the area from terrorists without blasting the anicut. Having won at Mavil Aru when they proceeded to Sampur, we were told that even if Sampur is captured, we will not be able to hold our writ, because of the lack of support from the people of the area. Having liberated Sampur when our troops moved to free Vakarai, we were then told that because of the fall of an important fortress of the terrorists, Prabhakaran will teach us a very good lesson. Finally, when Vakarai was won and our troops moved to clear Thoppigala, there were even some Parliamentarians who claimed that our troops were stranded in the jungle of Thoppigala".
From Tamilini's book (LTTE's women political head) what is clear is that Prabakaran was getting uncomfortable with the peace talks & the proposals being laid out and he even cancelled LTTE delegation attending a donor meeting overseas inspite of Anton Balasingham pushing him to accept a 'federal solution within an united Sri Lanka' believing that any solution would have meant that he would have to give up arms which Prabakaran was not willing to do. Yet, many of the LTTE fighters would have felt that the next stage of any armed struggle for a separate state would be to finalize it via a proposal which the West too was agreeable with. Prabakaran simply wanted to rule with his gun and not be subjected to any conditions by anyone!
Let us also not forget that Prabakaran was losing his best men.
The Eastern commander Col. Karuna left LTTE in March 2004 with thousands of his supporters a month before the April 2004 Parliamentary Elections. Yet, inspite of this LTTE political proxy TNA received 633,654 votes & landed 22 parliamentary seats. EU Election Observer Cushnahan is on record to say LTTE helped TNA win.
LTTE began taunting Sri Lankan Govt to attack them – 13 unarmed soldiers were ambushed on 5 December 2005 weeks after the 17 November 2005 Presidential Elections. According to Michael Roberts the average military losses was 90 deaths per month in 2006.
Prabakaran banned Tamils from voting at the 2005 Presidential Elections believing that if Tamils voted for Ranil Wickremasinghe, the West would force LTTE to what Prabakaran was not willing to do. While that calculation succeeded & Ranil did not become President, the eventual President went on to ordering the National Army to demolish the LTTE altogether. Then came another shock to the LTTE – the arrival of the President's brother Gotabaya Rajapakse as Defense Secretary adopting a 3 pronged strategy (increasing military by numbers / destroying LTTE's weapons supplies by enhancing Navy / synergized 3-forces attack)
Noteworthy, is the attempt to assassinate Defense Secretary Gotabaya Rajapakse on 1st December 2006 which was followed 2 weeks later by the death of Anton Balasingham on 14 December 2006 a key conduit between LTTE & West (his death taking place during Vakarai liberation) Months after liberating East, Prabakaran's most trusted Tamilselvan was killed on 2 November 2007 in Kilinochchi just 4 months after Sri Lankan Forces liberated East & began eyeing the liberation of North Sri Lanka. The dominoes were falling for Prabakaran.
The offensive to bring the entire North under the State of Sri Lanka commenced in February 2008 from Madhu Church (Mannar) – just 4 months after killing of Tamilselvan. The strategy of moving upwards along coast was to prevent LTTE replenishing supplies, limiting Sea Tiger movement & mobility of LTTE.
The Northern liberation campaign began in July 2007 exactly a year following the commencement of the Eastern liberation using 5 units and ended with the complete liberation of Sri Lanka from terrorist illegal rule on 19 May 2009.
Swarnam was an LTTE Eastern Commander and Task Force 3 claims to have either killed or severely injured him in November 2008. Swarnam's wife who herself was a female LTTE combatant was arrested by CID on 3 July 2009 (2 months after the military victory) in a welfare camp in Vavuniya, claimed that Swarnam who became paralyzed after the injury committed suicide – so obviously he was not to know what eventually happened to LTTE or its leader by May 2009 all because he went & closed the Mavil Aru sluice gate denying water that led to the Armed Forces called into to open the gates after which LTTE began attacking villages again forcing the Armed Forces to react and then it was a domino effect which LTTE could not reverse nor could any of LTTE's Colombo-based or International supporters.
While Swarnam can be blamed for the ultimate death of the LTTE, another set of people must be eternally thanking Swarnam – if not for him they would not be in powerful positions, enjoying luxuries of LTTE kitty and able to exert influence if LTTE leader were alive today.
Global Tamil Forum created only in 2009 after LTTE defeat
British Tamil Forum expanded their scope in 2009 after LTTE defeat
Australian Tamil Congress formed in August 2009 after LTTE defeat
National Council of Canadian Tamils first convened on July 1, 2010
Transnational Government Of Tamil Eelam founded on May 17, 2010 by Rudrakumaran former LTTE lawyer
Tamil Eelam Peoples Assembly was inaugurated in June 2009 by Nediyawan
Tamils People's Council formed in December 2015
Others established after 2002 ceasefire : Tamil Youth Organization (UK)
As you can see thanks to Swarnam, the defeat of LTTE has become a lottery to all those now steering the "TAMIL CAUSE" holding foreign passports, living in foreign countries, making merry with all the cash & profits from LTTE's legal & illegal ventures while keeping the rest of the Tamils believing that they have been wronged, that the Tamil separate state would come and recirculating LTTE propaganda repeatedly just to keep the hoax alive.
Shenali D Waduge