Chronology of Tamils taking firearms since 1950s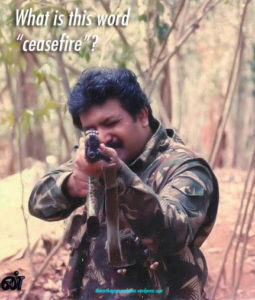 1956 – Tamil youth fire at army camp in Batticoloa. Sinhalese civilians shot at in Kalmunai
1961 – Tamil youth attack Sri Lankan soldiers in Jaffna
1961 – Tamil youth forms Pulip Padai ( Army of Tigers) on August 12, 1961 they meet at Koneswaran temple, Trincomalee and take a solemn oath to fight for a Tamil homeland. A.Rajaratnam an activist dies in 1975 of asthma in Madras. Indian investigators believe his daughter Dhanu assassinated Rajiv Gandhi. K.Sivagnanasundaram another activist joined LTTE and was killed by EPRLF in 1988.
1963 – Pulip Padai ( Army of Tigers) put out leaflets advocating militancy. They back politicians Amirthalingam and V.Navaratnam
1963 – Manavar Manram ( students council) set up
1969 – Tamil Liberation Organisation (TLO) formed by Thangathurai and Kuttimani and meetings were held at a Jaffna university professors house.
Sri Sabaratnam (TELO leader) and V.Prabhakaran (LTTE supremo) also attended
1970 – Ponnudorai Satyaseelan founded the Tamil Manavar Peravai ( Tamil Students League) joined by Sivakumaran.
1970 – Dravida Munnetra Kazhagam (DMK) party in Jaffna banned by Sirimavo Bandaranaike
1970 Sept – Sivakumaran attempts to assassinate Sri Lankan deputy minister for Cultural Affiars Somaweera Chandrasiri
1971 – Sivakumaran attempts to assassinate Tamil Mayor Alfred Duraiappah blaming him for the Tamil Conference fiasco that led to Tamil youth deaths.
1971 April – Thangathurai, known as mama ( uncle) and some 15 others were making explosives at the Thondamanar high school
1972 – formation of TULF – Tamil United Liberation Front
1973 – formation of Tamil Elaingyar Peravia (TYL, Tamil Youth Leaque) comprising 40 youth and supported by TLO – Tamil Liberation Organization
1973 Feb – Satyaseelan arrested and arrests of other youth organizations
1973 – Sri Lankan navy seized a boat belonging to Kuttimani filled with dynamite. Kuttimani flees to India but is arrested and deported (Karunanidhi Govt)
1974 June 5, Sivakumaran was trapped by the police while attempting a bank robbery in Jaffna's Kopai town and committed suicide by biting a cyanide capsule.
1974 protests by Tamils when Prime Minister visited Jaffna to open a campus and bombs were thrown at the police
1974 – First robbery by Tamil militants Rs.91,000 Multipurpose Cooperative Society of Tellipallai – militants fled to India.
1975 – number of armed youth rising, acts of arson and violence was also rising. Thangathurai group of Kuttimani, and the TNT of Prabakaran went underground.
1975 Jan – Group of Sri Lankan Tamils residing in London foremd the Eelam Revolutionary Organisers, EROS
1975 – Assassination of Mayor of Jaffna, Alfred Duraiappah (First political murder) Number of militants in North was said to be around 50. They were regarded as 'our boys' because most Tamils thought they were following orders of the TUF and could be stopped at any time (how wrong they were)
1976 Mar 5 – Prabhakaran led a raid on the state run People's Bank at Puttur stealing 1million cash and jewellery worth 200,000 – the 1st bank heist by LTTE.
1976 May 5 – LTTE formed by Prabakaran changing the former TNT name
1976 May 14 – TUF (formed in 1972) holds first convention in Pannkam, Amirthalingam's birth place with Chelvanayagam presiding. Formation of TULF – Tamil United Liberation Front announced calling for self-determination and for Tamil youth to take up arms.
1977 April – Chelvanayagam dies
1977 July – using Resolution of Vaddukoddai, TULF wins elections
1977 August 15 – 3 unarmed constables stop 3 boys riding bicycles in Puttur, Jaffna. One boy takes out a revolver and shoots the constable in the thigh. The next day violence breaks out while police try to unarm youth.
1977 – 10% of Jaffna population were Sinhalese who were bakers, traders, civil servants and business –men
1977 August 31 – 4 young men came in blue Morris car robbed the People's Bank in Manipay and walked away with 26,000 rupees
1977 September – Thangathurai formed militant group called the Tamil Eelam Liberation Army (TELA) and a political affiliate known as the Tamil Eelam Liberation Organisation (TELO) along the lines of IRA and Sinn Fein.
1977 – land surveyor, Kadirgamapillai Nallainathan, better knows as Uma Maheswaran, joined the LTTE. Prabhakaran, younger to Uma by some 10 yrs, continued to be the group's military commander
1978 – Uma and Prabha made their way to Colombo, where the former had headed the TULF's city unit
1978 Jan 27 – Uma and Mahesh shoot M.Canagaratnam, a Tamil MP who had won on TULF ticket but crossed over to UNP. Head of CID was a Tamil – Bastianpillai
1978 – Murukan, Bastianpillai and other police officers discover LTTE secret training camp. All were killed brutally by LTTE.
1978 April 25 – LTTE openly admit and confess (on a LTTE letterhead which had been typed by Urmila Devi on TULF leader's official typewriter in Parliament) to the murder of Alfred Duraiappah and 9 policemen including Bastianpillai.
1978 May 6 – group of 4 or 5 men went to the residence of Inspector K.Pathmanathan, officer in charge of the District Crime Detective Bureau of Jaffna. His children informed their father who returned home with his wife to be gunned down and killed. (10th Tamil policemen killed by LTTE)
1978 – LTTE proscribed
1978 May – Kuttimani guns down a retired police inspector at the Valvettithurai junction (11th policemen)
1978 June – Kuttimani shot and killed another police officer (12th policemen)
1978 September – Parliament introduces new constitution. AVRO 748 of Air Ceylon was blasted by a time bomb after it landed at Ratmalana airport. S.Subramaniam alias Baby was responsible.
1978 Dec 5 – six gunmen stormed to the Thirunelveli People's bank branch gunned down two policemen and robbed the bank of 1.18 million rupees.(14 policemen killed by LTTE)
1979 – Thangathurai group shot dead 3 more policemen in Jaffna (17 Tamil policemen killed)
1979 – LTTE proscription replaced with Prevention of Terrorism Act (PTA). Thangathurai, Kuttimani and Prabhakaran fled to Tamil Nadu.
1980 – Uma forms PLOTE
1980 – President J R Jayawardena offers TULF District Development Councils (DDC).
1980 – PLOTE shoot UNP leader, R.Balasundaram at Kilinochchi
1981 January – 2 civilians killed by TELO during a robbery at pawn shop at Kurumpasitty
1981 Mar 6 – Kuttimani shoots Chetti at Kalviyankadu in Jaffna. Chetti was a police informant.
1981 Mar 25 – People's Bank robbery at Neervely by Kuttimani worth 7.8million
1981 Apr 5 – Thangathurai and Kuttimani were arrested at Mannalkadal, near Point Pedro while attempting to escape to India.
1981 July – Sadasivam Sivasunmugamurthy, Uma's deputy ed a daring raid on a police station at Anakottai, killing 2 policemen and escaping with atleast 10 weapons (19 policemen killed)
1981 Oct – PLOTE raided the People's bank at Kiilinochi and stole 40m in cash and jewellery
1982 Apr 29 – Jaffna observed its first anti-TULF hartal to protest the party's participation in the ceremonial opening of a new parliment building at Kotte
Admission of India training LTTE before 1983 riots:
"Intelligence agencies (RAW) said….these are boys who were trained by us from 1977" (Dixit, Assignment Colombo)
Shri M. Karunanidhi, Chief Minister of Tamil Nadu (affidavit no. 187/94) :"It is a well known fact that the LTTE and other Sri Lankan Militants camps were established in India ever since 1982 in tune with the policy of the Central Government at that time. The Tamil militants were given military training and allowed to have their own training camps in India."…
"I state that the Congress Governments under the Prime Ministership of late Smt. Indira Gandhi and late Thiru Rajiv Gandhi encouraged, trained and supported the LTTE and other Tamil Militant groups."
Shri K. Mohandas – then Dir Gen. Police (affidavit no. 64/92-JCI) "….The issue had become very sensitive, and meanwhile, the Prime Minister's advisors were working overtime, giving facilities to the militants, particularly the TELO (Tamil Ealam Liberation Organisation) to be trained in the use of modern arms in the camps organised in Tamil Nadu, Karnataka, Uttar Pradesh, New Delhi and elsewhere. The idea was that after the training, they would be supplied with arms and sent to Northern Sri Lanka to engage the Sri Lankan troops in guerrilla action. It was supposed to be a top secret operation without even the knowledge of the State Government and its Intelligence agency. (at least as far as Tamil Nadu was concerned."….. "The insurgency operation was so clumsily organised that it was, before long, an open secret. Each training camp was a mini Union Territory completely controlled by Central agencies, into which the State Intelligence or the State Police had no access."
RAW handling LTTE:
"RAW helped to train and arm the LTTE in the 1970s" (Council of Foreign Relations)
April 5, 1988 Wikileaks cable quotes J N Dixit that India had agreed to pay LTTE Rs.50lakhs per month which was paid in July 1987. This was to make up for the tax loss for the LTTE upon IPKF arrival. It was also a payment that sealed Prabakaran's agreement to the Indo-Lanka Accord.
Indian camps for Sri Lankan militants:
LTTE:- 6 camps were reported being conducted by the LTTE in the districts of Anna (1 camp), Thanjavur West (1 camp), Thanjavur East (1 camp), Salem (1 camp, Madurai (1 camp) and Ramnad ( 1 camp) of Tamil Nadu. The total strength of trainees in these camps was reported to be 495 cadres including 90 female Tigers. The camp at Sirumalai (Anna district) was the only camp were all the 90 female Tigers were getting training along with 40 male Tigers. The largest LTTE camp was located at Kumbarapatti in Salem district. The training comprised Arms Training, swimming, boat driving and physical training. The camps were equipped with transport facilities such as Jeeps, Vans, motor cycles etc.
TELO:- Five camps organised by Tamil Eelam Liberation Organisation (TELO) were reported to be running in the districts of Ramnad ( 3 camps) and Salem ( 2 camps). There were totally 233 male cadres undergoing this training which comprised Physical Training, Arms training, swimming and boat driving.
EROS:- Eelam Revolutionary Organisers (EROS) were reported to be conducting two camps in the districts of Ramnad and Pasumpon Muthuramalingam districts. There were 8 male trainees in these camps which were imparting Physical Training and Arms Training.
EPRLF: The Eelam Peoples Revolutionary Liberation Front (EPRLF) was reported to be conducting 7 training camps in the districts of Thanjavur West (3 camps), South Arcot (2 camps), Trichy ( 1 camp) and Ramnad (1 camp) with a total strength of 73 male trainees who were being trained in Guerilla warfare, Physical Training and Arms training. These camps reportedly possessed sophisticated weapons such as Light Machine -guns as well as transport vehicles.
PLOT:- The Peoples Liberation Organisation for Tamil Eelam (PLOT) was conducting training in 18 camps located in the districts of Thanjavur West (11 camps), Pudukottai ( 4 camps), Tirunelvei East (2 camps) and Thanjavur East (1 camp). Totally 2236 cadres in addition to 94 female cadres were getting trained in these camps. The camps possessed transport facilities, boats and some weapons. Predominantly, the training comprised guerrilla warfare and also Physical Training, Swimming and Boat Driving.
Other assorted organisations were also conducting their camps in Tamil Nadu such as Tamil Eelam Army (TEA) – 2 camps, 31 trainees; TELA -Kanthan group ( 3 camps, 117 trainees); TELA-Rajan group (1 camp, 10 trainees); TENA (1 camp, 25 trainees); RELO ( 1 camp, 13 trainees; NLFT (1 camp, 2 trainees); ECRP (1 camp, 4 trainees) and TMPP ( 1 camp, 6 trainees).
Thus a total of 3179 males and 184 females (3363 cadres) were trained by the Indian Government in India in secret during 1983-1986. These groups were allowed to run their own offices in Tamil Nadu.
The March 2014 shooting by an LTTEr on a policemen on duty and now absconding reminds us of the events given above and trails us back to the times when LTTE first began their killing spree by targeting policemen on duty.
In the early 1970s inaction of authorities and Tamils treating these youth as 'our boys' eventually led 30 or so youth to become 30,000 armed and deadly killers.
The Chief Minister and the TNA are directly responsible for the current situation with their forked tongues and mannerisms thinking that we have forgotten the manner TNA has been linked to the LTTE over the years. Going round the world promoting separatism, linking up with Church priests that have had an agenda to divide Sri Lanka will always keep the Sri Lankan public in doubt about what the actual agenda is.
The sovereignty of the country entails the elected Government to decide where to station its troops, how many to be stationed, where they are to be stationed.
We are not ready to sacrifice the hard won peace that was given to us by the sacrifices made by 27,000 of our heroic soldiers.
We have enough lessons to learn from to not repeat the same mistakes.