Sri Lanka's Victory: LTTE turned children into child soldiers. Sri Lanka brought out the talents in child soldiers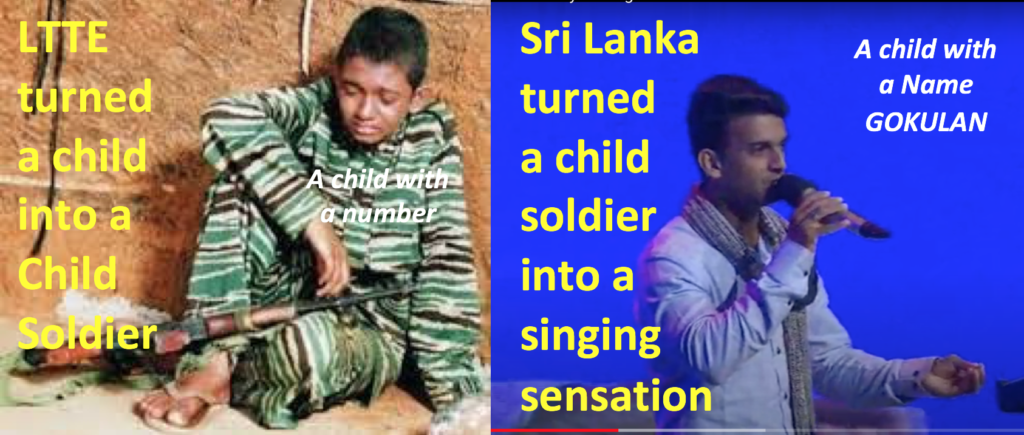 We have only guestimates of Tamil children kidnapped by LTTE and turned into child soldiers. We don't really know the exact numbers of Tamil children kidnapped, how many died during LTTE training, how many were killed trying to flee LTTE training camps, how many lie injured from training, how many children died during hostilities, how many children were brainwashed to commit suicide by biting cyanide capsule, how many children were suicide bombers, how many children were trained by the LTTE female child soldier trainer – the Australian nurse now living a good life in UK. But we do know that all of the Tamil children were kidnapped from low caste and poor Tamil homes and not a single Tamil child was kidnapped from any rich Tamil parent. On 18 May 2009, with LTTE's defeat, it was a victorious day for the Tamil low caste and poor Tamils. They would never have to live in fear of their children getting kidnapped and turned into child soldiers.
By end of the conflict some 12,000 LTTE combatants in civilian clothing surrendered to the Sri Lankan Armed Forces. Among them were 594 child soldiers – 364 males and 230 females.Sri Lanka decided to do what No military in the world and no foreign government has ever done. Sri Lanka's then President declared "Our hearts are not vicious. We will not prosecute children " and he offered the 594 child soldiers a Presidential Pardon and instructed that they be given the education they were denied. For years, the Tamil children that held a gun were finally given to hold a pen/pencil by the Sri Lankan Government.
When the government drew up its indigenous rehabilitation & reintegration program, the entities that did nothing to stop LTTE from kidnapping children and turning them into child soldiers came to poke their noses to advise how Sri Lanka should rehabilitate the child soldier.
https://www.youtube.com/watch?v=Gtyg5m5_Gko
Life of a Child soldier
Former LTTE child soldiers in government rehabilitation camps
The many messages and drawings by these children in the army camps that looked after them is testimony to the affection they were shown by the Sri Lankan Armed Forces and was clearly opposite to the gruesome treatment they received from the LTTE. Many of these children shed tears when the day came to leave and return to their families and restart life again.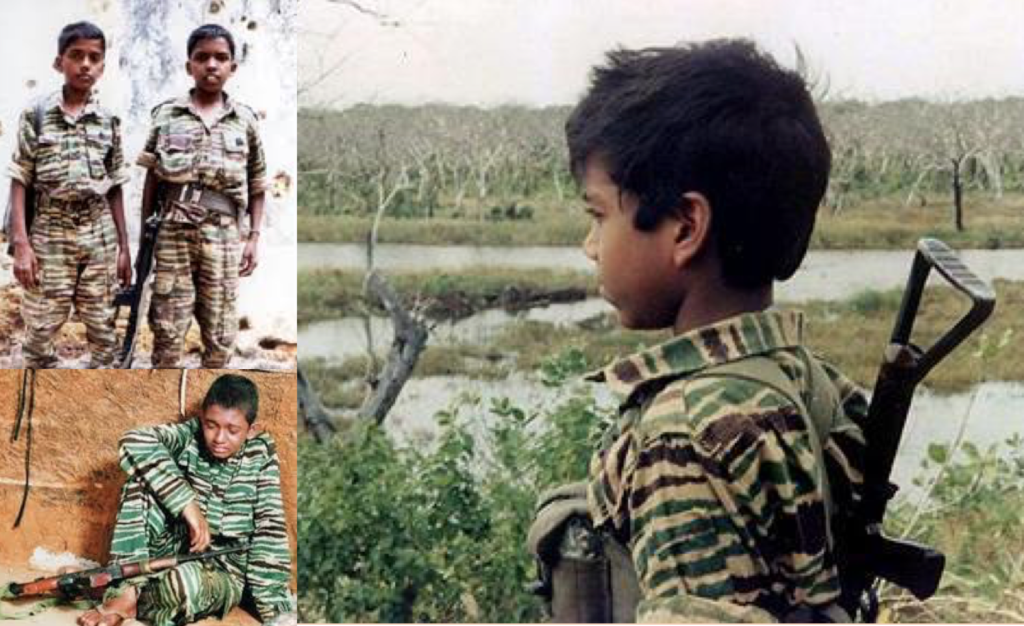 Their youth was stolen by the LTTE. Their parents were denied watching their children grow. Parent and child lived in agony – all because of LTTE. Today the LTTE fronts are running global tamashas, have they ever sought to look after a single child soldier whom they used as cannon fodder?
Gokulan is one such child soldier who found freedom with the victory over LTTE. He found love and care instead of orders to kill. He was taught to hate the Sinhalese, today the Sinhalese love him. Gokulan is now a singer and actor. He is now 34years. He was dragged and taken away when attending A/L classes. Both his brothers were also child soldiers and both had died in battle. His sister had been conscripted by LTTE during the final stages. She luckily survived and surrendered in May 2009 and both have reunited with their families in Mankulam. Gokulan in the interview with Shanika Sriyananda thanks the Army Rehabilitation making special mention of Lt. Col. Manjula Gurusinghe as well as Anoja Weerasinghe who taught him. "They filled the void of a father, guided and tapped our talent from the beginning and directed us to suitable paths to brush up our skills" said Gokulan. Gokulan, who sang and danced at the ceremony held to reintegrate 1,000 ex-LTTE cadres at Temple Trees in the presence of President Mahinda Rajapaksa two months ago, said he had a sleepless night as he had to perform before the leader who gave them the opportunity to surrender and secured for them a better future. Among his dreams now is to talk to the President to thank him for saving their lives.
http://archives.sundayobserver.lk/2011/12/04/fea10.asp
https://youtu.be/-B1unQNpKLMGokulan singing
But many children were not as lucky as Gokulan. Selvaratna Subitha recounts how the LTTE took her 16year old sister Marisalin Sukhandha in March 2009 –LTTE  female combatants disguised in civilian came to their home in Keppapilavu and dragged her away. "They took away our children as if they were taking away goats and cows". Sukhanda never returned. Sad as it is, she dies a LTTE combatant but not a civilian. Her civilian status was removed the moment LTTE handed her a gun and ordered her to fire and engage in hostilities.
https://thinkworth.wordpress.com/2019/05/26/snatched-the-children-the-tigers-took-away/
We had only report after report from the West/UN and NGOs. They however, did nothing to prevent LTTE from recruiting children nor took action against LTTE for recruiting children.
2004 HRW report on forcible recruitment of child soldiers claimed LTTE had recruited over 3500 children from 2002 bogus ceasefire agreement brokered by Norway.
https://www.hrw.org/news/2004/11/11/sri-lanka-tamil-tigers-forcibly-recruit-child-soldiers
There was a Sri Lankan too holding a top UN post responsible for both women and children but other than walking away with accolades for herself, she too did nothing to stop LTTE from kidnapping children and turning them into child soldiers or even recommending global action against LTTE for it.
Tragically the same Western/UN/NGO entities do nothing but encourage by their inaction as over 350 'LTTE madrassas' are operating across Europe indoctrinating hate into the minds of Tamil children. None of these are likely to take up arms, but they are being indoctrinated to internationally be used as a witch hunt for political purposes against Sri Lanka.
The subject of child soldiers and that they were plucked from POOR and LOW CASTE TAMIL parents is a topic that no one likes to broach on for it brings to the surface issues among Tamil society they would rather keep hidden. However, all of the LTTE combatants who have been rehabilitated and reintegrated are living life as outcasts in their own society. Many have been made to feel that they have failed the 'cause'. How much of the very rich LTTE kitty enjoyed among the LTTE fronts is been utilized to look after these men, women and children who sacrificed their lives for the LTTE? While they were battling in the jungle, the richer Tamils nicely cried crocodile tears of discrimination and won themselves asylum in Western countries. They are now making an identity for themselves milking the 'discrimination' cow and even becoming politicians in their new foreign habitats. But, all the while they are beating the drums through tamashas like 'genocide' day. 'mullaikvaikkal remembrance' day and what not because that is the only way they can forge an identity for themselves and show their importance in those foreign countries. Are they looking after the Tamils that sacrificed in the dirt and thorny jungles – NO.
It was the Sri Lankan Government in May 2009 that embraced the LTTE child soldier and turned them into human beings from the killer machines that LTTE had turned them into.
LTTE turned them into Child Soldiers
Sri Lanka turned them into actors & singers
LTTE gave them a Gun
Sri Lanka gave them a Pen
LTTE kidnapped them from their Parents
Sri Lanka returned them to their Parents
LTTE destroyed their freedom
Sri Lanka gave back their freedom
Every commemoration of 18 May 2009 we also celebrate FREEDOM for the LOW CASTE & POOR Tamil CHILD SOLDIERS
Shenali D Waduge