Cardinal – UNP – LTTE/TNA & Associates
Citizens of Sri Lanka should be mature enough to put politics & preference for political parties aside when it comes to issues concerning the Nation. In such scenarios, citizens must be able to separate their personal preferences & evaluate if anything or anyone is doing wrong by the nation. We do not need to remind the citizens of the lies & illegalities taking place in the UNHRC against a UN Member State. We have seen too many of our own fly to Geneva to betray the nation. Not many have flown to set the story straight. Many of these sponsored trips have an ulterior agenda & are often linked to international geopolitics. It is with this background reality that those dashing to Geneva are perceived with the question 'what are they up to now'& 'whose agenda are they attempting to fulfill". What does the Cardinal – the UNP – the LTTE/TNA & its associates have in common?
History provides lessons & links to understanding the present. History will reveal that there were no ethnic rivalries prior to 1505. Incidents that emerged thereafter was part & parcel of colonial legacy from divide & rule policies of the invaders that pitched minorities against the majority encouraging a less than 10% minority to demand 50-50 representation & formulating ethnic-based political parties that demanded a separate Tamil state even before independence. Backing for unfair demands led to the 1976 Vaddukoddai Resolution & emergence of Tamil armed militancy fanned & made worse because of international geopolitics.
Noteworthy is the manner these miscreants emerged during important historical events. The JVP & TNT (later LTTE) emerged when Sri Lanka formed its first republican constitution ending Queens rule as Head of State. This was followed by the separatist quest with the change of government in 1977 & a pro-West open economic policy.
Tamil militancy trained & funded by India emerged as India's response to Sri Lankan president's pro-US stand. An understanding of this is a must, given that it remains a puzzle why LTTE would assassinate Rajiv Gandhi, even if it was a hired job. But, it becomes clear that LTTE thereafter fell into different hands and was handled differently to serve geopolitical interests.
The LTTE diaspora handling the LTTE kitty became an all powerful bloc able to tap high profile international figures & even get them to stand on stage next to cut outs of Prabakaran or shed a tear or two at LTTE memorials while the TNA election manifestos clearly proves its support for LTTE.
It is important to be able to understand who supported LTTE militancy.
As we all know the Church is part & parcel of the Western bloc. It was a key component during colonial rule. Its mission to increase its flock remains on track. The bulk of NGOs that operated in the North were from faith-based organizations heavily funded by foreign governments or think tanks associated with them. None of these cared to save a single child from being turned into a child soldier though there were plenty of NGOs operating for children.
There are enough of instances that the Church openly sided with the LTTE. They even demonstrated for Prabakaran. The LTTE head quarters in UK was opened by none other than Rev. RayappuJoseph. Many a Church father initiated international petitions against Sri Lanka including Archbishop Desmond Tutu never bothering to hear the other version.
The LTTE was running its Voice of Tigers alongside Radio Veritas, a Catholic broadcasting station run by the Asian Catholic Bishops Conference based in The Philippines. The Tamil Service of the Radio Veritas is run by the Tamil Catholics of Tamil Nadu. 
Voice of Tigers had a "coordinating office" inside St. Sebastian's Church in Mallavi, Wanni; Radio Veritas (run by Asian Catholic Bishops Conference) which reached an audience of 850,000 people
Even Madhu Church was used by the LTTE & no one saw fit to run to Geneva or Vatican to complain.
https://www.shenaliwaduge.com/sri-lanka-church-demands-easter-sunday-justice-did-church-punish-church-priests-linked-to-ltte/
All of the attacks that Tamils quote had a UNP hand in them & that includes the burning of the Jaffna Library, 1983 riots & 1977 riots. These attacks enabled many Tamils to relocate overseas where they have built a powerful diaspora. Annually in Geneva they come together to attack Sri Lanka.
The same coterie is behind the Islamic terrorism prevailing world over. Terror incidents are used to justify interventions. Easter Sunday attack must be perceived as part of this unfolding bigger plot.
Now we come to answering what the Cardinal-the UNP-the LTTE/TNA & its associates have in common & what their goal was in Geneva.
We totally empathize with the victims of Easter Sunday, but Catholics were not the only victims. Death & killings is nothing new to Sri Lanka we have suffered millions at the hands of colonials, thousands by JVP, many more thousands during JVP-UNP beeshana years & 30 years of LTTE terrorism.
Not a single bomb or assassination took place from May 2009 (after LTTE defeat) to April 2019 until 6 Jihadist suicide bombers decided to target churches & hotels in a mass murder. Therefore, like the Cardinal we too want to know who planned the attacks & how they tapped 6 suicide bombers to carry it out.
However, going to Geneva & reading out a script is not going to provide answers. It will bring greater damage to the country. Was this the plan?
The FBI took the mobile records of the suicide bombers & have not come up with anything. Foreign intel landed immediately but it was our own who quickly rounded up those linked & it was many of these Geneva visitors that wailed to release some of those arrested.
Geneva could never stop LTTE killings, LTTE recruitment of children or even international illegal money transactions of LTTE & would they, when some of their accounts are safely deposited in Geneva banks!
99% of world conflicts involve jihadi terrorism backed by Western proxies –has Geneva stopped these?Has Geneva ever looked at the anti-Sri Lanka elements that had been at play & the countries & organizations involved in sponsoring change including funding election campaigns? The US has even admitted to funding UNP election campaigns (ref Prof. Levin) The anti-Sri Lanka campaign has a ready list of usual culprits who are bandied together – we saw how that campaign succeeded to bring yahapalana to power. So these groups of people may function in isolation but when required they are pooled together.
So exactly what was the Cardinal's real objective in trotting off to Geneva & adding a political twist to his speech?
Here's where things get really complicated.
If the Cardinal had gone to Geneva because he genuinely desired to catch the culprits of Easter Sunday & he deemed the UNHRC better than Sri Lanka's AG's Dept or the judicial system to provide justice, then how or who arranged for him to speak representing a NGO (Kiham Rehabilitation). The Cardinals slot was however given to SJB's Harin Fernando at the last minute. This resulted in the Cardinal's speech having to be allocated under another NGO. Finding an alternative NGO was not difficult –Franciscan International NGO had allocated a slot for Ambika Satkunanathan to speak. Amika S the supposedly unbiased former Human Rights Commissioner of Sri Lanka resigned to be included to TNA national list, gave up her slot for the good Cardinal to speak. Notice the connections!
https://media.un.org/en/asset/k1m/k1mkrqz7th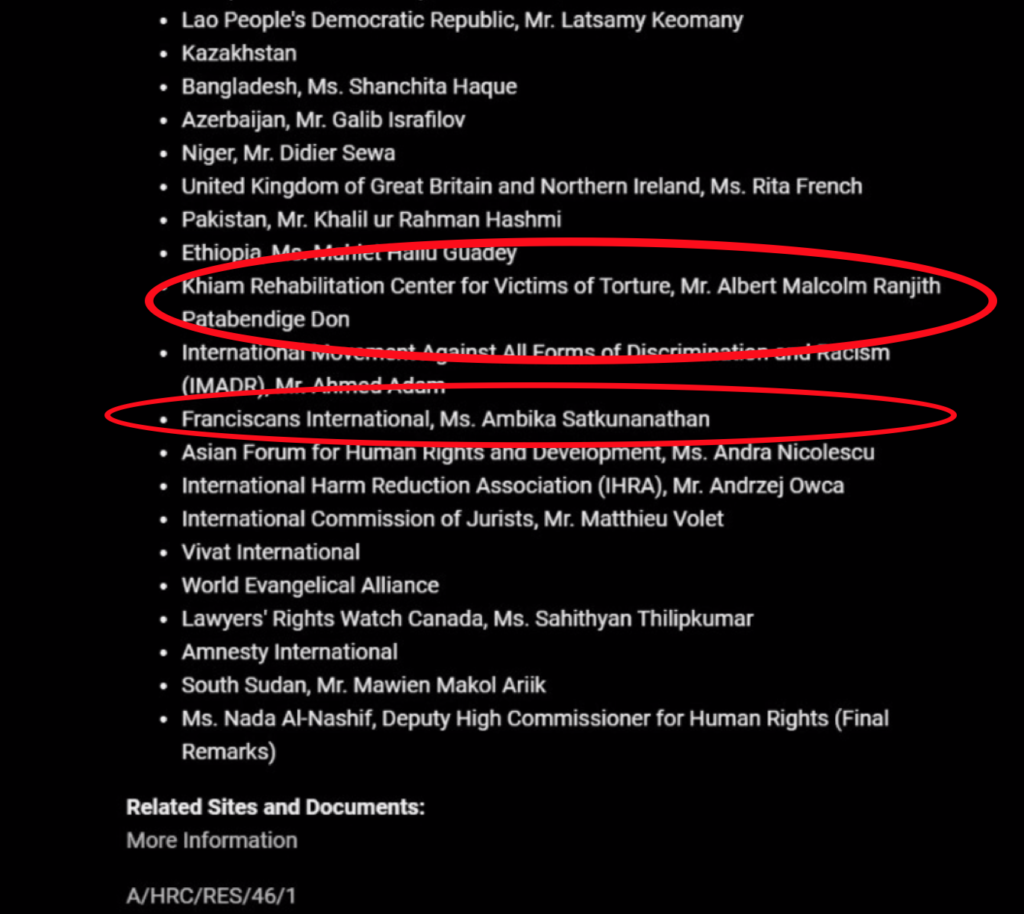 https://franciscansinternational.org/news/news/urgent-appeal-provide-protection-for-refugees-and-asylum-seekers-in-sri-lanka/?no_cache=1&L=998&tx_news_pi1%5Bcontroller%5D=News&tx_news_pi1%5Baction%5D=detail&cHash=ed86927b2d17a71901ebf7778234c4bb
Thus there are plenty of NGOs that allow anti-Sri Lanka speeches using their slots (NGO given 5 speaking slots). These so-called unbiased and transparent NGOs will never give a slot for a Sri Lankan war widow to question what happened to the 5000 missing Sri Lankan soldiers! Instead all are happy to search for LTTE dead!
Thus, it is not the demand for justice that we question but the coterie demanding the answers & the venue to seek that justice.
Shenali D Waduge