Comparing the 19th amendment & 20th amendment to Sri Lanka's Constitution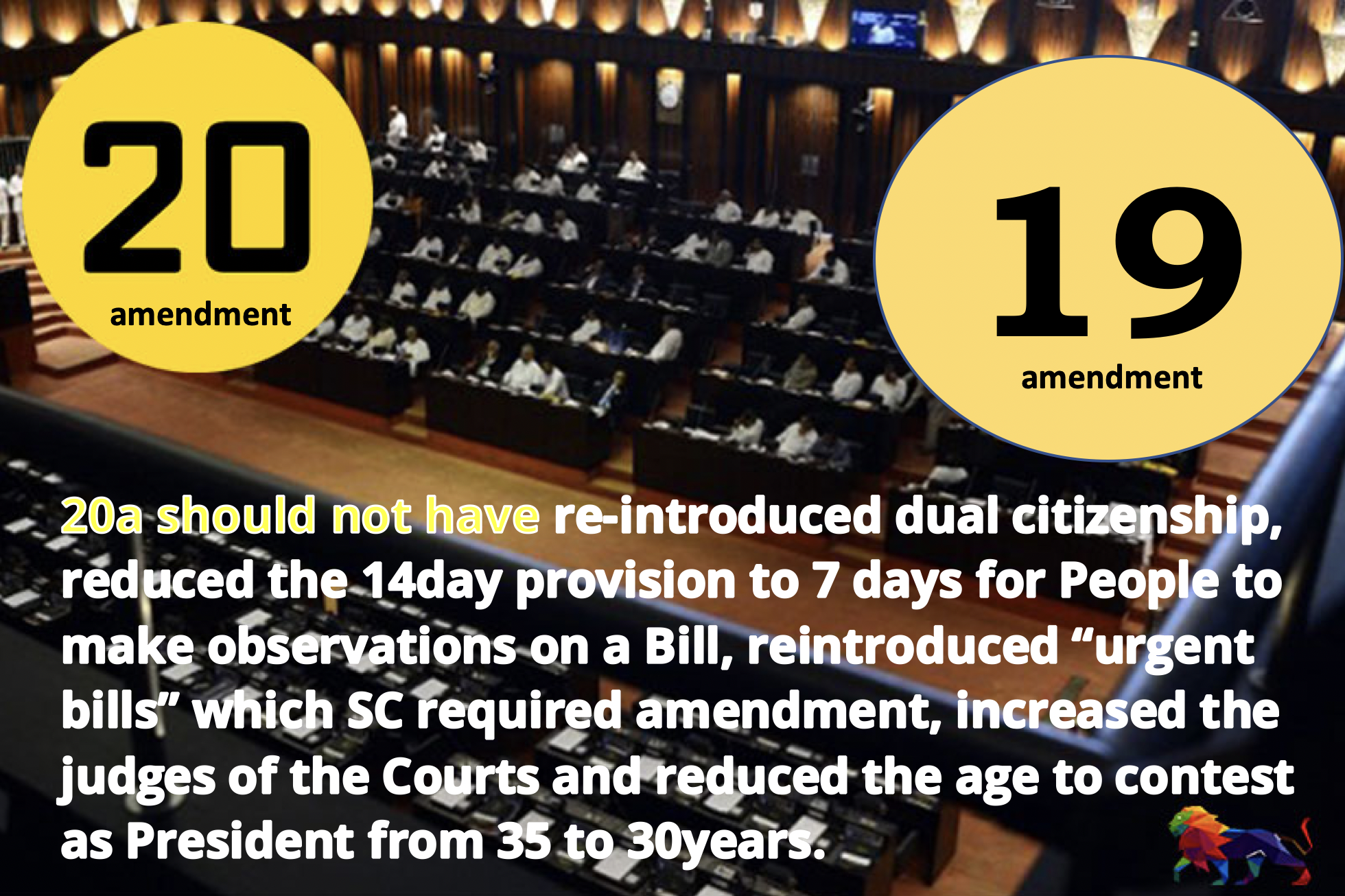 Anything done in haste is wasted and both 19th and 20th amendment as well as 18th amendment were clearly not done with country interest but with personal interest. This is undemocratic and unhealthy for a country & it is reason for so many confusions and contradictions and heated debates. These are all uncalled for and unnecessary. 21st amendment should not fall into this same category. The country is in an economic crisis, it soon led to a political crisis, we do not wish to enter a constitutional crisis as well. Therefore, Parliament & the President must stop being selfish in their tug of war for power and for once put the country first. While 19a is not the perfect amendment as is being made out to be, 20thamendment is not so great either. To understand this, it is important to briefly look at what 19a attempted to do (transfer powers of the President to the PM) while 20a attempted to reverse these changes.
The Parliamentary Elections was won by SLPP in August 2020.
The Presidential election was won by Gotabaya Rajapakse in November 2019.
The President appointed a 5 member committee to draft 20a.
GL Pieris
Dinesh Gunawardena
Nimal Siripala de Silva
Ali Sabry
Udaya Gammanpila.
First reading of the Bill was on 22 September 2020 & 39 petitions were filed in SC
5 Judge SC bench – CJ Jayantha Jayasuriya, Justice Buvaneka Aluvihare, Justice Sisira de Abrew, Justice Priyantha Jayawardena & Justice Vijith Malalgoda.
Judges ruled that Clauses 3, 5, 14, 22 of the 20a Bill was inconsistent with Article 3 & 4 of the Constitution & required approval of the People at a referendum (as stipulated by Article 83 unless amended)
The rest could be passed with a 2/3 Majority in Parliament without a referendum.
Clauses requiring referendum unless amended were
Clause 3 – duty of President to conduct free & fair election
Clause 14 – Dissolve Parliament within a year
Clause 5 – Presidential Immunity which excluded FR challenges against acts of the President
Clause 22 – Repeal of constitutional duty on public officers to adhere to directive of Election Commission & failure to do so constituting an offense.
20th October 2020 – Supreme Court made its Special Determination after 2 day debate in Parliament.
20a was passed on 22 October 2020 by Parliament – 156 votes in favor and 65 against.
8 from Opposition voted in favor.
20a was to retain 19a changes
2 term limit of a President,
5 year term for both President & Parliament
Right to Information
20a changes to 19a
Constitutional Council replaced by Parliamentary Council comprising only MPs (3 eminent persons selected to CC in 19a was removed)
Parliamentary Council could give their observations to the President who was not bound by them.
National Procurement Commission & National Audit Commission abolished
President given powers over PM, Cabinet & Parliament.
Urgent Bill provision reintroduced (why?)
Time duration a Bill opened to Public reduced from 2 weeks to 7 days
Cabinet made 3 changes to 20a Bill
Limiting Acts brought as Urgent Bills to those pertaining to national security & disaster management
Limiting number of cabinet ministers/retaining maximum number under 19a
Auditing of state institutions under 19a to continue
Qualifications to Elect President
19a – 35 years
20a – 30 years (what was the rationale for this?)
Dual citizenship
19a – Dual citizens cannot become President or MP
20a – repealed /Dual citizens can contest as President & MP
This was totally uncalled for
Duties of President
19a – Constitution respected & upheld (Article 33(1)
20a – repealed
19a – Promote national reconciliation & integration
20a – repealed
Constitutional Council/Parliamentary Council
19a – Ensure & facilitate Constitutional Council
20a – repealed & replaced with Parliamentary Council (3 eminent persons removed) Parliamentary Council only makes observations to nominations made by President but President is not bound to comply.
President/PM
19a – President cannot remove PM
20a – President can remove PM at any time at President's discretion (Article 47(2)
19a – President required to act on advice of PM in appointing, removing any Cabinet, Non Cabinet Minister or Deputy Minister
201 – repealed / President may consider consultation if necessary
19a/20a – Actions of President remains subject to FR jurisdiction of the SC
20a – while holding office as President no proceedings shall be instituted or continued against him in any court or tribunal in official or private capacity (Article 35(1)
19a – President cannot hold portfolio
20a – President can hold Ministerial portfolios
Dissolution of Parliament
19a – President can dissolve Parliament only after 4 ½ years or with 2/3 majority in Parliament
20a – Repealed /
President can dissolve after 2 ½ years –
he can dissolve Parliament earlier if Parliament by resolution requests President to dissolve Parliament
If President does not dissolve Parliament after Appropriation Bill is rejected, President has to dissolve Parliament if next Appropriation Bill is rejected.
President shall not dissolve Parliament if Statement of Government Policy is rejected after General Election
President shall not dissolve Parliament after Speaker entertains resolution calling for impeachment of President (Article 38 of Constitution)
Urgent Bills
19a – Urgent Bills revoked
20a – "Urgent Bills" provision to pass legislation reintroduced. Amended to only to apply to 'interest of national security or for purpose of disaster management' & President can refer Bill to SC for determination on Constitutionality giving SC 24hours to determine. Urgent Bill cannot be used for any Bill as amendment, repeal, replacement, alteration or addition to any provision of the Constitution or repeal and replacement of Constitution.
Duration for a Bill made accessible to Public
19a – 14 days (before placing on Order Paper of Parliament)
20a – reduced again to 7 days (why?)
Any amendment proposed to a Bill during Committee Stage, cannot deviate from merits & principles of such a Bill. But an Act of Parliament enacted in violation of process is protected by Article 80(3)
Appointments to Judiciary
19a – Nominations to Courts including SC is by Constitutional Council
20a – President can appoint CJ, other judges of SC, President of Court of Appeal & other judges of Court of Appeal at his discretion.
Judges of SC increased from 11 to 17 judges.
Judges of Court of Appeal increased from 12 to 20
President may appoint any 2 judges to SC as members of the Judicial Service Commission at his discretion subject to their seniority & judicial experience.
The 20a should not have re-introduced dual citizenship, reduced the 14day provision to 7 days for People to make observations on a Bill, reintroduced "urgent bills" which SC required amendment, increased the judges of the Courts and reduced the age to contest as President from 35 to 30years.
Shenali D Waduge