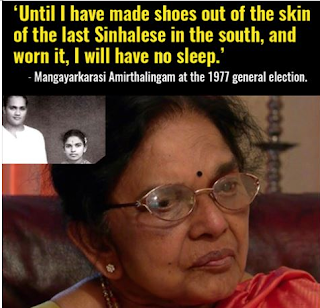 Who can explain how communities can be brought together when the leaders representing them continue to drum racism? Have we heard any national sentiment from the present day Tamil leaders? When will they cease to recirculate a handful of past examples that plug hate & revenge in the minds of their people? Why do they not want to urge their people to think in the interests of the Nation first? No peaceful coexistence can take place in word or paper if the leaders that claim to represent minorities carry forward a different and racist agenda and drag their people to follow that line of thinking too? These Tamil politicians will drum hate but they do so for their own political relevance – in the end the Tamil people or the country is getting nothing out of it. By their hateful speeches and actions, they are only weakening Sri Lanka, destabilizing Sri Lanka and making Sri Lanka vulnerable.
Racism is foundation stone of Tamil 'Nationalism" & 'liberation'
Tamil leaders lavishly uses cudgel of racism for political mileage & Tamil people as pawns. So long as this happens there can be no peaceful coexistence or meaningful reconciliation.
Money-Media-Propaganda has stilled the voice of truth and drummed lies & distortions. Racist actions have begotten racist reactions. However, international attention is always given to the reactions and not the racist actions.
Examples of Tamil Racism
1920s Tamil legislator Ramanathan led 2 delegations to Colonial Office in London 
Tamil leaders were demanding encoding of Caste into legislative enactments in Ceylon.
Vellala caste is imported from South India and have no origins in Sri Lanka though they continue to try to dominate Tamil politics. Should Tamils change this?
Tamil racism created ITAK – Illankai Tamil Arasu Katchchi that sought a separate Tamil Nation the year after independence when Sri Lanka was under foreign control since 1505. Why would ITAK seek a separate Tamil Nation when they had been ruled by Westerners since 1505?
The 1976 Vaddukoddai Resolution wording depicts the hatred and racism of Tamil leaders who wish to brainwash younger generations to carrying forward their racism.
The hatred of Tamil politicians could be seen in the 1977 General Election Manifesto
High-handed act by Tamils when in Opposition
Sambanthan as Opposition Leader with 50 TNA MPs stormed an army camp demanding files be opened for them.
Amirthalingam as Opposition Leader did same writing letters on official leader head against Sinhalese.
2016 October – 'Tamil public' attacking Sri Lanka Navy, Police and State Intelligence officers resulting in their hospitalization. 
2016 September – Sri Lanka High Commissioner to Malaysia attacked inside airport. 
2016 – Sinhala student studying in Jaffna university attacked by Tamil students & hospitalized with head injuries simply because they were preparing for a Kandyan dance. 
TNA threats to Buddhist priests to vacate Buddhist temples in existence since 5th century b.c in North & East 
(Minister Cyril Mathew's report to UNESCO gives evidence) Racist attempt to chase away Sinhalese and Buddhist priests, destroy ancient Buddhist temples and claim only Tamils live in North/East. UN declares destruction of cultural property a war crime.
Racism was such that Sinhalese were chased out of North giving less than 48 hours to leave. 
No one spoke against this in 1990 and no one is speaking now to help return these chased away people to their original homes.
Even since 2015 Tamil leaders are demanding Sinhalese should not be settled in the North. Up & until 2013- 70 plus C J V Wigneswaran was living in Colombo amongst Sinhalese.
Racism of Wigneswaran was such he prohibited Tamils marrying Sinhalese
Yet his own sons are married to Sinhalese!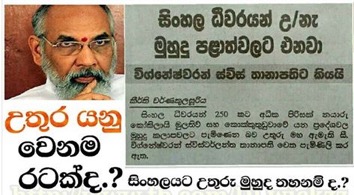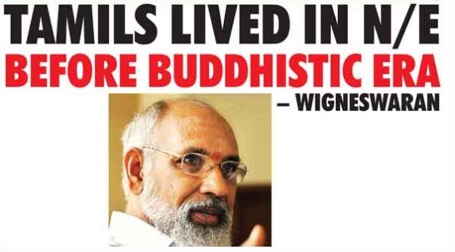 2015 stoning of Court complex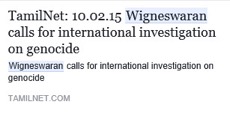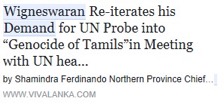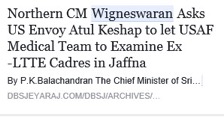 2014 TNA leader Sambandan declared 'Sinhala colonization a great worry to Tamils' 
this sentiment has been floated since ITAK was formed in 1949.
2013 – Bank of Ceylon branch in Chennai attacked.
2013 – Mihin Lanka Sales Office in Madurai attacked
2012 – 184 Sinhala Buddhist pilgrims attacked in Chennai
A special flight had to be arranged to bring them back to Sri Lanka
2011 Maha Bodhi Society office in Chennai vandalized. 
It was where Sinhala Buddhist pilgrims visited.
2 Buddhist priests attacked & manhandled by Tamil mobs in India. 
Brutally attacking unarmed Buddhist priests is the worst type of racism
2008 film maker assaulted in Chennai because he was Sinhalese
Tamil leaders constantly referring to national army/police as 'Sinhalese'  
this very army saved close to 300,000 from LTTE.
Tamil racism – evident by the list of Tamil political parties & their objectives only for Tamils.
Racism of R. Sambanthan former Opposition Leader / Leader of ITAK/TNA – a man who sat with Prabakaran & regularly engaged in discussions with them 
What did Sambanthan do when LTTE was killing fleeing children?
What did Sambanthan do when LTTE snipers were shooting and killing fleeing Tamils?
What did Sambanthan do when Tamils were kept as human shields by LTTE
If Sambanthan claims food, medicines etc were not sent by the Govt – did TNA and LTTE fronts using their $300m annual profits send even a biscuit?
Sambanthan & TNA supported regime change in 2015 – how did the supporter end up the main opposition with just 16 seats in a 225-member Parliament? Isn't that why the Opposition for the first time supported the yahapalana budget?
Why didn't Sambanthan & TNA speak for the thousands of Tamils killed by LTTE and generations of Tamil youth who were forced to become child soldiers?
On what basis can Sambanthan/TNA claim Tamils are 'second-class' citizens?
What is it that the Sinhalese enjoy because they are Sinhalese that the minorities do not enjoy because they are not Sinhalese"?
What is it that the minorities do not enjoy because they are the minority which the majority enjoys because they are the majority"?
What is legally, constitutionally & legislatively given to the majority that is not given to the minorities"?
Name a single country that has changed its original national anthem, national flag just to please & appease the minorities & have these afforded any reciprocity by the minorities?
Lets' take C J V Wigneswaran
Where did Chief Minister Wigneswaran study – Royal College
Where was Chief Minister Wigneswaran living all his life – Colombo. He went to live in North only after 2013 – after Prabakaran was defeated – after he was parachuted from Colombo & made Chief Minister. He was no representative of the Northern people.
Where was Chief Minister Wigneswaran working – as a Supreme Court Judge
How many times has he been to North Sri Lanka when LTTE was on a killing spree?
Did he object to LTTE kidnapping Tamil children to turn into child soldiers?
Did he appeal to LTTE to release Tamil civilians kept hostage or to be used as human shields?
Did he send any food or medicines to these civilians kept trapped by LTTE?
He complained to Swiss envoy that Sinhalese fishermen are fishing in Northern waters.
He falsely claims Tamils lived in North before Sinhalese
He says Sri Lanka army does not need to be praised for post-war good deeds
He criticizes Sri Lanka army presence in North
He asks yahapalana govt to withdraw army from North and East
He goes all round the world complaining against the Sri Lanka Armed Forces
He calls for international investigation claiming genocide (but can't explain how Tamil population is increasing)
He requests US envoy to get US medical teams to examine LTTE combatants in Jaffna
He calls for 'shared sovereignty' within a united Sri Lanka (all confederal nomenclature)
He claims Sinhalese are 'outsiders' looting 'their' resources
He claims Tamils should align to party pushing for 'self-determination'
Presents Constitutional Reforms Committee a resolution by Northern Provincial Council proposing 2 states
Leads protests by Tamils – most of these Tamils later say they are given money & food to hold placards and they know nothing about demands made by Tamil leaders
Seeks India's help on new constitution which is federal
He seeks merger of North East claiming it prevents minority communities from losing their identity
He compared terrorist Prabakaran to Keppetipola
Tamil racism has compromised the sovereignty, territorial integrity and national security of this country. The entire populace will suffer in time to come because of a handful of racists. When racist examples are brought out people must learn to accept the racism in these examples and not scoff at those that expose the racism.
Why don't Tamils tell Tamil politicians to fight the Sinhalese or vandalize Buddhist temples instead of outsourcing to Tamil civilians?
We need to move forward not go backward. If there is no record of any disunity among Sinhalese & Tamils pre-1505 how, why & who is the cause of the disunity?
Should we continue to drum past incidents instead of finding solutions to them?
Lots of questions for people to ponder and answer and it is no better a time than now to find the answers and to disallow the mischief makers to continue to drag people towards hatred & racism.
Shenali D Waduge