How did 13th amendment become part of Indo-Lanka Accord & India's role in it

The Letter sent by TULF to PM Rajiv Gandhi on 28 Oct 1987 provides clue to how 13A evolved. The history of the events should awaken Sri Lanka's advisors promoting the theory that 'we cannot anger India' 'we have to comply with India' to also accept Sri Lanka's eventual fate that would leave Sri Lanka without Sri Lanka and politicians without power. The letter by TULF leaders to Indian PM and the references in it reveals that the 13thAmendment & Provincial Council System with merger of North & East was birthed by India and not by Sri Lanka's Tamil leadership or LTTE.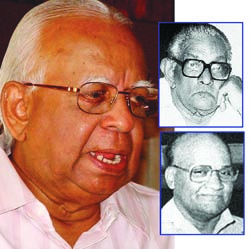 Sampanthan, M. Sivasithamparam and A. Amirthalingam
http://www.thesundayleader.lk/archive/20080217/issues.htm
TULF President Sivasithamparam, TULF Secretary General Amirthalingam, TULF Vice President Sampanthan wrote a letter to the Indian PM Rajiv Gandhi on 28 Oct 1987 on 2 Bills – the 13thAmendment to Sri Lanka's Constitution & the Provincial Councils Bill. What they wrote to India is poignant in today's contest of 13a and India's role.
These are the key points that the 3 TULF leaders raised in their letter to the Indian PM
The 13A Bill and the Provincial Council Bill DO NOT MEET the ASPIRATIONS of the Tamil People.
Since 1983 TULF negotiated with the GOSL through Govt of India to arrive at a comprehensive DEVOLUTION
TULF had requested Indian PM in July 1987 before arriving in Sri Lanka to sign Indo-Lanka Accord to have a team of Indian experts work with Sri Lanka to draft necessary legislation. However, Indian experts had not been involved in drafting of 13a or PC Bill (as per TULF letter) A draft legislation copy was not made available to India as per TULF.
TULF Leaders met President J R Jayawardena on 29 September 1987 to request him to show draft to India
However, 13A Bill and PC Bill was gazette without being made available to India. TULF says this is a breach of 2.15 of Indo-Lanka Accord "residual matters shall be resolved between India & Sri Lanka".
TULF confirms that India had to exert great pressure for President JR to agree to 1 administrative unit for North & Eastern Provinces (One Provincial Council – One Governor, One Chief Minister & One Board of Ministers) The continuance of this was to be subject to a referendum in Eastern province by 31 December 1988 which President JR could postpone. TULF had objected to a referendum.
TULF claims both Bills are a farce to the Tamils as the single administrative unit is to be set up by Executive Act of President which he can revoke.
TULF says Section 154 of 13thA is dubious and can be interpreted to mean a perpetual power is vested in Parliament to legislate and that a single administrative unit for North & Eastern Province is only an impermanent arrangement.
TULF claims that powers to be devolved to the Provincial Councils should be the same as those enjoyed by the States in India.
Discussions between GoSL & TULF in July/August 1986 agreed that legislative power of province in respect of provincial subjects would be near absolute & governor would be ceremonial head. (there was no provincial councils in 1986 – this means discussions did exist before Indo-Lanka Accord of 1987 – on whose initiation is the question that needs to be answered)
TULF says the 13thA Bill and PC Bill retain power of Parliament to amend or repeal chapter pertaining to PCs, the lists of subjects & power of Parliament to legislate even on subjects transferred to PCs by a 2/3 majority and approved by People at a referendum.
TULF says the 13thA and PCs retain Executive power of President via Governor appointed by Article 4(b) and 154(f)(2)
TULF says that during the 1986 discussions GoSL indicated that the number of ministers of the province would not exceed 1/3 total members. NE Province would have 71 members. TULF proposed that members should not exceed 1/5 of total members. TULF says that the number of Ministers reduced to 4 is with ulterior motive to promote discord and diminish the importance of PC
TULF says List of Subjects was to conform to Indian pattern, Concurrent List is heavily loaded and Provincial List is starved.
TULF complains that – Fisheries other than beyond Territorial Waters, Agriculture, Animal Husbandry, Industries, Redemarcation including creation of Districts, Assistant Government Agents divisions, and Grama Sevaka Divisions, restoration, reconstruction of destroyed towns, villages, properties, compensation or relief to persons who have sustained loss or damage, palmyrah plantation and palmyrah industry, coconut plantation and industry related thereto, the ownership, management and control of state-owned industrial enterprises within the province dependant wholly or mainly on raw materials found in the province (recommended by the Political Parties Conference), Co-operative Banks, Prisons, Provincial Public Service, Provincial Public Services Commission, Local Government Service, Inquiries, Surveys and Statistics for any of the purposes in the Provincial List are not included in the Provincial List (as per discussions that agreed to follow an Indian format)
TULF says that subject of Land & Land Settlement in Appendix-II of the Bill is worse than the Appendix attached to proposals on 23 September 1986
TULF says that TULF cannot accept
Inclusion of State Land in Reserved List
State Land continuing to be vested in the State & power of disposition by President
Denial of Right to Province, though land is a devolved subject ipso facto use of State Land for devolved subjects
Restriction of right of province to administer & control only land made available to it
Stipulation that alienation & disposition of State Land within Province to any citizen or organization is by President.
Wide definition given to Inter Provincial Irrigation & Land Development Projects, principle of National Ethnic Ratio in such projects, right given to GOSL to determine selection of allottees for usch lands
Failure to formulate principle of Cumulative Entitlement of Tamil speaking people in schemes under Mahaweli Project in Eastern Province & failure to incorporate with Appendix-II the Annexure on settlement in Eastern Province under Mahaweli Project.
TULF says PC's have been reduced to a nonentity – State Land though is a devolved subject yet enables Central Government to have a dominant power over State Land.
TULF says subject of Ports is included in Reserved List. Trincomalee will come under Central control – Annexure C. TULF says that in 1984 after finalizing Annexure C, 5150 acres of land around Trincomalee Port was vested to the Port Authority.
TULF says that contrary to the GoSL's draft proposals to amend constitution of 23 September 1986 stating that 'Provisions regarding Provincial Public Service to be included" resulted in Provincial Public Service and Provincial Public Service Commission not being included to Provincial Councils Bill.
TULF says that its proposals were disregarded and the appointment, transfer, dismissal, disciplinary control of Provincial Public Servants was vested in the governor
TULF says that the credible autonomy to the PCs that was expected are denied as both Bills enable Parliament & Executive to curb powers of the PCs.
TULF says that Clause 2 of 13A making Tamil also an Official Language is nullified in paragraph (f) – "Parliament shall by law provide for the implementation of the provisions of this Chapter"
TULF ends letter to Indian PM by appealing to India to ask President Jayawardena not to proceed with the 2 Bills in Parliament in its present form
There are a series of questions that arise from this letter.
Does the Indo Lanka Accord refer to 13a & PCs – No
How did 13a and PC system come about?
Then there is reference to Annexure C – what is this?
Following 1983 Indian PM Indira Gandhi sent her representative G. Parthasarathy to Sri Lanka. Proposals from discussions in Aug/Nov 1983 were known as Annexure C. These proposals were not presented during the December 1983 All Party Conference which ended in December 1984.
Parathasarathy had no role in Rajiv Gandhi's administration & thus the incoherence in the Indo-Lanka Accord with the Provincial Council & 13A both of which were signed after he resigned in March 1986.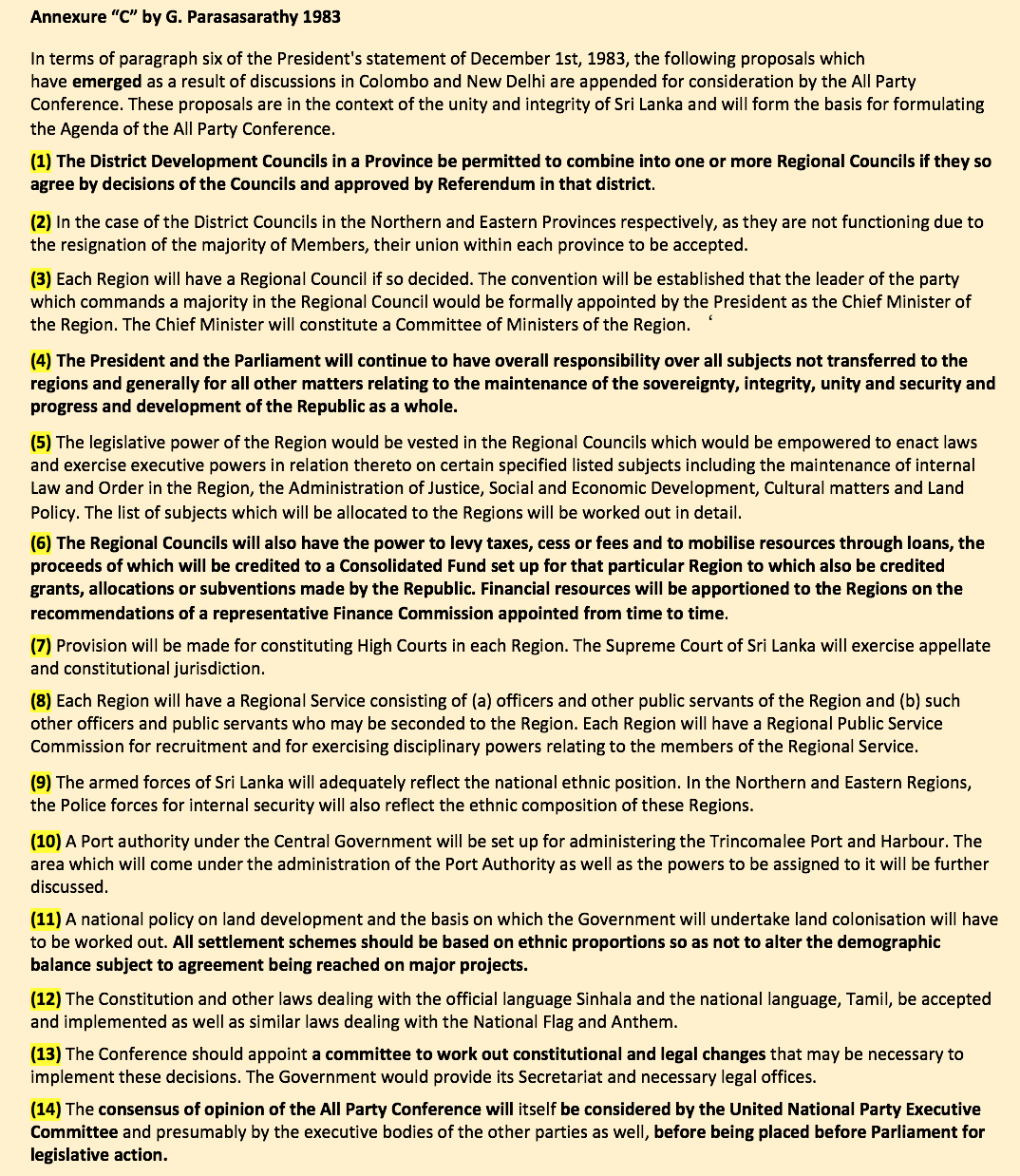 November 1984– LTTE kills innocent villages in Kent & Dollar Farms
In December 1984President Jayawardena presented draft 10thamendment & draft District & Provincial Councils Development Bill. It was a form of decentralization at District level to the Provincial level. TULF rejected the proposals.
In June 1985President JR visited India (weeks before Prabakaran was in Pondicherry meeting senior RAW officials) and a ceasefire was agreed & India was to help direct negotiations. A Sri Lankan team of legal/constitutional experts visited India.
In July-August1985 Thimpu talks commenced. Sri Lanka agreed to form separate Provincial Councils with limited powers but Tamil militant groups wanted right to self-determination & a homeland merging North & East.
India decided to directly hold talks with LTTE & GOSL separately. These talks ended on 30 August 1985. Sri Lanka presented a Draft Framework of Accord & Understanding https://tamilnation.org/conflictresolution/tamileelam/85workingpaper.htm
– this draft included creation of Provincial Councils (Separate Provincial Councils for the North & East) amending Sri Lanka's constitution with limited devolution. LTTE rejected these proposals.
6 advisers to the Sri Lanka delegation. They were – Mr. G.V.P.Samarasinghe, Secretary to the Sri Lanka Cabinet of Ministers;  Mr.Bernard Tillekeratne, Sri Lanka High Commissioner to India; Mr.C.Mahendran, Director General, Sri Lanka Ministry of Foreign Affairs; Mr. Tissa Jayakody, Deputy High Commissioner for  Sri Lanka in Madras, Mr.S.M.L. Marikar, Additional Secretary to the Sri Lanka President; and Mr. Nalin Abeysekera, Legal Draftsman. The Secretary to the Sri Lanka Delegation was Mr.E.F. Dias Abeysinghe.
https://tamilnation.org/conflictresolution/tamileelam/85thimpu/index.htm
In December 1985TULF forwarded its proposals combining North & East into a single Tamil linguistic state but within the framework of a United Sri Lanka (not Unitary) with nod of approval by India.
Notice how UNITED Sri Lanka replacing UNITARY is being attempted since 1980s.
In January 1986 Sri Lanka rejected the TULF proposals on the grounds of it abandoning UNITARY status. India's role was suspended for 6 months. India recommenced assisting Sri Lanka with a delegation led by Minister P Chidambaram.
May/June 1986new proposals were handed by GoSL to India who forwarded same to TULF. GoSL agreed to
Devolution of power to PCs within framework of unitary Sri Lanka – retention of existing provinces as a unit of devolution but no merger.
Establishment of PCs and devolution of powers & its functioning
Specific proposals regarding devolution of Law & Order & Land Settlement
September 1986– Draft Constitutional Amendments, draft Provincial Councils Bills, Schedules setting out Reserved, Concurrent & Provincial Lists, detailed memoranda dealing with Law & Order, Land & Land Settlement & Education discussed.
October/November 1986– Tamil Nadu Government & Sri Lanka Tamil militant groups discuss Sri Lanka proposal. The Tamil militant groups claimed they were dissatisfied with the law & order, land settlement aspect.
November 1986 –SAARC Summit – President JR and PM Rajiv hold discussions. President Jayawardena suggests Easter Province be divided into 3 provinces based on ethnicity. Correspondence between Indian PM and Sri Lanka President reconfirms Sri Lanka's commitments & India's position – http://www.austlii.edu.au/au/journals/AUIntLawNews/1986/38.pdf
What is clear is that the solution of devolving powers to Provinces evolved from discussions from CHOGM Nov 1983 – 1986 and was a pre-cursor to the Indo-Lanka Accord of 1987. It was as if India was manipulating both LTTE/Tamil Political Parties & GoSL to make them believe they were creating a solution that was invariably to India's favor/advantage, Indira Gandhi's close associate G Parathasarathy playing a lead role proposing Annexure C that demanded the merging of North & Eastern Provinces.
1980 – the Development Councils Act
1984 – Parthasarathy Proposals and Annexure "C" (1984
1987 – Indo-Sri Lanka Agreement and the Thirteenth Amendment (1987),
1992 – Interim Report of the Mangala Moonesinghe Parliamentary Select Committee
1995 – Devolution Proposals (August 1995 and January 1996),
2000 – Draft Constitution of the Republic of Sri Lanka Bill (2000).
Bernard Tilakaratne in "Sri Lanka Government & Peace Efforts up to the Indo-Lanka Peace Accord: Lessons & Experiences" (Feb1998) explains how Parathasarathy pressured President Jayawardena to accept proposals merger of North & East part of India's proposals called "Annex C".
Wake up Sri Lanka's leaders. You are foolishly weakening Sri Lanka & making Sri Lanka vulnerable. The need for transparency in the discussions is important as the secrecies of the past has resulted in weakening Sri Lanka with advisors not seeing the dangers in store. The general public and patriotic voices are better advisors to protect Sri Lanka than all of the advisors Sri Lanka has had in the past. The outcome of the PCs and the discussions that proposed the tweaking of Sri Lanka's constitution shows that Sri Lanka's advisors cannot be trusted to protect Sri Lanka's sovereignty & territorial integrity.
Shenali D Waduge