How the "Rule of Law & Democracy" angels removed a Chief Justice in Sri Lanka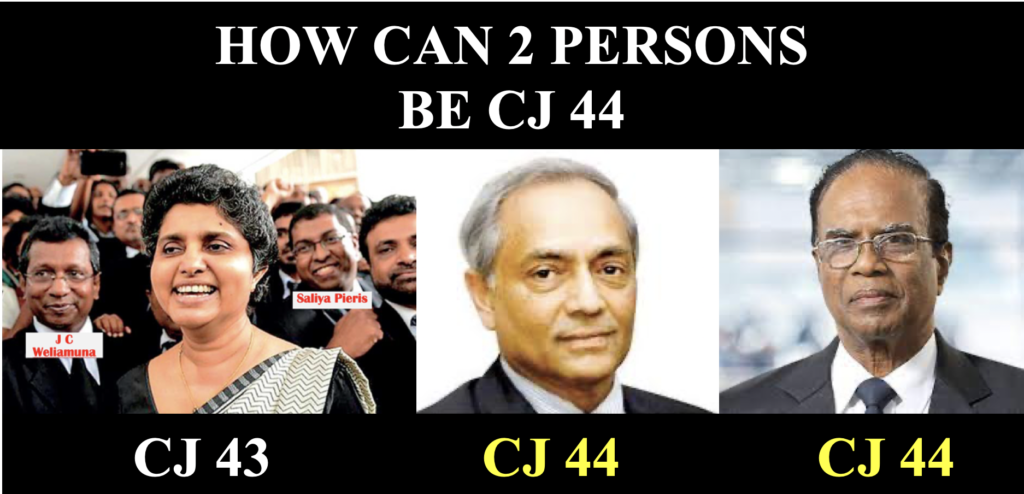 Let us return to the impeachment of 2 Chief Justices of Sri Lanka – how they were removed matters not so much as the trial or the allegations related therein. Another noteworthy feature is the manner one Chief Justice got full international backing while the other received only international condemnation. This is quite strange for the "international community" & the legal fraternity that claims to be unbiased.
Shirani Bandaranayake was Chief Justice 43
Appointed on 18 May 2011
Impeachment motion in November 2012
Procedure to impeach a Chief Justice
Constitutional provisions – Articles 107(2) & 107(3) setting procedure to remove members of the Judiciary
Standing Orders of Parliament 78A(1)– Resolution presented to Speaker or placed on Order Paper of Parliament signed by 1/3 of total MPs
Speaker accepts Resolution & places in Order Paper of Parliament
Speaker appoints Select Committee of not less than 7 members to investigate & report to Parliament the allegations made
Select Committee hands to Chief Justice a copy of their deliberations & seeks written statement of defense from CJ
Chief Justice given opportunity to appear before Select Committee to give version
Select Committee given a month to conclude findings
Decision presented to President by Speaker on behalf of Parliament
Procedure followed to impeach CJ Shirani Bandaranayake
117 MPs handed a petition on 1st November 2012
Standing Orders of Parliament & Constitution was upheld
11 Member Select Committee appointed on 14 Nov 2012 – Anura Priyadarshana Yapa (Chairman) Nimal Siripala de Silva, Susil Premajayantha, Rajitha Senaratna, Dilan Perera, Wimal Weerawansa, Neomal Perera, John Amaratunga, Lakshman Kiriella, Vijitha Herath, R Sampanthan.
Select Committee handed report to Speaker on 8 Dec 2012
Parliament debated on 10th, 11th January 2013
Parliament vote taken – 155 voted in favor / 49 voted against – on 11 Jan 2013
Parliament impeached Chief Justice Shirani Bandaranayake on 11 January 2013
2 ½ months was taken for the due process
(CJ 43) Chief Justice Shirani Bandaranayake was impeached on 11 January 2013,
(CJ 44) Mohan Pieris was appointed Chief Justice on 15 January 2013.
https://www.ft.lk/news/Retired-CJ-Shirani-Bandaranayake-praises-CBK-for-commitment-to-judicial-independence/56-729407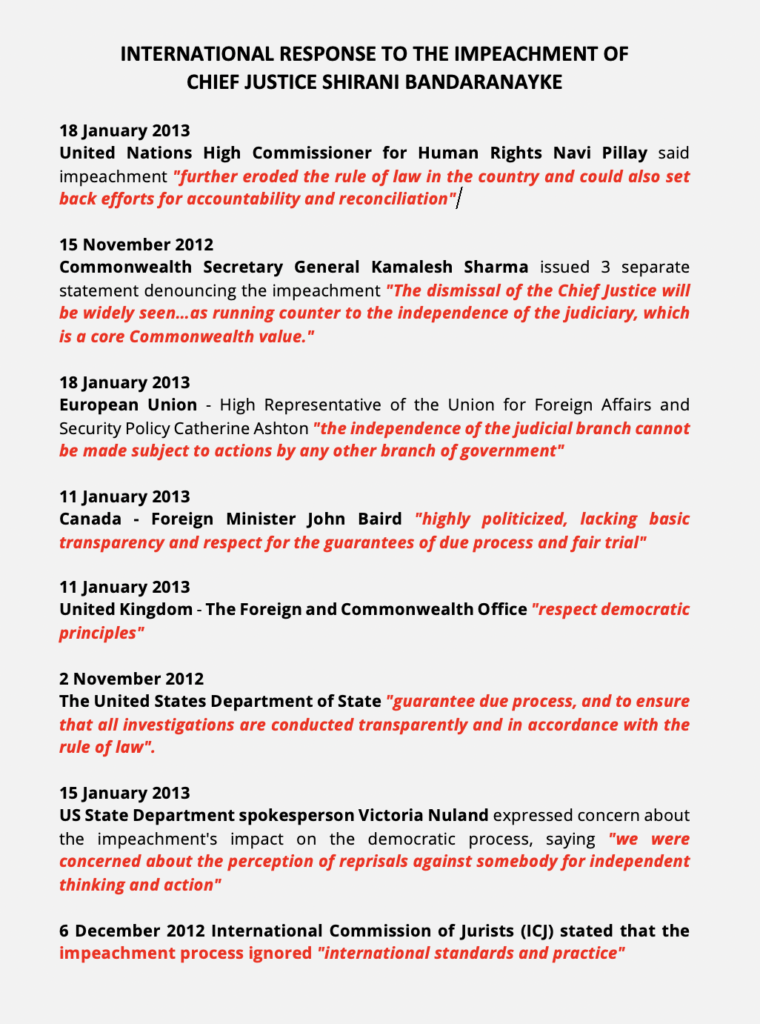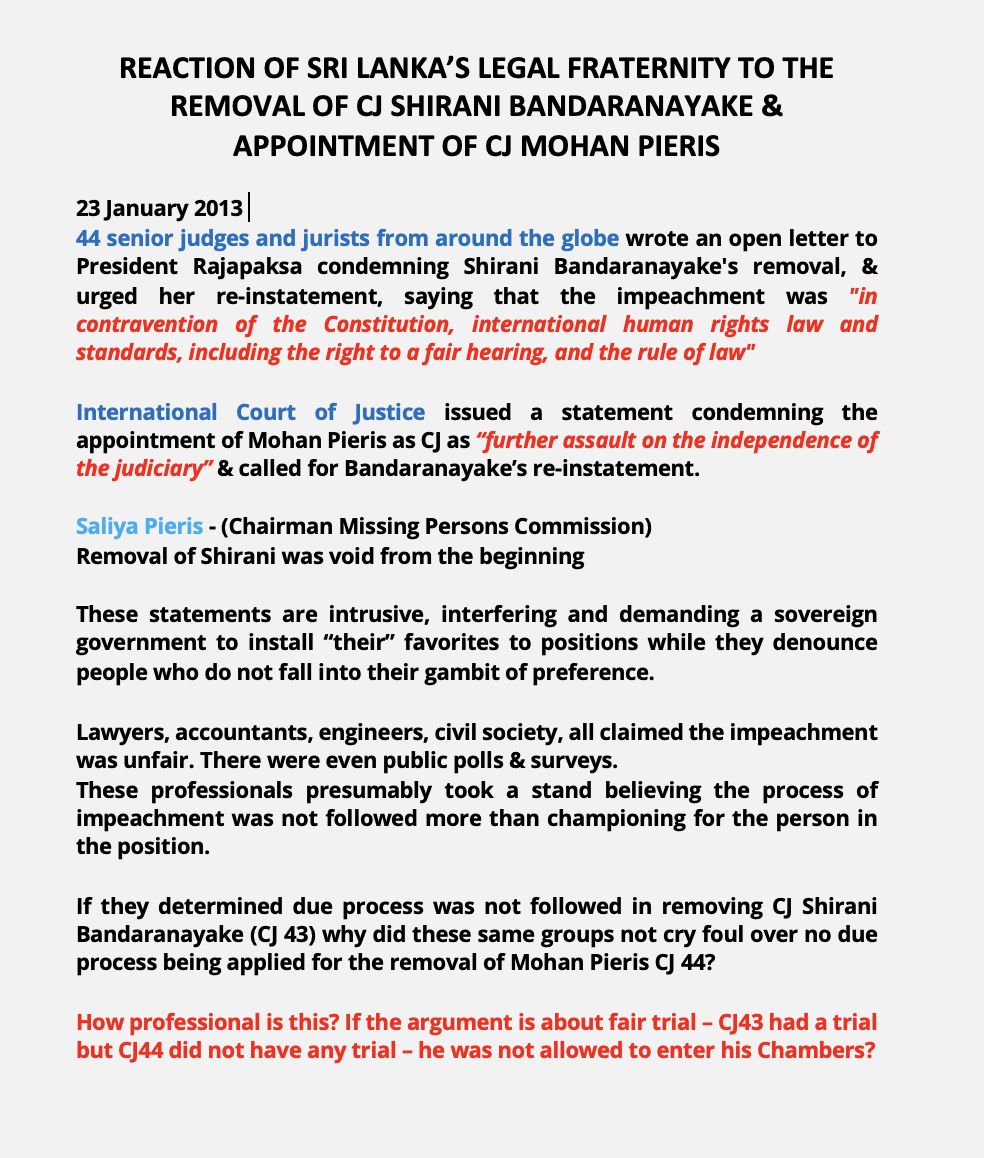 9 January 2015 – the government changed / President Sirisena appointed President
Procedure followed to remove Mohan Pieris as Chief Justice
9 Jan 2015 – BASL meet new President & new PM Ranil – urging them to reinstate Shirani Bandaranayake as CJ
12 Jan 2015 – a group of lawyers & civil society organizations staged a protest in Hulftsdorp calling for CJ Mohan Pieris to step down.
These self-righteous "rule of law" & "democracy" proponents gave Mohan Pieris 48hours to step down "gracefully".
CJ Pieris was not able to even attend Supreme Court or enter his Chambers.
28 Jan 2015 – President Sirisena's Secretary by letter informed CJ44 quoting void ab initio to claim his position as CJ was considered null & void claiming his appointment was not valid from the beginning.
28 Jan 2015 – CJ 43 reinstated for only 1 day & made to resign the same day. This was the fate of Shirani Bandaranayake who was at the forefront of a local and international campaign to be reinstated since her impeachment in 2013 to be reinstated in 2015 for one day!
30 Jan 2015 – Justice K Sripavan appointed Chief Justice & controversially is made CJ44 not CJ45.
Question is can the President alone remove the Chief Justice at his will & that too through a letter sent by his secretary?
The same parties that claimed due process was not followed to remove Shirani Bandaranayake removed Mohan Pieris by protesting and not allowing him to enter his chambers. Is this the due process they are promoting?
Is international standards & rule of law to protest & remove a CJ and obstruct him entering his Chambers and not the Constitutional provisions stated to remove a CJ?
A victim is a victim irrespective of the face! So where were these unbiased, impartial, rule of law, due process, upholders of law & constitution for victim CJ44?
Was a procedure followed for the removal of CJ43 & CJ44? Irrespective of any legal loopholes. Was there a process that was followed for both?
CJ43 is ShiraniB
CJ44 – MohanP & Sripavan (we have 2 CJs) – however Mohan Peiris's name is expunged
CJ45 – Priyasath Depp
CJ46 – Nalin Perera
CJ47 – Jayantha Jayasuriya
Additionally, if void ab initio term is used it next raises another more important question of the legal validity of every judgment made by Mohan Pieris as CJ44 from his appointment in January 2013 to his removal in January 2015?
Why is no one answering this question?
How can there be two CJ44?
Ironically, not only did we have 2 Chief Justices in Sri Lanka in 2015 but 2 Prime Ministers as well. While PM D.M Jayaratne did not resign or was sacked as Prime Minister by gazette, RanilW was appointed as Prime Minister. Once again none of the "rule of law, democracy, due process" bandwagon came forward to bemoan the illegality & unconstitutionality of this appointment. Ironically in the same controversial manner he has once again become PM and the same parties are once more silent.
This selective & partisan approach by the usual culprits is nothing to be surprised about.
The general public should realize the futility of their rhetoric, pretending to be upholders of good governance but doing the opposite.
It is our duty to highlight these violations & leave it for you the reader to decide.
Shenali D Waduge