Questions for the LTTE "War Hero" film star Doctor Varatharajah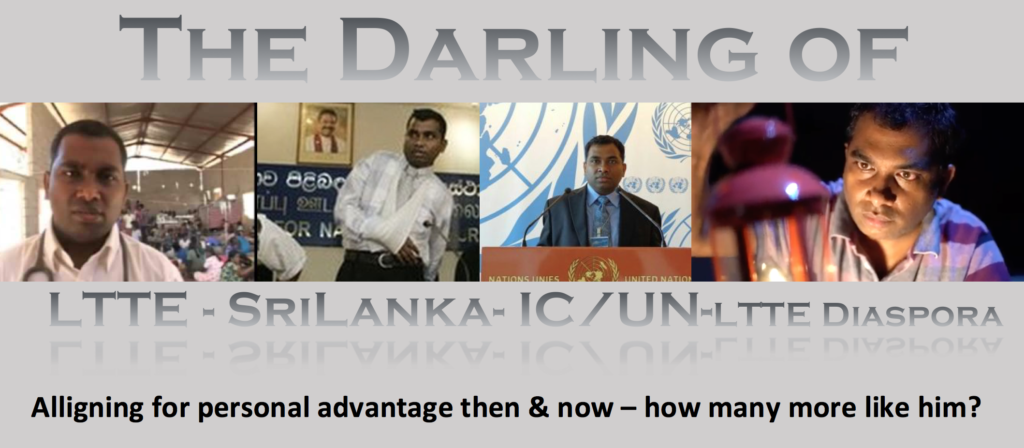 Dr. Varanthaja was one of the 5 doctors who was in the war zone till the final stages that ended in May 2009. The country has no issues in him seeking asylum and living in the US since 2011. With LTTE terrorist arm disseminated everyone wanted to get on with their lives after living 30 years in fear. This was a feeling applicable to all communities. However, we did not and do not expect the LTTE business arm to take over and make a living lying. This is why as citizens we have every right to question Dr. Varatharaja who was educated with public funds, who enjoyed a state salary until his departure and who now lives abroad but wishes to continue lies that is impacting on the entire nation. 
We pose these questions and in so doing ask readers to ponder about how many others like him are out there ridiculing and denigrating the country they were born in and in so doing violating our human rights by the manner they are partnering with entities out to destabilize and destroy Sri Lanka & its development, wishing Sri Lanka to suffer perpetual misery sans peace.
BIOGRAPHY
1975 Born
1986 Passed Grade 5 scholarship
1991 Passed O/L
1994 Passed A/L Bio given Mahapola Scholarship
1997 Entered Jaffna University
2004 Graduated
2004 Intern at Pudukudurippu hospital, Mullaitivu
2005 Intern at Kurunegala Teaching hospital – Paediatrics/Surgery
2006 Relief House Officer at ICU
2006 1stAppointment MOH Kalmunai District/Eechilampatru hospital/Vaharai hospital
2007 March – Mullaitivu Hospital
2007 December – Appointment Regional Director of Health Services
2008 – Overseas training Philippines
2008 – Anti-Malaria training Anuradhapura
2009 – May 16 Arm injured from bomb & carried to army rescue point in Mullaivaikal on 17 May 2009
2011 – US gives him & family asylum
Despite living in LTTE controlled areas, he was able to study, obtain scholarships, enter university & even become a doctor. How many other Sri Lankans have been this lucky?
Can you explain why US chose only you to offer refuge in USA instead of the other 4 doctors who also served in the war zone?Why did USA only choose you & your family to give asylum? What makes you more special than them? All were employed by the State and paid to take care of Sri Lankan citizens.
What was your real role as a child living amongst LTTE where many had to function as Pottu Amman's informant?
This is what your Facebook features
While MOH Kalmunai District in 2006, when doctors refused to be stationed at Eechilampatru hospital (in a small village of 70,000 people located North of Vakarai) because it was under LTTE control, why did you wish to be stationed there?
Is it true that having made contact with NGOs/INGOs/UN Agencies OXFAM ICRC, UNICEF etc you became one of their 'credible reporters'?
Why did you move to Vakarai with the civilians when the army was advancing to Eechilampatru LTTE controlled area? If you were not part of or sympathetic to LTTE, you could have stayed on with the other civilians and patients?
Did you continue to report to INGOs/NGOs & Media while stationed at Vakarai hospital?
If you were just a doctor doing your duties looking after patients, why should EPDP or Karuna Group threaten you?
Was the 12 December 2006 UNICEF report on Vaharai stating that you were the only doctor treating patients for diarrhea and dysentery, as a result of inputs given by you?
Did you decide to leave Vakarai hospital after media broadcast that the hospital was run by LTTE – is this why you contacted the UN agencies & INGOs to inform that the GoSL was about to attack the hospital OMITTING that the hospital was run by LTTE and you were a doctor treating LTTE as well?
Isn't it true that the Govt & Ministry of Health trusted you so much that they requested you to use a white flag and leave the Vakarai hospital concerned for your safety and not even doubting you may be on the side of the LTTE?
When the Ministry of Health reposted you to Trincomalee General Hospital, why did you APPEAL to be posted to Mullaitivu which was under LTTE control?
Is it true that you abused your authority as Regional Director of Health and submitted requests for medical supplies IN EXCESS OF what was required?
Is it also true that you handed these additional supplies to LTTE pharmacy chains and private pharmacies & pocketed the money from commissions?
Isn't it true that you made use of your position to manipulate both the GoSL as well as the LTTE knowing LTTE needed to have you as a doctor to treat LTTE injured as well as keep civilians with them? You were taking advantage of both sides
Is it also true that when GoSL permitted essential drugs to be taken in lorries to uncleared areas you ordered in excess and sold these to LTTE and private pharmacies?
Didn't you think what you were doing was wrong by the poor taxpayers who were paying for all the excess medicines which were sent to North rationing what was sent to other parts of the country?
You knew very well that Sri Lanka was getting internationally cornered for deciding to eliminate the LTTE. You knew very well the restrictions Sri Lankans was facing and yet you only thought of making money.
You present yourself as a hero but you made money from commissions on sale of items paid by the Sri Lankan tax payer
Is this how you accumulated money to buy a luxury jeep imported by former MP Kanagaratnam with his vehicle permit in 2008? Can you explain how you got MILLIONS being a government doctor to buy a luxury imported vehicle?
You started work in 2005 – how did you accumulate 11million (eleven million) to buy a luxury vehicle by 2009 —- in just 4 years?
In the thick of war, you had enough time to think of buying a luxury vehicle!
Is it true that you decided to remain in LTTE controlled area not because of any love for patients but because the LTTE leadership refused to allow you to take your luxury jeep out of Vanni even when you requested to travel in it to Colombo for meeting in January 2009?
Didn't LTTE doubt of your plans to flee with jeep & that was why you were not allowed to take your jeep out of Vanni? LTTE leadership had profiled you correctly.  
Was it not because of your luxury jeep that you made frantic efforts to cross Omanthai as the land route had closed from 14 Jan-23 January 2009 but you had no choice but to stay in Vavuniya Kurumankaadu bungalow & somehow managed to return to Mullaitivu.
All for the love of your jeep and nothing else. How can you present yourself as a 'hero' given these realities?
Is it also not true that when land routes to Vanni got closed from February 2009, you & your luxury jeep was virtually 'trapped' and you had no other choice but to remain in the Vanni?
Was it not you that bloated civilian figures to the international media/INGOs to give an impression that the GoSL was planning to kill them?
Is it not because of your daily lies to the international agencies that their hysteria over civilian killings resulted?
How is it that as soon as you arrive in US, your first visitors are the LTTE lobby and the international players linked to the LTTE lobby? How did they know where you were in the US?
How come you were invited to only pro-LTTE events to deliver speeches in New York, Toronto & Europe.
Who arranged a meeting with a UN Special Representative in New York before you travelled to Geneva for UNHRC? What was the deal?
Were all the allegations against Sri Lanka & Its armed forces a culmination of the liaison with LTTE fronts and the UN entities attempting to prove their allegations were correct. Is this what resulted in the Geneva session statement by you in 2014?
What is your relationship with Human Rights Watch & Channel 4?
How come LTTE fronts are only awarding you with awards for heroism in the war zone? Why are the other doctors excluded?
Is it true you travelled to London to remember LTTE dead – doesn't this remind you of how you as a Student Youth Leader went on hunger strike after LTTE's Thileepan died of hunger strike – you were then just a teenager! 
Who is funding you to travel round the world?
How much do you know about South Africa & apartheid to compare that to Sri Lanka?
How did you strike a relationship with Sooka
Is it you that has provided Sooka with missing/dead LTTE that Sooka lists as civilian missing/dead? Are you taking them for a ride too?
From your Facebook – anyone mourning dead with LTTE flags is mourning DEAD LTTE and not Tamil civilians.
Are you basing your 'Genocide' story on the exaggerated figures you yourself admitted to the international media in July 2009?
How can you expect people to believe you when you keep changing versions of the same story?
What is the credibility you have as a result of your links with LTTE since childhood, aligning with LTTE while working for the State, seeking asylum in exchange for singing for LTTE diaspora?
Have you not sold your soul to the LTTE diaspora who decide what you say, how you say it, when you say it? Is this not torture by another name? Isn't it a torture to have to daily lie and keep alive the lies just to enjoy luxuries? Does that provide any luxury for your mind except torment & torture?
From humble beginnings are you happy for forsaking the country that educated you, that provided you a Mahapola scholarship to become a doctor, that provided you, local and international training, that gave you promotions and never distrusted you even when you were making money bloating medical requirements & selling them for commissions from which you were even able to buy a imported luxury vehicles for millions?
It is we who must press charges against you for violating our human rights, for making us suffer while you enjoyed from what we toiled to earn.
Is this how you repay the state? Is this how you show solidarity with the rest of the citizens? Do you hate our country and our people this much?
Don't you have a guilty conscience for the human rights violations you are committing against the people of Sri Lanka?
This is the real torture for fabricating allegations of physical torture. Mental torture is far more harmful than physical torture, especially knowing you had done wrong by an entire nation & its people in lying to the international community.
You left Sri Lanka and none of us grudged you for leaving to make a new home in another land.
But you left Sri Lanka with intent to harm us by your lies. This is violating our fundamental rights.
Can you sleep at night knowing your lies are impacting an entire nation and its citizens?
You made use of the LTTE, the GoSL, the international community and now you have joined a bandwagon of equally corrupt people taking advantage of the loopholes & manipulating international systems.
Shame, Shame, Shame on all of you.
Shenali D Waduge