Reply to Daily Telegraph UK: Sri Lanka's Landslide victory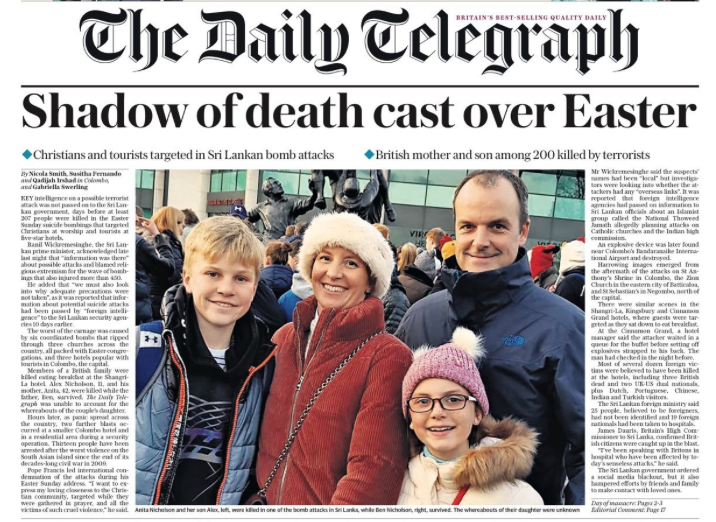 This is in reply to the fearmongering article by Qadirjah Irshad titled "Sri Lanka PM claims landslide victory, strengthening Rajapakse family's hand. The dynasty is accused of corruption & nepotism, and the result has sparked fears among minority groups'.
https://www.telegraph.co.uk/news/2020/08/07/sri-lankan-minorities-fear-difficult-times-ahead-nationalists/
Foreign tabloids enjoy using the freedom of expression to hurl insults & abuse at developing countries & their leaders but they completely forget that in their countries where people hardly go to vote, Sri Lanka has a very healthy history of people casting their vote and it is based on the People's choice that a Parliament or President gets elected. So the whiners can whine but the elected are by democratic choice. It is the democratic right for anyone to contest elections and it is the democratic will of the voters who decides who they elect.
How Sri Lanka's democracy or Parliament functions is a matter for the Sri Lankan citizens to decide and others do not need to split hairs worrying over that.
Over 12million Sri Lankan voters went to elect a new Parliament and the Sri Lanka Podujana Peramuna won with 6.8million voters voting for them (59%)
The runners up the Samagi Jana Balawega got only 2.7m votes (23%)
Clearly it was a landslide election.
Why should this author feel minorities are in fear when even minorities voted for SLPP?
In Jaffna, North Sri Lanka SLFP got 49,373 votes which is excellent considering the Tamil National Alliance got only 112,967 votes. (394,136 total polled)
In Vanni district, North Sri Lanka, ITAK (another constituent party of the TNA) got 69,916 votes while the winning SLPP got 42,524 votes.
Incidentally, UNP got only 1316 votes! (224,856 total polled)
The only people targeted in the recent past were by some Islamic terrorists who wanted to blow up people and killed close to 300 innocent people on Easter Sunday breaking the decade of peace Sri Lanka experienced since the elimination of the LTTE terrorists in May 2009.
There is a major difference in 'alleged' and found guilty. Tony Blair is an alleged war criminal but he's happily going about his affairs! UK is also under much scrutiny for its role in Iraq & Afghanistan. By the way Katie Hopkins says there is no freedom of speech in UK. Now isn't that a concern for this author or does UK media have all the freedom to write against other countries only! https://youtu.be/6WyRdz1Ix64
UK and US are in no position to preach to Sri Lanka about covid-19 or handling of covid-19 as the statistics speak for themselves.
The author next alleges that the President of Sri Lanka since getting elected has spearheaded a 'campaign of fear' – who are the opposition lawyers, activists, journalists targeted & who are earmarked for arrests, intimidation & threats.
Is this meant to be like some by-line paragraph with an objective to get repeated with every foreign media communique? If any campaign of fear is taking place it is by these journalists who love to drop liners and think they've done their media owners proud! It would really help if any allegations can be supported with evidence and proof.
The author, in quoting Human Rights Watch is obviously hinting at the arrest of a Muslim lawyer. There is quite a lot of international lobbying for his release.
What needs to be clearly understood is that the arrest is connected to the 21/4 Easter Sunday mass murder & has nothing to do with the lawyer being denied rights to carry out professional duties as the International Bar Associations Human Rights Institute implies. The police & Registrar of the Supreme Court informs the Sri Lanka Bar Association in April 2020 in writing giving reasons for arrest & detention with prima facie evidence against him. How fair is to pervert the course of justice by writing petitions & lobbying without allowing the Courts & law enforcements to complete their investigations? How fair is it to dilute the arrest by deploying propaganda to project notion that the arrest was because he was a Muslim, a minority etc completely ignoring the evidence that was the basis for arrest? Should HRW consider the human rights of the victims of Easter Sunday 46 of whom were foreigners including British nationals? No one is above the law and no lawyer is above the law as well.  Allow the police to prove the arrested lawyer was part of the Easter Sunday plot. Defend him in court but it is incorrect to demand his release simply because he is a lawyer. This is a very specious argument.
It is unfair by the victims who have died, the victims who are injured and the victim families who continue to mourn their dead. Did one of these lawyers writing petitions even consider to appear on behalf of them for legal issues that may require legal attention? No lawyer can be afforded preferential treatment simply because he is a lawyer. It is wrong of HRW and other lobbyists to ignore the victims & canvass for the arrest of a person allegedly connected with the crime. "Not only must Justice be done; it must also be seen to be done".
Elections now over, the Sri Lankan public are looking forward to moving on. It would really help if third party sources just stick to reporting without indulging in distortions and fear mongering.
It would be good for the Daily Telegraph editors to double check the validity of these allegations made instead of allowing journalists to run riot with stories sans facts! Nit-picking one or two cases and blowing it up into some island-wide panic situation is really unprofessional and unethical journalism.
Shenali D Waduge