Sri Lanka Govt is clueless about gazetted ACTS: Ownership deed for State land not required for bank loans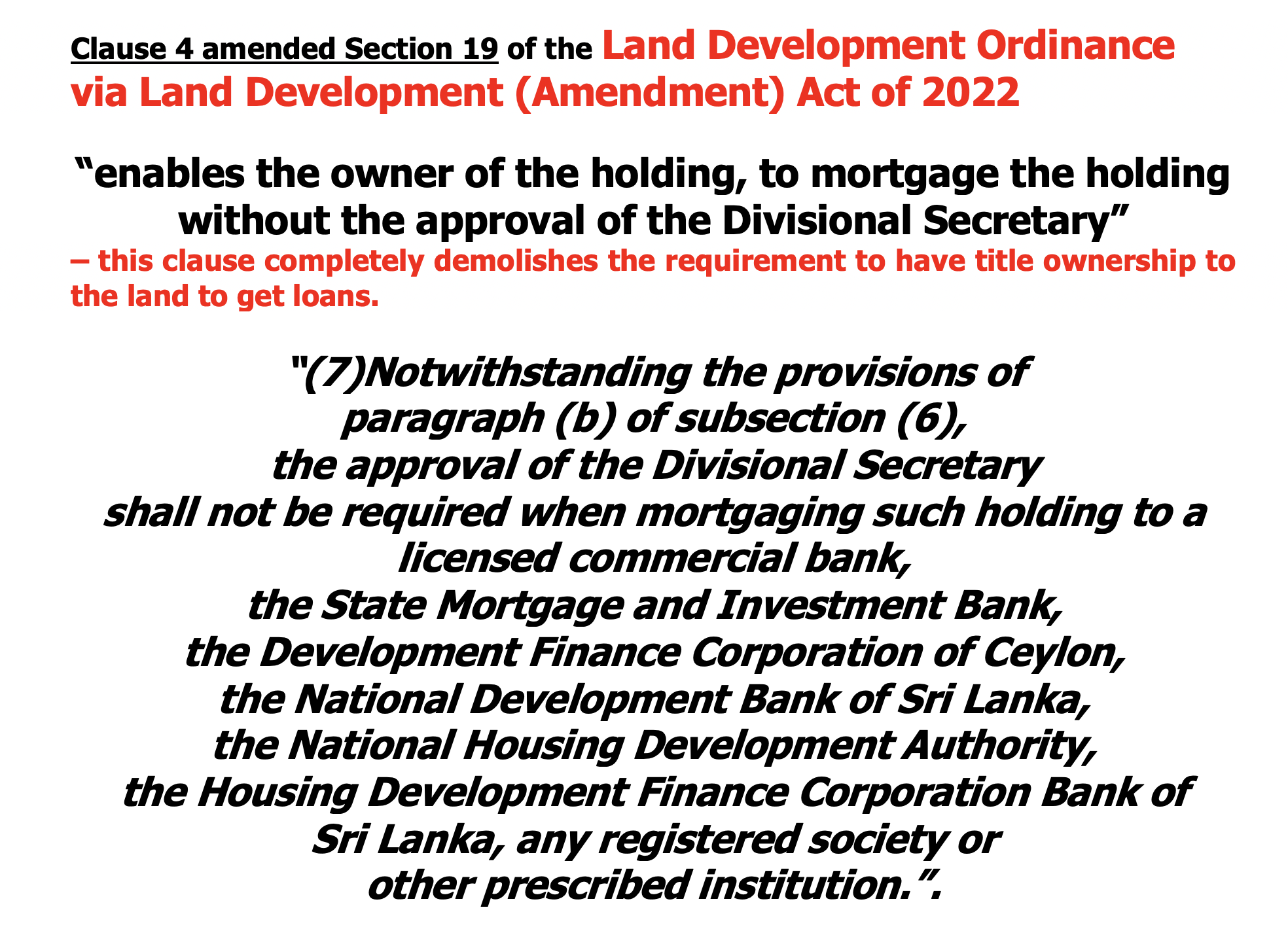 The caretaker Prime Minister in Parliament made an emotional appeal showing his concern for farmers in these trying times who could not obtain loans because they did not have title ownership to the State land leased to them. His solution was to give full ownership to those on state land. Besides the long-term implications, the Principle of Public Trust being broken by the govt arises as govts are only custodian of the land & resources & cannot be giving ownership to anyone. If the PM had been made aware of the Act enacted on 21 January 2022, he would have known that no one requires to have land ownership to get a bank loan, thus there is no necessity to violate the Public Trust doctrine by dishing out title ownership for State land. The only outcome from doing so would only lead to selling a state land & this piece of land being removed from its historical role of being used to cultivate. However, if a farmer wishes to give up farming, then the Govt must retake the land & give it to another farmer who wishes to do so. This does not require land ownership except to transfer lease.
The Bill (No 103) to amend the Land Development Ordinance of 1935 was published on 27 December 2021 and Act was passed on 21 January 2022.
Land Development (Amendment) Act of 2022
Title of Land Commissioner was substituted with Commissioner General of Lands
Clause 4 amended Section 19 of the Land Development Ordinance
via Land Development (Amendment) Act of 2022
"enables the owner of the holding, to mortgage the holding without the approval of the Divisional Secretary"
– this clause completely demolishes the requirement to have title ownership to the land to get loans.
"(7)Notwithstanding the provisions of
paragraph (b) of subsection (6),
the approval of the Divisional Secretary
shall not be required when mortgaging such holding to a licensed commercial bank,
the State Mortgage and Investment Bank,
the Development Finance Corporation of Ceylon,
the National Development Bank of Sri Lanka,
the National Housing Development Authority,
the Housing Development Finance Corporation Bank of
Sri Lanka, any registered society or
other prescribed institution.".
Clause 5 requires surveying of land to issue a grant
Clause 8 allows the President to cancel the grant if false information had been given
Failure of succession if no person is lawfully entitled to succeed or no person entitled is unwilling to succeed the land
Grant obtained fraudulently on false information or grant issued to a person other than the legitimate occupant.
State land that has not been surveyed by the Surveyor-General shall not be alienated by a grant. Plan by Survey-General's dept has to be attached to each grant
Rules are set out to decide or select successor to the land
Children (can also include a child adopted by law)
Grand Children
Parents
Siblings
Uncles and Aunts
Nephews and Nieces
Relatives are by blood or adoption and not by marriage
It is important to note that State land is being converted to Bim Saviya as a dual objective of this exercise in surveying land for mortgaging purpose.
Torrens Law (Bim Saviya) does not allow co-ownership, which means that after surveying land, the successor to the main permit holder goes only to one member of the family and it continues within his family. (similar to the Royal family succession) There is a provision for the Divisional Secretary to decide on who shall hold title to the land as well.
Succession is also considered & given preference to the person who developed the land & not necessarily the older person in the hierarchy. This is applicable if 2 persons are claiming succession.
Why is the PM trying to bring new Acts, when there is already an Act passed in January 2022 enabling lease land permit holders to obtain loans from State Banks as well as Private Banks & even financial institutions.
Shenali D Waduge