Sri Lanka's Easter Sunday – An International Investigation was done.
Easter Sunday murders took place on 21 April 2019. 269 innocent people died & over 500 were left injured. Immediately following the attacks at least 6 countries came forward to assist Sri Lanka in investigations. Their foreign intel agencies arrived to help carry out investigations. The FBI, Australian Federal Police, UK's Scotland Yard, New Zealand police, Danish Police Dutch Police, Japan police & Interpol. More than 23,000 charges have been filed against the suspects & 1215 witnesses have been called to testify. Those ignorantly calling for "international investigations" are either clueless that numerous foreign intel agencies landed to help investigations & have already concluded their reports & have concluded that the culprits were ISIS. Therefore, if Cardinal or anyone else wishes to believe anything to the contrary, they must write to these intel agencies and challenge their findings & produce counter evidence instead of paying an agency that airs paid documentaries & witnesses willing to say anyting to gain asylum.
INTERPOL even congratuatled former President Sirisena in August 2019
https://www.defence.lk/Article/view_article/480 – 27 Aug 2019
INTERPOL Secretary General Jurgen Stock praised steps taken by President Sirisena, the Minister of Defense, Sri Lanka Police, Intel services to apprehend the criminals responsible for Easter Sunday & presented President Sirisena an INTERPOL Medal at the President's Office.  In 2023, former President Sirisena had to pay Rs.100m compensation to the victims of Easter Sunday.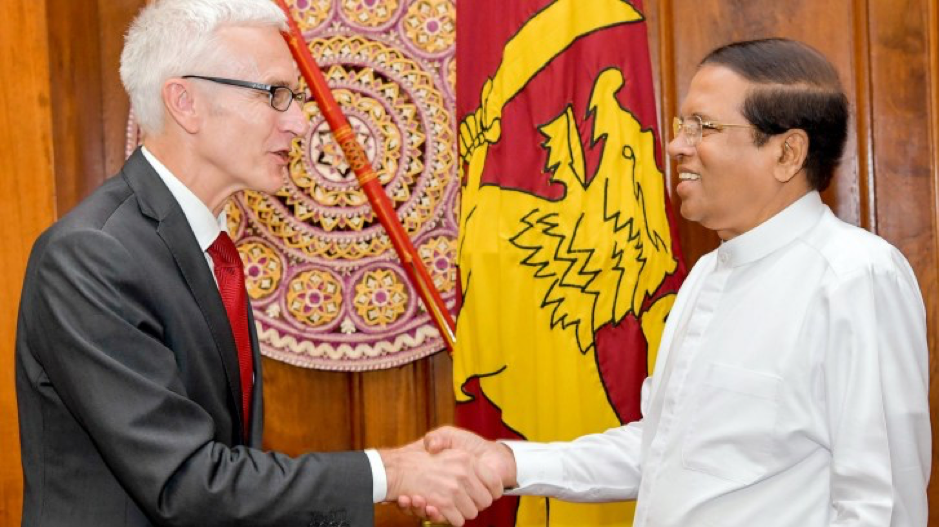 https://economynext.com/fbi-confirmed-maulavi-naufar-masterminded-sri-lanka-easter-attacks-minister-82120/
In May 2021, America's FBI confirmed Maulavi Mohamed Naufer as mastermind of Sri Lanka's 2019 Easter Sunday bombings claimed then Minister of Public Security Sarath Weerasekera in Parliament.
https://colombogazette.com/2022/09/11/scotland-yard-assistance-sought-to-review-reports-on-easter-attack/
In September 2022 – Interim President Ranil sought assistance of Scotland Yard to review reports on the Easter Sunday to look into hidden hands in the killings.
https://www.adaderana.lk/news.php?nid=55868
The Australian Federal Police sent over 20 officers to Sri Lanka after the Easter Sunday bombings in what was said to be one of the largest overseas deployments. These officers included intelligence officers, technical specialists, forensic teams. AFP Deputy Commissioner National Security Leanne Close said during the course of their investigation the Sri Lankan National Police acquired about 70TB of data, the equivalent of hundreds of millions of photos.
"(We used) some of our technical expertise in how we uncover data, work with calls, who's made calls to whom, looking at some of the financial transactions, linking people of interest who may have been integral to the conspiracy around the bomb-making and subsequently, and ultimately, the actual actions on the day," Ms Close told The Australian.
https://www.dailymirror.lk/plus/What-will-the-US-FBI-and-Australian-Federal-Police-investigate-in-Sri-Lanka/352-214578  in June 2021 the Daily Mirror asked a poignant question – What will the US FBI and Australian Federal Police investigate in Sri Lanka?
When Sri Lankan lawyers, officers of the Court do not have access to police investigations except when police files reports of investigations in Courts, how can foreign police personnel look into files with police?
The legality of international investigators in local investigations emerged. Under Sri Lankan law it was illegal as foreign personnel are not accountable & not subject to the jurisdiction of Sri Lankan Courts. One of the reasons for the draft Counter Terrorism Act to be opposed was the provision for foreign interventions in local criminal investigations.
https://www.transparency.gov.au/annual-reports/australian-federal-police/reporting-year/2018-2019-20 – synopsis of Australia's Police report.
https://www.southasiamonitor.org/sri-lanka/fbi-confirms-sri-lankan-findings-maulavi-naufar-was-mastermind-easter-bombings
In May 2021, the FBI confirmed Maulavi Naufer as mastermind of Easter bombings.
https://www.state.gov/reports/country-reports-on-terrorism-2019/sri-lanka/ The US Country Report on Terrorism in Sri Lanka 2019 states "ISIS-inspired terrorists conducted a series of suicide attacks against churches and hotels across Sri Lanka on Easter Day, resulting in hundreds of casualties.  Then ISIS leader Abu Bakr al-Baghdadi publicly praised the attacks"
https://www.justice.gov/opa/pr/three-foreign-nationals-charged-conspiring-provide-material-support-isis
On 8 January 2021, FBI charged 3 Sri Lankans with conspiring to provide material support to ISIS.
"The men were part of a group of ISIS supporters which called itself "ISIS in Sri Lanka."  That group is responsible for the 2019 Easter attacks in the South Asian nation of Sri Lanka, which killed 268 people, including five U.S. citizens"
"Two days after the attacks, ISIS claimed credit for the terrorist acts, attributing the murders to "Islamic State fighters."  In late April 2019, the then-leader of ISIS praised the attackers for what he called a retaliation against "the West" for defeating ISIS the prior month in Baghuz, Syria"
"ISIS's Easter attacks in Sri Lanka killed 268 people, including five Americans, many while they worshiped," said Assistant Attorney General for National Security John C. Demers.  "Today, we charge these defendants with bearing their share of the responsibility for these deaths."  
The three defendants named in the criminal complaint, all of whom pledged allegiance to ISIS, are:
Mohamed Naufar, the "second emir" for the group of ISIS supporters that called itself "ISIS in Sri Lanka," who allegedly led the group's propaganda efforts, recruited others to join ISIS, and led a series of multi-day military-type trainings;
Mohamed Anwar Mohamed Riskan, who allegedly helped manufacture the IEDs used in the Easter Attacks; and
Ahamed Milhan Hayathu Moahmed, who allegedly executed a police officer in order to obtain the officer's firearm, shot a suspected informant, and scouted a location for a separate terrorist attack.
So what is Cardinal & the Church upto in annually changing their slogans from international conspiracy, to political conspiracy, to great plot to grand plot. Clearly, international investigations have been done and reports already issued. If the Cardinal has anything else to produce he must present these as facts and not as bogus asylum seekers attempting breaking news through paid documentaries. Before that Cardinal must first present FBI and other intel reports as false.
The Sri Lankan Govt should not be foolish to dance to Cardinals tantrums and also realize that international intel agencies were present they were given or took vital evidence and they compiled their reports. If these reports do not fit into the version Cardinal wants to believe, too bad, he has to come up with facts not fiction.
Shenali D Waduge