Did India play a lead role in July 1983 riots & April 21st 2019 Easter Sunday to create an 'ethnic' issue?
At some time or the other this question will have to be answered. At present it remains a big question just as the role of the UNP in both events. Ironically, UNP ruled when both of these horrendous attacks took place. Providing a clue however, is the arrest of an Indian attempting to destroy a Buddha statue in Kuliyapitiya. We know that the spate of attacks on Buddhist sites became a precursor to the Easter Sunday attack. Until the identity of the Kuliyapitiya attacker was identified in all probability the blame would have fallen on the minorities. This was the obvious modus operandi in 1983, 2019 and now 2020. We must all now be alert to what other surprises are in store. Citizens are required to read between the lines at all times during any forthcoming incidents. Let's hope the arrested Indian doesn't turn up declared 'insane', released and allowed to return to India! Ironically an Indian arrested in connection with an assassination attempt prior to 21/4 was released citing him to be a madman!
Who gained by July1983? Who gained by Easter Sunday attacks?
When JR Jayawardena became the 1stExecutive President of Sri Lanka in 1978, he thought himself the Yankees choice for Asia. India was titled towards Russia following a closed economy. Whether JRJ's rants against India's PM was the raison d'etre for deciding to destabilize Sri Lanka is just one angle to the story. Obviously, terrorism was to become a key game changer in Asia. Let us not forget that Osama bin Laden was heavily involved in Afghanistan on behalf of the US round about this same period and Pakistan was also drawn in. The LTTE links to Palestine groups has to be also be noted. The numerous trips to the Middle East and arms deals as well. How far the UNP politicians also played a role can only be guessed as they are all now dead except one!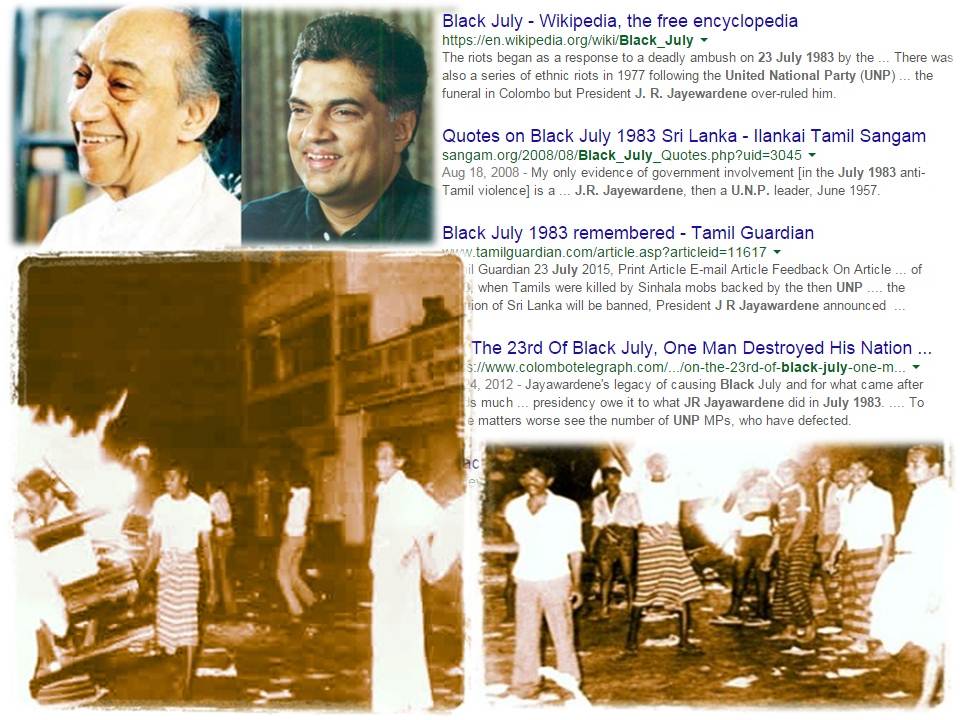 Sri Lanka's military and intel was not as strong or efficient as it is today. N Q Dias foreign minister to Mrs B wished to secure Sri Lanka's territory from illegal Indian invasions by setting up military camps which were all removed by JRJ once coming to power. It became a piece of cake to lure unemployed Tamil youth to India with the dream of becoming freedom fighters and carving out a separate Tamil Eelam state. The British ensured they had dropped the first poison into the heads of Tamil politicians by allowing 50-50 demand but rejecting it, the formation of ITAK in 1949, the opposition to "SRI" on car plates leading to the 1976 Vaddukoddai Resolution but not before sounding the first casualty by gun in 1975 with the assassination of Alfred Duraiappah. It was nothing but a warning to all Tamils – 'either you toe the line or find yourself dead'.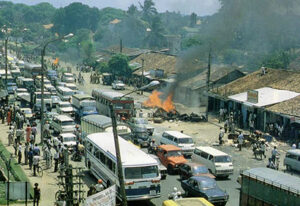 Whether the JRJ Govt & intel knew or not, but subsequent interim Jain Commission report following the assassination of PM Rajiv Gandhi, revealed the training camps in India, the number of Tamil males & females trained, around 35 Sri Lankan Tamil groups under various names that underwent training by Indian RAW and former army officers. Had this happened in today's context India would be declared a state sponsor of terrorism! The affidavits revealed much too.
That these were happening in secret and away from Sri Lanka required a reason for these militants to come into the open and a reason to justify militancy and a theme on which they could galvanize international support and create a funding source to support them. July 1983 was that incident.How far UNP were aware of the bigger plot or were coerced into playing a role remains unknown. But definitely, the plan was to attack only selected Tamil areas while protecting the Tamil rich friends and executed in such a way to create the international attention required to bring out the secretly trained armed Tamil groups in India to the open.
LTTE became the leader of these groups and killed off most of the leaders to eventually hijack the separatist cause which India used to its advantage until India planned phase 2 which required the elimination of LTTE. Note how without any reason Sornam goes & closes the Mavil Aru anicut and Indian agents in the then Govt demanded military intervention by going on a march, triggering action by President Mahinda Rajapakse. The rest is now history. LTTE and India created Tamil militancy birthed by India was aborted covertly by India. India has made headway, opened offices all over Sri Lanka, is demanding larger stakes & now wants to even have a political party "Sri Lanka Bhaarathiya Janatha Party' contesting in Sri Lanka. This is like the return of the IPKF in political suits. Modi is already calling Sri Lankan Tamil citizens as 'our brothers & sisters'.
In July 2017 Ranil Wickremasinghe did the unthinkable. He signed Hambantota Port to China. This was akin to Rajapakse allowing Chinese submarines into Sri Lanka in 2014. US Secretary of State John Kerry flew to Delhi in August 2014 & Modi visited India in September 2014. Both then masterminded 2015 regime change in Sri Lanka.
In January 2004, the US and India launched the "Next Steps in Strategic Partnership" (NSSP) US & India signed a 10 year defense framework agreement in 2005 (lapsed in 2015) as well as the Open Skies Agreement. In 2010 that US-India re-engaged the US-India Strategic Dialogue declaring India as an 'indispensable partner and a trusted friend'
By 2017, most of what regime change operators wanted out of Sri Lanka was complete. Sri Lanka had co-sponsored the Geneva Resolution agreeing to scores of internal intrusions by sponsor states. Western officials were virtually inside Temple Trees ordering how the country was to be ruled. MCC was being rolled out with land registries being opened to these officials and changes happening bringing shockwaves to patriotic people of Sri Lanka.
With India partnering QUAD and becoming America's key ally in the Indian Asian Ocean, the dirty work to destabilize India's neighbors was again outsourced to India. Recall how India trained Sri Lankan Tamil youth in late 1970s and early 1980s – this time Kerala became the opted venue. Notice the rise in Muslim population in Kerala and the growing radicalism. India would be the best to give the number of times Zaharan Hashim the head suicide bomber traveled to India for mentoring. Interestingly enough, there is more about Zaharan Hashim in Indian media than the Sri Lankan media reports! https://www.bbc.com/news/world-asia-india-48619974what happened to him?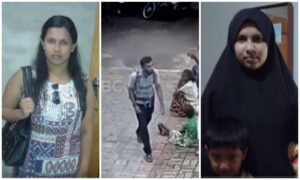 Note too that 'Sara' or Pulastini (Tamil) the wife of the Katuwapitiya church suicide bomber fled to India and even India was never bothered to search & extradite her.
https://southasiamonitor.org/index.php/sri-lanka/sri-lankan-security-agencies-received-97-warnings-easter-sunday-attacks
It was on 4thApril 2019, that Indian intel sounded the first warning of a suicide attack, thereafter 97 such warnings had been issued. Surely, they could have easily published the warning on social media if they really wanted to stop it knowing that Sri Lanka's govt or intel agencies were not taking action!
Clearly Zaharan was no mastermind – what mastermind goes and commits suicide. So the question remains who are the real masterminds of Easter Sunday aiming to create another 'ethnic' friction. The fact that 5000 swords were also imported and stored in mosques and homes was another clue to what was expected to ensue. The media reports completely turning the victims from the Church/Hotels to Muslims being unfairly targeted looks to be also part of the plot! The fact that Sinhalese Buddhists were quoted as victimizing Muslims was also plugged in to provide additional flavor!
Surely India knew about Zaharan's interactions with Muslim extremist groups in Malappuram (Kerala), Coimbatore, Trichy, Thirunelvely, Vellore, Nagapattam, Kannyakumari, Ramanathapuram (Tamil Nadu). It was in India that Zaharan was turned into an Islamic fundamentalist, just like Tamil youth from Sri Lanka were turned into militants by India.
It is now clear that July 1983 by India was to nurture hatred among Tamils against Sinhalese & vice versa while the encouragement of new Islamic fundamentalist cultures & habits were also to create ill-will between Sinhalese & Muslims while also encouraging Muslims to provoke the Sinhalese. Thus all the anti-Tamil / anti-Muslim / anti-Sinhalese events have all been choreographed by India/Quad.
While India infused Sri Lankan Tamils to demand a separate state advantageous to India (and now to Quad), we are still guessing as to the real objective of the jihadi terror by India/Quad across Sri Lanka?Or is it because Jihadi Terror automatically enables R2P War on Terror and to invade Sri Lanka on the ruse of 'eliminating Islamic terror'? Is this the bigger plan? The immediate linking to ISIS was a dead giveaway! Note also papers written about a pan-Islamic project! One thing is for sure – whatever commissions appointed, we will never know the truth. We continue to guess about July83 & the same will apply to Easter Sunday!
Sri Lanka is not connecting the dots – India given Palaly airport, India developing Kankasanthurai Harbor, India is pushing to recommence ferry service from Dhanushkodi, India to Sri Lanka, India is also mooting a road from Mannar to Trinco, India also wants to start an undersea power supply to Sri Lanka, while India is eternally have electricity breakdowns. Other than the Indian High Commission, India has consulates in Jaffna, Kandy, Galle, Matara, Hambantoa and India has been demanding Mattala Airport. Culturally imposing on Sri Lanka is the promotion of the Ramayana Trail while annually effigy of Ravana is still burnt in India! From bajaj to tea plantations, to wholesale, retail even to easy transport of illegally smuggled items into Sri Lanka, India exerts much pressure over Sri Lanka through many soft power methods.
India may think it can continue to destabilize Sri Lanka at will, without realizing what's in store for India.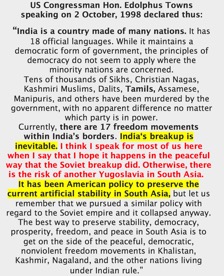 While we are complaining about BJP forming a party in Sri Lanka, the UK is busy making inroads into India not to mention the foreign-government funded evangelical movements converting even Sikhs in Punjab. Entire villages have been successfully converted. Bob Blackman is the Chairman of the All-Party-Parliamentary Group for Sri Lankan Muslim Organizations UK and he is also chair of the All Party Parliamentary Group (APPG) on British Hindus. Bob is also head of the All Party Britain-Israel Parliamentary Group too.
Bob is a busy man – advocating for Hindus, Muslims & Jews!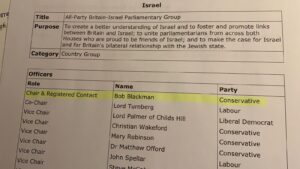 https://www.bobblackman.org.uk/news/bob-re-elected-chair-appg-sri-lankan-muslim-organisations-uk
https://www.freepressjournal.in/world/who-is-bob-blackman-the-friend-of-india-who-was-just-re-elected-in-the-uk
https://twitter.com/scukofficial/status/1358542058617774093?s=21
Now look at how Sikhs are cozying up to the Tamil Eelam cause and the Sikh mouthpieces supporting pro-LTTE fronts even in Canada. The Khalistan dream remains alive even in 2021 & all that realization needs is some foreign backing!
https://www.thehindu.com/news/national/other-states/will-accept-if-govt-offers-khalistan-akal-takht-chief-priest/article31768078.ece
These are all likely to be nemesis for the sorrows brought upon other nations that have done no harm. Only time will tell. Inpite of the harm done to Sri Lanka, we have warned India to be prepared that balkanizing of India is very much on the cards!
Shenali D Waduge