Did Sri Lanka's President ban chemical fertilizer on advice of Indian ecologist Vandana Shiva?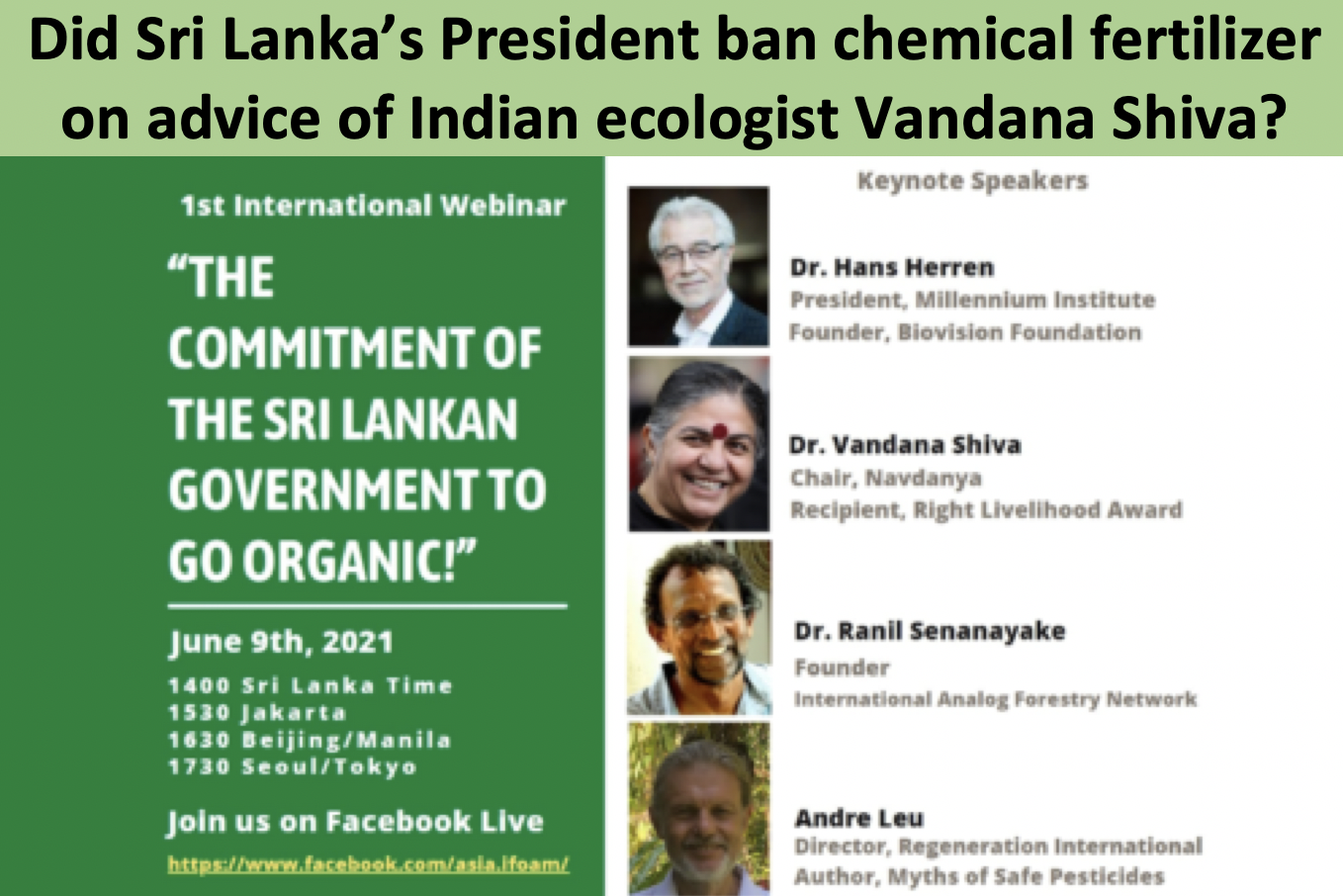 In April 2021, Sri Lanka's President Gotabaya Rajapakse banned chemical fertilizer. The decision was sudden & no one really knew who advised the President. It now emerges that the President was advised by none other than Indian ecologist Vandana Shiva. As a result paddy crop failed resulting in retail price of rice increasing by 30% and tea production falling by 40%. However, anyone can give advice, but it has to be taken pragmatically. Nevertheless, we must wonder if this was part of the political & economic collapse of Sri Lanka. Therefore not just the President but all those that nodded their heads & gave a thumbs to the ban up must be held accountable. The decision was far more than stopping use of chemicals in one's home garden. Who introduced Vandana Shiva & her organization Navdanya International to the President?
Vandana Shiva hailed the decision by President Gotabaya Rajapakse in her website.
https://navdanyainternational.org/calendar/the-commitment-of-the-sri-lankan-government-to-go-organic/Vandana Shiva's Navdanya International website.
Sunday Observer interviewed Vandana Shiva: Organic Farming the Only Way Out – 31 Oct 2021 https://www.sundayobserver.lk/2021/10/31/spectrum/organic-farming-only-way-out
Dr. Ranil Senanayake is also a member of Vandana Shiva's organization called the ban on fertilizer "A brave, futuristic move that requires balancing science with tradition" https://www.themorning.lk/a-brave-futuristic-move-that-requires-balancing-science-with-tradition/
On 11 April 2022 Dr. Monica Verma of the South Asian University writing to an online journal alludes to President Rajapakse's election manifesto that outlined the transition to organic farming across 10 years. Therefore, it was a shock to many why in April 2021 he would announce a total ban on the import of chemical fertilizers & agrochemicals. While one of the reasons to ban imports was Sri Lanka's forex situation, the blanket ban resulted in farmer protests primarily from lack of preparedness by parties concerned & price increases. Eventually by November 2021 the ban had to be revoked.
In June 2022 Soumya Bhowmick from the Observer Research Foundation too alleges Vandana Shiva to be the architect of the agri-fiasco in Sri Lanka causing the political and economic collapse of Sri Lanka.
Sanjeev Sabhlok's blog gives a detailed account of why Vandana Shiva is to blame
https://www.sabhlokcity.com/2022/01/vandana-shivas-involvement-in-sri-lankas-attempt-to-massacre-its-own-people/
Twitters by Channa Prakash also openly faults Vandana Shiva for Sri Lanka's agriculture fiasco – https://twitter.com/AgBioWorld
In November 2021, the ban was lifted following the backlash from the industry due to reduced productivity, soaring inflation, and therefore continuous protests to abandon the policy. Despite this step, the country experienced a sharp increase in prices for all commodities, as farmers were unable to access imported fertiliser due to dwindling forex reserves.
In response, India, delivered 100 tons of Nano Nitrogen liquid fertiliser to Sri Lanka. However,
The fertilizer ban impacted 2million farmers in Sri Lanka
Domestic rice production fell by 20% in 6 months
Sri Lanka forced to import $450m worth rice
Price of rice increased by almost 50%
Sri Lanka tea crop was impacted – a primary source of foreign exchange losing $425m – Sri Lanka is the world's 4th largest tea exporter & makes up 70% of export earnings.Sri Lanka's tea production is larger than the world's organic tea market.
November 2021 – fertilizer ban revoked
GoSL offered $200m to farmers as direct compensation & additional $149m in price subsidies to rice farmers
By 2020 total cost of fertilizer imports & subsidies was $500m annually (importing fertilizer is expensive but importing rice is more expensive)
FoodTank is an advocacy group funded by Rockefeller Foundation promoting phased-out chemical fertilizers & subsidies in Sri Lanka – is also silent on the disastrous situation in Sri Lanka. https://foodtank.com/news/2022/04/rockefeller-foundation-new-good-food-strategy/
FoodTank was involved in Sri Lanka in 2016 advising President Maithripala Sirisena https://foodtank.com/news/tag/sri-lanka/
Vandana Shiva herself has gone mute.
China has been unfairly blamed for the 'debt-trap' in a much hyped global propaganda with even renowned economists joining in the fray when in reality China only holds only 10% of Sri Lanka's debt. By the time this realization comes home, citizens of Sri Lanka have been made to believe China is to blame.
The primary reason for Sri Lankan citizens to fall prey to misinformation & disinformation is their own inability or lethargy to find out for themselves where things went wrong, why, how & who are responsible instead of simply accepting floating stories that are often with manipulative intentions in mind.
The whole country blamed the President believing it to be his sole decision, however, it emerges that it is the advice given by a renowned ecologist. Was it deliberate and part of the overall plan to destabilize Sri Lanka politically & economically is anyone's guess but what is clear is that successive issues and debacles converged together to bring about the downfall – how far these were planned, by whom and why is for us to find out.
A lesson for all leaders is to take advice by correct advisors but never really only on their advice but to even take several advice and thereafter take an informed decision after balancing the pros and cons and charting out how to deal with these pros & cons too.
Shenali D Waduge