GOSL: We demand action against Vaddukoddai Resolution for separatism & ban on LTTE insignia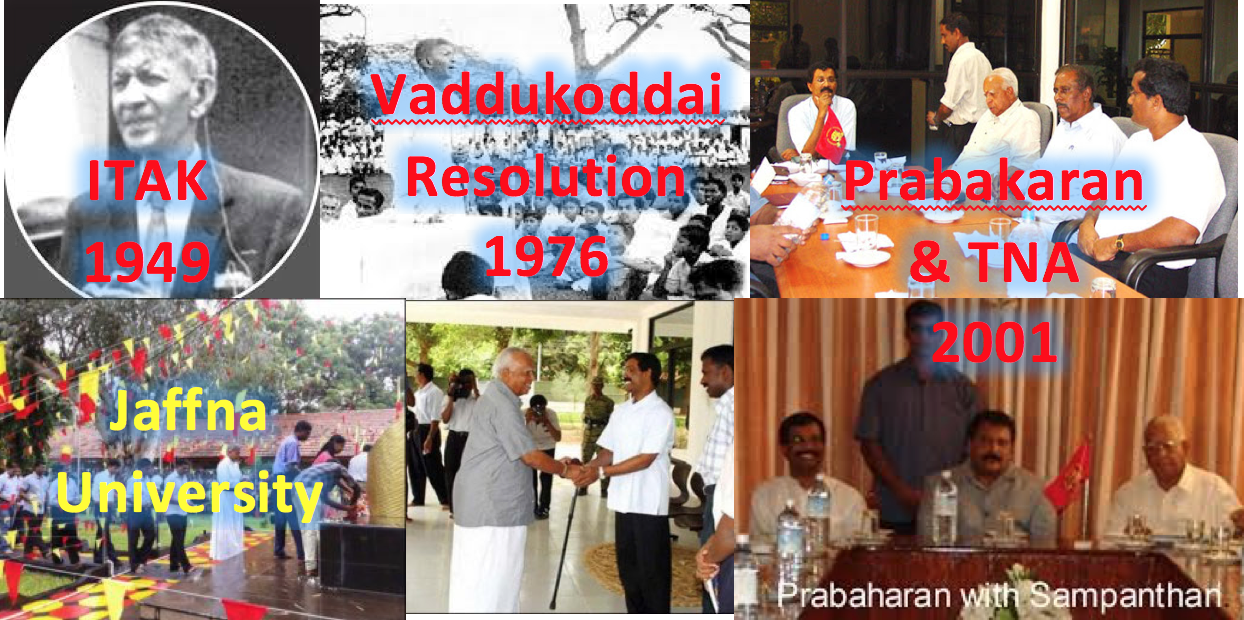 GoSL cannot pooh pooh the issue any longer. We have on the one hand a terrorist group continuing efforts to revive terrorism & we have another set of Tamil politicians who wish to separate Sri Lanka. The LTTE & Tamil politicians are tied by the quest for the same objective of a separate state but both deploying different tactics. LTTE used terror – Tamil politicians are attempting to do via political compromises. The GoSL has to legally stop both. If the Liberation Tigers of Tamil Eelam is banned in Sri Lanka as well as 32 other countries, that ban cannot be just on paper. Action must be taken against anyone using all insignia associated with the LTTE (emblems, flags etc) The 2020 General Election is seeing the TNA unashamedly displaying the LTTE Tamil Eelam Map. What has the Election Commission done about this? What is the GoSL going to do about this? The situation is made complicated because LTTE hijacked the demands first placed by Tamil leaders, therefore the GoSL must also take legal action against Vaddukodai Resolution, the basis for a separate Tamil state by Tamil politicians. Sri Lanka's 6thamendment clearly negates any action by individuals or groups to separate Sri Lanka therefore no political party can espouse to separate Sri Lanka while LTTE ban clearly allows action to be taken by GoSL against anyone using LTTE insignia. The GoSL must give the Attorney General's department a deadline to frame necessary legal action regarding LTTE promoters as well as Tamil politicians espousing separatism of Sri Lanka & promoting LTTE as well.
TAKE ACTION AGAINST TAMIL POLITICIANS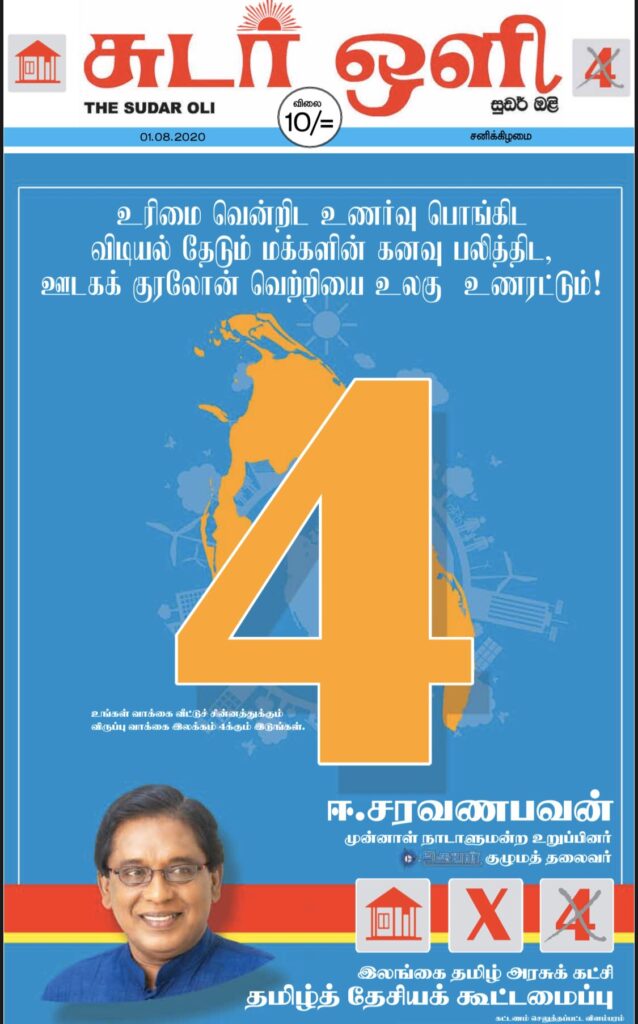 TNA parades Tamil Eelam maps and LTTE links as campaigning draws to a close
https://www.tamilguardian.com/content/tna-parades-tamil-eelam-maps-and-ltte-links-campaigning-draws-close
Not stopping there, the LTTE foreign communiques are asking Tamils to vote for a particular Tamil candidate – the former Supreme Court judge Wigneswaran
GoSL cannot allow promise of separatism as assurance for votes.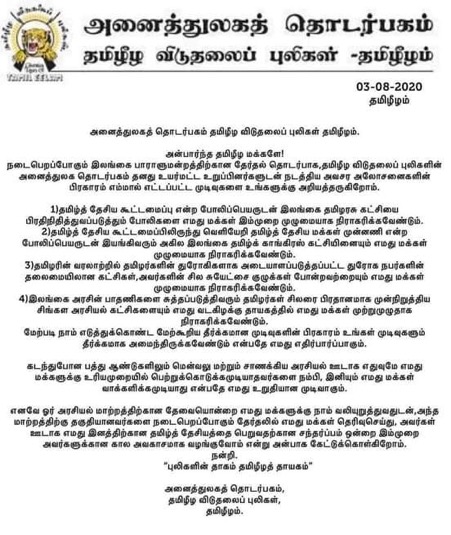 It was the Tamil politicians and NOT the LTTE that first promoted a separate Tamil State.
The 1976 Vaddukoddai Resolution became the first public statement. This single Resolution rallies Tamil politicians and envelopes Tamils to a cause that is alienating them from assimilating with the majority.
The Vaddukoddai Resolution was hurriedly resurrected again in 2008 (before fall of LTTE) by ITAK who was a signatory of the 1976 TULF's Vaddokoddai Resolution. ITAK amending its 1949 original constitution by endorsing the Vaddukoddai Resolution for a 'sovereign socialist state of Tamil Eelam' & then replacing "Shamashthi" with "Innaipatchchi" in 2008. This signals that ITAK's aim is to fulfill the TULF's Vaddukoddai Resolution for "Tamil Eelam".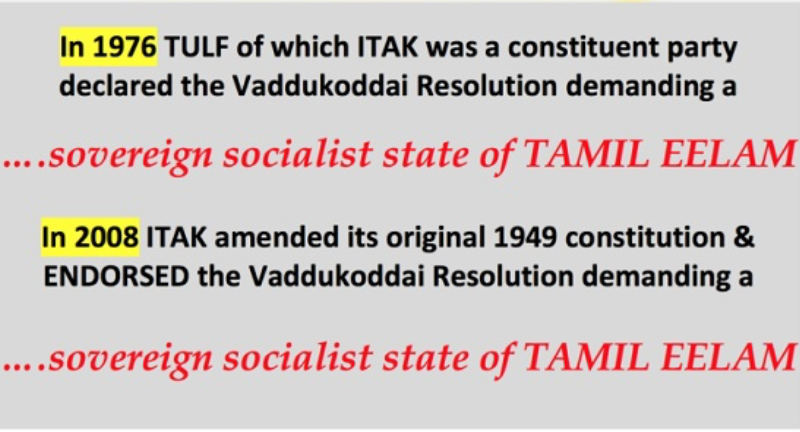 If ITAK formed in 1949 as Federal Party used 'shamasthi' to connote federalism, why did ITAK decide to replace 'Shamasthi' (Federalism) is "Innaipatchchi" in 2008? The simple answer is that Innaipatchchi means confederalism/confederal/federation – but not federal. The ITAK demands since fall of LTTE has been aligned to a confederal set up of power-sharing. Sumanthiran explains the objective
https://www.facebook.com/senaka.rajapakse/videos/10215483270588656/UzpfSTEwMDAyNDc3Mjg5MzQ5MjozMjEzMTYyMTIwMzc0NzM/?q=sumanthiran%20federal&epa=SEARCH_BOX
Clause 17 (D) of the 1949 ITAK Constitution amended by ITAK in 2008. 
"The General Committee of the Illangai Tamil Arasu Kadchi decided on 24.04.2008 and 03.08.2008 to approve all resolutions and actions taken by the Tamil United Liberation Front (TULF) and the Illankai Tamil Arasu Kadchi from 14 May 1976".
It was immediately afterwards that a flood of LTTE fronts started forming themselves when the likelihood of Prabakaran & LTTE being eliminated was clear. Just as the Tamil political lobby is connected by the Vaddukoddai Resolution, the LTTE fronts are also using same rhetoric.
Vaddukoddai Resolution  
Sought a Tamil Eelam State consisting of people living in North & East,
Declared right to self-determination of Tamil Nation (which LTTE demanded in 1985 Thimpu Talks)
Demanded recognition of Tamils of Ceylon as a nation (which LTTE demanded in 1985 Thimpu Talks)
Declared Tamil Eelam Constitution is a secular state
Declared Tamil will be language of N & E in Tamil Eelam but Sinhalese living in Tamil Eelam can study in Sinhalese
Virtually appealed to youth to take up arms
When ITAK in 2008 endorses the 1976 Vaddukoddai Resolution – ITAK was promoting the same objectives.
What needs to be clearly understood is that every demand being made by Tamil militant groups/LTTE, LTTE Diaspora Fronts & Tamil parties especially TNA & ITAK are all echoing what TULF originally demanded via Vaddukoddai Resolution on 14 May 1976. This was echoed by Sambanthan in 2014 at its annual convention. The most alarming thing is that the Vaddokoddai Resolution ideology is continuing inside the academic halls of Jaffna University
http://www.lankaweb.com/news/items/2019/03/05/linking-jaffna-university-ltte-the-separatist-ideology/
The TNA manifestos of 2001, 2004, 2010, 2013, 2015 all echo the same aims & objectives & now in 2020 TNA is openly canvassing for Tamil Eelam with map
https://www.sinhalanet.net/are-the-demands-of-itak-tulf-tna-ltte-ltte-fronts-india-one-the-same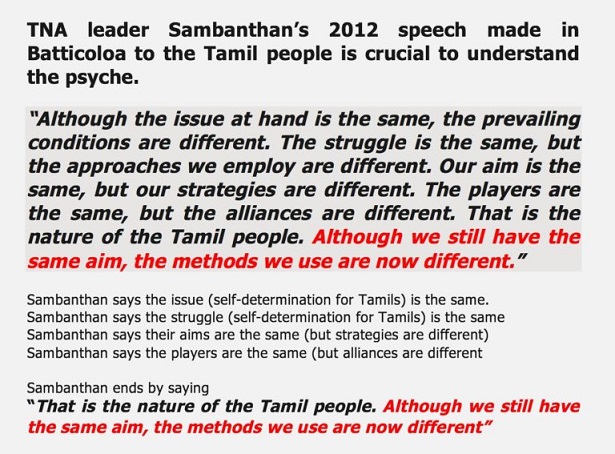 In 2014 ITAK Resolution put forward 15 demands
https://sangam.org/itak-convention-resolutions/
All of these demands have a connection and that connection is the Vaddukoddai Resolution.
Vaddukoddai Resolution– https://www.sangam.org/FB_HIST_DOCS/vaddukod.htm
How TULF used Vaddukodai Resolution to win votes in 1977
http://www.lankaweb.com/news/items/2019/11/21/trying-to-understand-how-tamils-vote-read-tulfs-1977-election-manifesto/
ITAK endorses Vaddukoddai Resolution
https://www.shenaliwaduge.com/importance-of-2008-itak-amends-its-constitution-endorses-vaddukoddai-resolution-for-separatism-2/
What is important for GoSL and everyone interested in Sri Lanka's conflict is to understand that Tamil militants only hijacked the objectives already being promoted by Tamil political parties & politicians earlier. The LTTE gave a terrorist touch to a separate Tamil state already drafted by the Tamil politicians. It is when conflicts resulted related to this quest that LTTE resorted to assassinating the Tamil politicians. The overall objective however, remained the same.
Given that the terror aspect of the separate state quest has also been banned, it is time for GoSL to uphold that ban by taking action against those violating the ban. If there are loopholes the GoSL must demand the AG's department quickly address them so that prompt action can be taken against anyone using LTTE propaganda and insignia.

These include the LTTE flag considered as the Tamil Eelam National Flag adopted on 21 November 1990
https://www.newindianexpress.com/states/tamil-nadu/2009/apr/09/madurai-artist-sketched-ltte-logo-39586.html
The LTTE colours (Red & Yellow) / The LTTE Tamil Eelam National Anthem – Eruthu Paar, Kodi Eruthu Paar" (Look the Flag is Rising) is a Tamil song, written by Puthuvai Rathinathurai, use of Karthigaipoo (Gloriosa Lily) symbol of Maaveerar Naal alongside LTTE insignia, LTTE brigade flags/LTTE unit flags etc.
Just as UK & US terror acts have specific sections where bans deny usage of insignia and material support, Sri Lanka must frame laws to take stern action against anyone violating the ban and causing a disturbance to peace
http://www.lankaweb.com/news/items/2019/12/19/president-gotabaya-rajapakse-ban-ltte-with-logo-flag-tree-flower-all-ltte-insignia/comment-page-1/
No peace effort or reconciliation can be meaningful without taking action against the root of the malady and legally plucking the teeth of the Vaddukoddai Resolution. The GoSL must task the AG's dept to frame legal action against the Vaddukoddai Resolution as this is the source for division and separatist propaganda. Dealing with the Vaddokoddai Resolution legally & taking legal action against anyone flouting ban on LTTE would break the umbilical cord that mentally ties the Tamil people to a dream they know they cannot achieve but are disillusioned to believe so.
Shenali D Waduge